You only have 20 minutes to squeeze in a workout, but you want to get both strength and cardio benefits, so what do you do? The options are (1) you can tell yourself 20 minutes is not enough time for a decent workout, (2) you can lift like crazy for ten minutes, then run like crazy for 10 minutes, or (3) you can use circuit training, which can offer you strength and cardio benefits in a short period of time.
If you don't have much time to workout, circuit training is a great way to switch up your workout. I also find this style of strength training is typically very appealing to women, because you don't have to lift very heavy weights and the workouts don't feel as much like traditional, bodybuilding type of strength training.
I have below a 20 minute full body circuit workout that you can give a try.
20 Minute Circuit Training Workout:
(repeat 3-4x, no rest between sets, 2-3 minutes in between each circuit)
Squat with DB Upright Row, 15 reps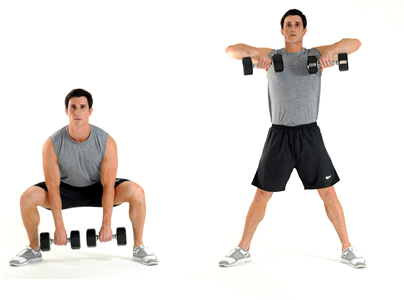 Reverse Lunge, 16 total reps
Pushups, to failure
Pullups, to failure (can also use lat pulldown)
Medicine Ball Twists, 20 reps
I'm not using a medicine ball in the photo below, but a dumbbell as an alternative. Be careful with this exercise, you should not feel any pain in your lower back. Twist with your upper back and torso, not your lower back. An alternative is wood chops, or bicycles.
For more details on this workout, some training tips, and easy to print workout sheets, check out this workout sheet below: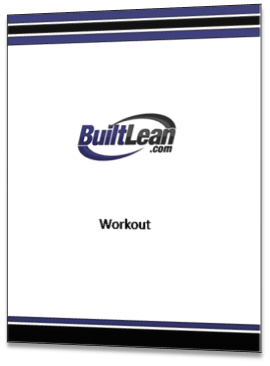 Document Type: pdf, Size = 0.25MB
Did you catch what exercise framework I'm using here? One of my first blog posts on BuiltLean.com was The Biggest Personal Training Secret is… about how personal trainers use a simple, yet effective framework that makes creating tons of dynamic workouts for clients a snap. So what's the secret? To save the suspense if you haven't read the article yet, many personal trainers use a methodology that incorporates 5 basic movements in each workout:
1) Squat
2) Lunge
3) Push
4) Pull
5) Twist
That's the framework I used to create this workout. Pretty cool, huh?
Hope you enjoy the workout!