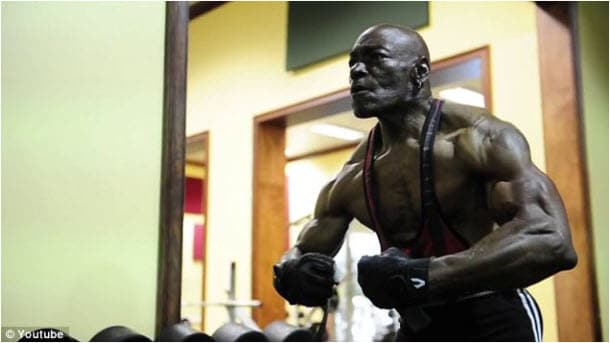 My brother sent me over a video last week that I felt compelled to share with you.
Sam "Sonny" Bryant Jr. is a 70-year-old natural bodybuilder who started working out when he as 44 years old. The muscular physique and strength he has achieved is awe-inspiring (he deadlifts 405 pounds at a body weight of 176 pounds). I think we all can learn a lot from Sonny's philosophy on aging and more importantly, live his message.
This article is timely as I've been answering a lot of questions recently about, "How do I train if I'm over 50 years old?" and "Why are there not more articles on BuiltLean.com for older folks?". In my opinion, age does not dictate how you should train, or what exercises you should, or shouldn't do. Choosing the appropriate training program is based on your body condition, not your age. If condition and strength are the same, the workout of a 60 year old and a 25 year old can be exactly the same.
This video was originally published in September 2013 by the Augusta Chronicle.
Sonny Facts:
5-foot, 10-inches and 176-pounds
First started lifting weights at 44 years old as a result of a broken marriage
Works the graveyard shift at Kimberly-Clark as a forklift driver
Works out twice a day to build his body
Eats twice per day (eggs, bacon, and pancakes for breakfast + lean meat for dinner)
Eats 180 grams of protein per day mostly from protein supplements.
He feels the same as he did when he was 44 at 70 years old – no different.

Top 10 Sonny Quotes:
1. "People have the misconception that age makes you old, but I realize that it's a state of mind that makes you old"
2. "Age is just a number, and it gives most people – the majority of people – a reason to be lazy and not do anything."
3. "I want people to recognize what I'm doing and realize that it can be done."
4. "A lot of young guys, they go home, sit around, watch TV and do nothing – I've seen a lot of young guys who are older than me."
5. "People ask me when I'm going to retire. I say 'never'."
6. "I really, honestly, I've never felt like I aged since I started bodybuilding at 44. I don't feel no different."
7. "As long as I'm busy, I don't get hungry."
8. "People ask me when I'm going to act my age. Well, I'm not an actor, and who set the rules about how you're supposed to act at a certain age, anyway?"
9. "Age don't play a factor in how I feel in what I'm doing."
10. "If you start thinking you're old subconsciously, your conscious mind is going to take hold of that and your body is going to start acting old, feeling old. Then you're old."
What do you think of Sonny's story?