If you read literally anything about nutrition, you're going to find the word nutrients. These are the important parts of food that are good for you.
But, did you know that there are also antinutrients? And that consuming them can affect your health and physical performance?
Some vegetables have high levels of antinutrients, or things that make them less appetizing to predators (including humans). But about a million years ago, we learned a neat little trick to destroy said antinutrients. Fire.
Yes, cooking is a great way to increase the nutritional content of vegetables. Put in another way, a 100% raw food diet is essentially mineral-deficient; due to a combination of antinutrients and the lack of micronutrient-dense foods like red meat, vegetarian diets are also relatively mineral deficient. 1 2
To get the most from your diet, you can certainly eat raw vegetables, but focus for the most part on cooking up anything that might contain antinutrients to ensure you're digesting their benefits! Fruit has a negligible amount of antinutrients (mostly in the seeds), so you don't have to worry about cooking it.
What Are Antinutrients?
Antinutrients are natural or synthetic compounds that interfere with the absorption of nutrients. Below is a graph which shows a few of the most common types of anti-nutrients, where they are found, and the affect they have on our bodies:
| Antinutrient | Where it's found | What does it do |
| --- | --- | --- |
| Phytate | spinach, broccoli | inhibits mineral absorption |
| Flavonoids | tea, coffee, wine | inhibits mineral absorption |
| Lectins | beans, wheat | inhibits digestive enzymes |
In case you were wondering, anything that inhibits digestive enzymes such as beans and wheat will have two immediate effects: 1) reduced nutrient absorption; and 2) indigestion, bloating, and gas.
Are Antinutrients Bad For You?
It depends. If you avoid red meat or eat a plant-based rich in raw (uncooked) vegetables, then antinutrients could promote and/or exacerbate mineral deficiency. Alternatively, heavy exercise increases your body's requirement for a variety of minerals 3; so if you're a fitness buff then you'll also want to minimize your exposure to antinutrients4. But if you eat a balanced diet, with meats and a variety of cooked veggies, then eating a raw spinach salad should not cause any issues.
How To Minimize The Effects of Antinutrients
Cook your veggies, especially those high in antinutrients like spinach and broccoli. Here's how.
Spinach

Blanching: a tricky yet highly effective way to enhance mineral bioavailability.
Bring a pot of water to a boil. Add your raw spinach for about 3 minutes, then immediately pour it through a colander. While longer times such as 10 minutes have been shown to be very effective at minimizing antinutrients 5, the scientific outcome is somewhat at odds with the culinary one (spinach gets mushy when over boiled).
Sautéing: a less risky and possibly more tasty way to cook spinach.
Throw some butter and oil in a pan over medium-high heat (optional: add some minced garlic). Add raw spinach and stir it around for about 3 minutes, then remove to a serving dish. Squeezing on a bit of fresh lemon not only improves the flavor profile, but the added vitamin C further improves mineral absorption. 6 7
Broccoli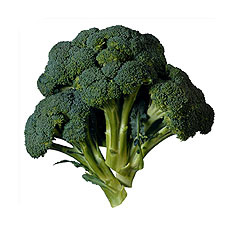 Steaming: the nutritionally superior way to cook broccoli 8.
Bring a half-full pot of water to a boil. Wrap your raw broccoli in foil so that it will float on the boiling water, add it to the pot for about 10 minutes, and voila, it's ready to go.
Stir-frying: less effective at improving mineral bioavailability than steaming, but no need to make a water-proof foil boat. Throw some butter and oil into a frying pan over medium-high heat and add in raw broccoli. Stir it around for about 5 minutes, or until it starts to soften. Make sure not to cook it until it browns or becomes completely soft, as broccoli continues to cook after it's been removed from heat – this doesn't affect the nutritional content, but doesn't do any favors for the texture.
These methods should take care of any antinutrient content in veggies, beans, or grains, and might also help you find new recipes to use with all of these foods! If you're going to eat a ton of vegetables, who wouldn't want to get the maximum benefit?
Final Thoughts
Antinutrients are found in a wide variety of foods such as beans, soy, and Brussels sprouts and the cooking methods above universally improve mineral bioavailability from these foods. The word antinutrient sounds intense, but it's not going to poison you if you eat some raw broccoli as a snack. Raw foods are healthy, but ideally they shouldn't comprise the majority of a well-balanced diet. Balance, as usual with diet & nutrition, is the key.