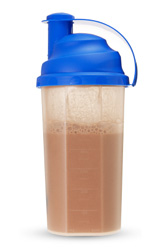 One of the most common questions that we see is about protein shakes—they are one of the most common snacks that people use to fuel and recover from their workouts, but there are so many options out there, both homemade and store-bought, that it's hard to decide what the best choice is for you.
So, we asked a few of our experts about their best protein shake recipes and why they think it is a great choice. Keep in mind dietary supplements like protein shakes are not necessary to help build muscle, or lose fat, but they can sometimes make life a little more convenient.
#1: Green Super Drink
Protein Shake #2: Strawberry & Banana
Protein Shake #3: Almond Chocolate
Protein Shake #4: Berries & Veggies
Protein Shake #5: Blueberry Banana
Did you like any of these shakes? Do you have any favorites on your own? We would love to hear what you think, just leave a comment below.