My favorite back exercise by far is the pull up because it only requires your body weight and hits all the muscles in your back, especially when you start adding in different variations. In this video, I demonstrate 10 Pull Up Variations. Can you do them all?
If you can't do any pull ups and this video looks "crazy", don't worry. I plan on shooting a video soon that will teach you how to improve your pull up strength to go from 0 pull ups to 10+.
You can find more detail below on each pull up variation:
Pull Up Variation #1: Weighted Pull-Up
Once you get to the point where you can do 10+ pull ups, you should consider adding weight to make it more challenging. There are three primary ways to add weight: (1) use a weight belt like I'm using in the photo below, or (2) put a dumbbell in between your ankles when crossed, or use an ankle weight, and (3) use a weighted vest. Weighted Pull Ups are also a great way to increase the total number of pull ups you can complete if you are hitting a plateau.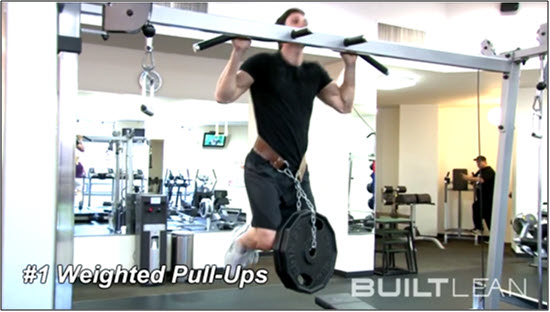 Pull Up Variation #2: Muscle-Ups
This is a very difficult pull up because you have to lift your entire torso over the bar so that it's high enough to then extend your arms straight, which is the finishing position. The one little trick I learned is to keep your legs slightly forward as you are coming down (20 degree angle), which helps you build a little momentum as you swing them backwards to help you forcefully pull up again. Even with this little tip, they are still very difficult.

Pull Up Variation #3: Around the Worlds
To emphasize one side of your back versus the other, Around the Worlds require that you pull up diagonally to one side of the pull up bar (see arrow pointing to reflection in the mirror), then you pull your body across the pull up bar, then diagonally lower yourself back to the starting position. I would much rather do cliffhangers (Pull Up #7) to help work one side of my back over the other, but just showing you a variation to consider.
Pull Up Variation #4: Clapping Pull Ups
If you listen to the video, I mutter lightly, "I don't even know if I can do this." I never did a clapping pull up before, but saw a couple videos on Youtube of people doing it. Fortunately, I didn't fall on my face, or crush my legs. Similar to the muscle ups, you really need to build enough momentum to throw yourself upwards, so you have enough time to clap your hands and still catch the bar safely. If you want to try them out, start out doing a pull up with your hands close together, then widen them out as I do in the video. Needless to say, be careful.
Pull Up Variation #5: One Arm Pull Up (assisted)
This technically is not a One Arm Pull Up, because my opposite hand is assisting by holding on to my wrist and lifting maybe 30% of the weight. I still prefer the cliffhangers to this type of pull up, but I need to work on doing a pull up with only one arm, which I've seen before. That takes crazy strength!
Pull Up Variation #6: Parallel Bar Pull Up
The standard pull up uses a pronated grip with your palms facing forward. With a Parallel Bar Pull Up, your hands are facing each other in what's called a neutral grip. There is more emphasis on your biceps, brachialis, and brachioradialis.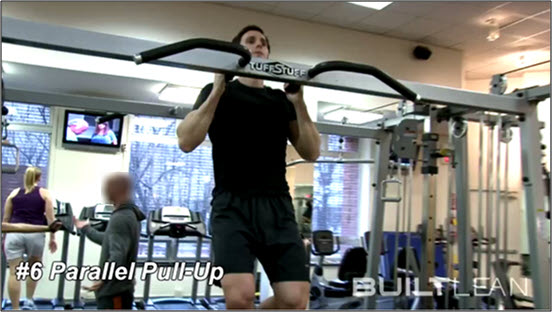 Pull Up Variation #7: Cliffhangers
I really like cliffhangers because if you get proficient at pull ups and don't have access to weight, cliffhangers will be a big challenge. If you have your left shoulder to the bar as in the photo below, you want to have left hand closer to your body, then the right hand further away. The emphasis is on your left arm and back, which is pulling probably 70% of the weight. The first set might feel pretty easy, but when you try with the other side, it's much harder. I usually go down 25% by number of reps when switching sides, regardless of which side I start out with.
Pull Up Variation #8: Towel Pull Ups
My first recommendation is to make sure you have a thick enough towel to easily support your weight. If you listen closely in the video, you can hear the small hand towel I'm using starting to rip. Close call. Towel pull ups emphasize grip strength more than the other pull ups.
Pull Up Variation #9: Wide Grip Pull Up
Wide grip pull ups emphasize development of the entire latissimus dorsi (lat muscle) and help you develop more of a V shape to your back. The wider your grip, the more it emphasizes the outer portion of the lat muscle. The closer you put your hands together, the easier the exercise becomes.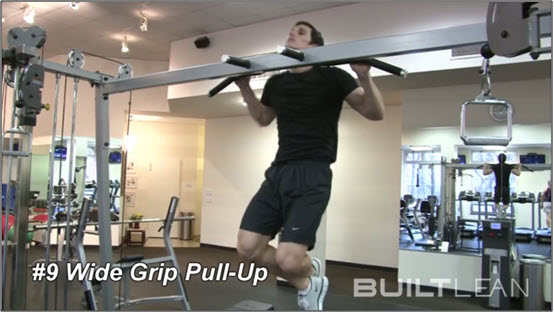 Pull Up Variation #10: Underhand (aka Chin Up)
The Chin Up uses an underhand, or supinated grip that recruits the biceps more than some of the other pull up variations. It also works the lower part of your lat muscle, which can help create more thickness in your back. The chin up is the easiest pull up relative to all the other variations, although it may be tied with the Parallel Bar Pull Up.
Again, I realize most of these pull ups are very difficult, so I'll follow up in a few weeks (you may have to remind me!) with a video on how to become more proficient with pull ups. The it's just a matter of progression to work up to doing more challenging variations.
Is there a pull up variation I missed that I should have included?
Which Pull Up Variations Can You Do?