The Bird Dog exercise is a classic core exercise that emphasizes lower back strength and balance. If you've never done it before, the first few reps make seem awkward and difficult to balance, but once you get the form down, you'll want to make it a staple in your exercise program.
Below are 4 variations of the bird dog exercise that are in order of difficulty from easiest to hardest.
Bird Dog Exercise Instructions & Technique

1. Start with on your hands under your shoulders and knees under your hips, while keeping your head, neck, and back straight
2. Raise your right arm and reach it forward until it's in line with your torso
3. As you bring your arm forward, kick your left leg backwards until it's straight and in line with your torso, hold for 1 second
4. Slowly bring your arm and leg back to the ground and repeat with the opposite arm and leg
Bird Dog Exercise Benefits
Increases core strength in both abs and lower back
Improves stability
Increases kinesthetic awareness (where your body is in space and time)
Can be made more challenging with different variations
It's easy to do anywhere

Bird Dog Exercise #1 | Basic Bird Dog
For the basic bird dog, start out with your hands directly underneath your shoulders and knees under your hips, forming a box with 90 degree angles. Even in the resting position, you should try to tighten your core, while keeping your shoulders down and back away from your ears (they want to drift upwards). At the top position, keep your arm and leg in line and be sure not to raise your head upward. Instead, keep your head in a neutral position to minimize pressure on your neck.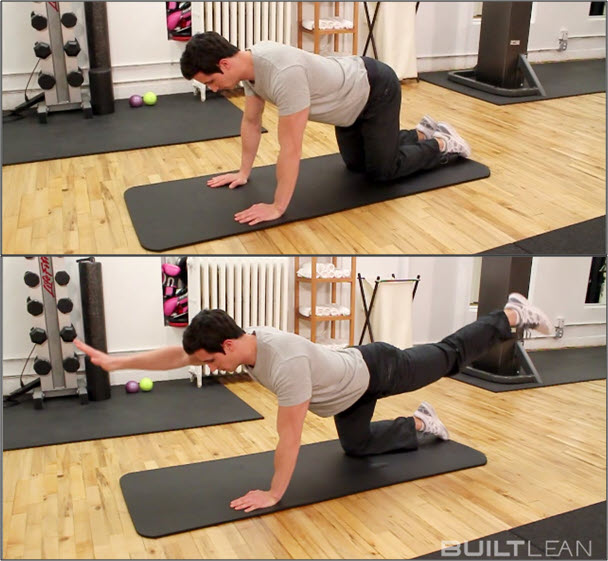 Bird Dog Exercise #2 | The Zipper
This exercise is similar to the basic bird dog, but instead of alternating arms and legs, you will complete the exercise with one leg/arm, then repeat with the other side. In addition, as you can see from the photo below, you are going to crunch your elbow and your knee so that they meet underneath your body. If you have tight hips, or lack upper back flexibility, you may not be able to touch your elbow to your knee. An even more advanced version if you are flexible is touching your nose to your knee, as is shown in the video.
Bird Dog Exercise #3 | On Exercise Ball
To make the bird dog more challenging and test your stabilization, you can use a stability ball. Be sure to put your hips on the top of the ball to make it more challenging. The further away you place your hips from the top of the ball, the less you will need to stabilize your body. Similarly, if your hands and feet are close to the ball, the exercise becomes more difficult, as opposed to keeping them further away from the ball. The exercise ball should be large enough to make you need to stabilize your body, but not so large that you have trouble touching your hands and feet down at the same time.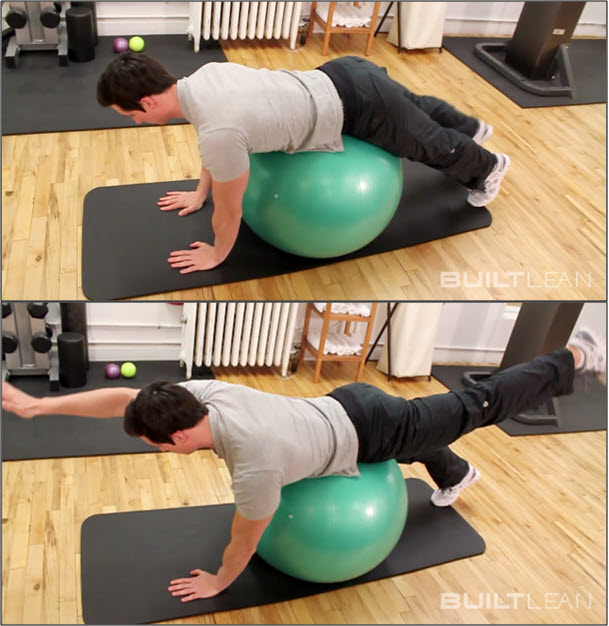 Bird Dog Exercise #4 | In Push-Up Position
The most challenging variation of all is completing the bird dog without using your knees, or elbows to help you balance your body. This variation takes a lot of core strength and even more importantly stabilization. Starting out in the push up position, you extend your right arm and left leg simultaneously, while keeping your hips steady so they don't tip to one side or the other.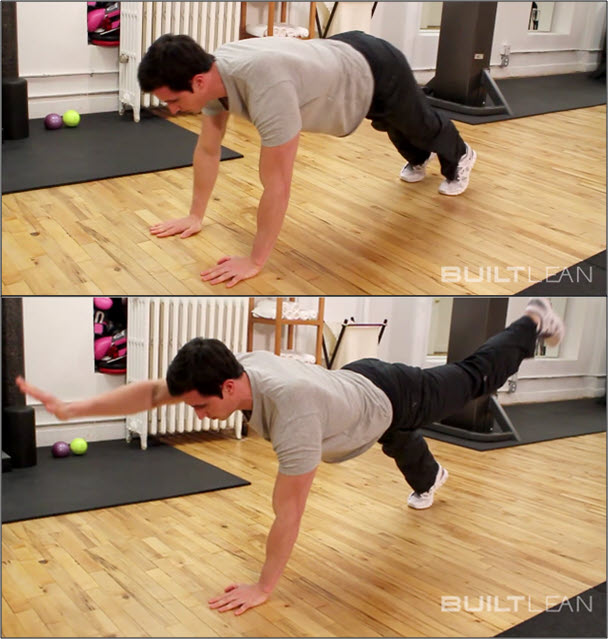 Which bird dog exercise variations can you do?