Check out this video which features a unique variation of the Cable Crossover exercise, a single joint exercise that targets the chest and requires a cable machine.
While I recommend you spend 90% of your time and energy in the gym using multi-joint, compound exercises, I think using the cable crossover as a finishing exercise can help you burn out and breakdown your chest muscle (pectoralis major + minor). Whether you are trying to build muscle, or lose fat, breaking down a given muscle when you workout forces your body to burn extra calories after the workout to aid in tissue repair. You will also feel your core working intensely because the core must stabilize the body in an upright posture while handling the weight.
Cable Crossover: 5 Tips on Proper Form & Technique
1) Use Lighter Weight – Don't try to be a hero with cable crossovers. The point is to burn out the muscle, which works best with a minimum of 10-15 reps. This applies especially if you pair the exercise with push ups, as I describe in more detail below.
2) Use A Full Range Of Motion – A full range of motion helps best engage the muscle fibers to break them down. You should feel a stretch in your pecs at the start of a movement, then contract intensely as you bring your hands together.
3) Slow and Controlled – Because this is a single-joint finishing exercise, there is no reason to use any momentum at all, which would take away from the stimulus to the muscle. If you think about it from simply a common sense perspective, using momentum takes the pressure of the of muscle you are trying to work.
4) Keep Your Shoulders Back – This is the biggest mistake most guys make and is related to using too much weight. If you find you are thrusting your shoulders forward as you complete the exercise, you are working your shoulders and back, not your chest. Keep your shoulders back, chest out, head up as you complete the exercise.
5) Arms Slightly Bent – Another big issue I see all the time is excessive bending of the arms. While this makes the exercise easier, it's making it A LOT less effective. Keep your arms straight and if you are having trouble, then use lighter weight.
Cable Crossover: High to Low Variation
There are a few primary variations of the cable crossover, which include a high crossover, a medium crossover, and a low crossover. Often times when you are in the gym, you'll see guys doing all different variations for like 20 minutes.
Because I like getting the best results in the least amount of time possible, I thought, "Why not just combine the 3 different variations into one exercise?" Well it turned out to be a good idea, because I believe the exercise a lot better than doing each movement separately.
Cable Crossover Movement #1: High Crossover
While keeping your arms only slightly bent, head forward, reach your arms together as high as you can while maintaining your posture.
Cable Crossover Movement #2: Medium Crossover
While keeping your arms only slightly bent, head forward, reach your arms together horizontally across your body while maintaining your posture.
Cable Crossover Movement #3: Low Crossover
While keeping your arms only slightly bent, head forward, reach your arms downward across your body towards the front of your pelvis while maintaining your posture.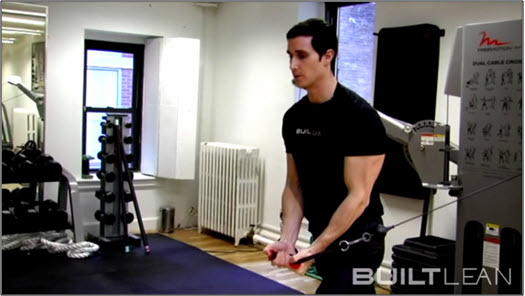 Cable Crossover: Superset Ideas
Superset with Pushups – A killer superset (pairing two exercises together) I use is cable crossovers combined with push ups. If you can't do more than 30 push ups (whatever version you use), I wouldn't try this out. If you can, I think you will be amazed with the pump you get and how hard push ups can be when you are already fatigued. For more on push ups, check out: How to Do a Push Up With Proper Form and 10 Push Up Variations.
Superset with Hanging Abs Raises – The cable crossover engages your core because you have to pull the weight away from your body as you maintain and upright posture. By pairing an abs exercise with the cable crossover exercise, you can get a lot of core work in a short period of time. I prefer hanging abs raises, which work the entire abs complex and also require your back and shoulders to stabilize your body.
So that's probably more than you ever wanted to know on the cable crossover, but let me know if you have any questions by leaving a comment below!