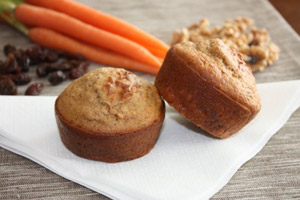 Does the phrase "healthy dessert" seem like an oxymoron to you? If you're like me, and want to have your cake and eat it too, I have an excellent recipe to share. In my opinion, carrot cake is one of the greatest creations since the discovery of the wheel. Unfortunately, most recipes are laden with butter and tons of sugar.
In my quest to stay lean and satisfy my sweet tooth, I did some experimenting and came up with an excellent recipe that combines healthy whole food, protein powder, and carrot cake. I can promise that once you make these delectable treats, you won't be able to get enough!
Healthy Carrot Cake Muffin Comparison
Nutrition
BuiltLean
Carrot Cake

Whole Foods
Carrot Cake

Shaw's
Carrot Cake

Calories per serving (8oz.)
71
360
277
Fat
4.5g
24g
13g
Saturated Fat
1g
7g
3g
Trans Fat
0
0
0
Carbohydrates
17g
38g
36g
Sugar
5g
26g
24g
Fiber
3g
2g
<1g
Protein
11g
5g
3g
As you can see, not all carrot cake is created equal, not even ones that may be considered "healthy". Just because a recipe includes whole ingredients doesn't mean that the loads of flour, butter, sugar are negated. In my opinion, that is an easy way to ruin a good vegetable!
A neat trick is to replace the white flour with heart-healthy oat or almond flour; you can do this with most traditional baked goods to significantly cut carbs without affecting the taste. If you really are trying to go low carb you can substitute half or all of the oat flour with almond flour which will add healthy fats and eliminate most of the carbohydrate.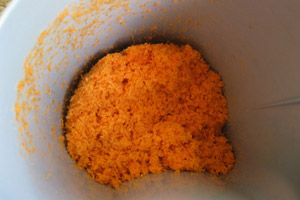 Using whey powder and egg whites fortifies your dessert with muscle-building protein that helps you reach your diet goals instead of setting you back. Extra protein will also help you feel more satiated so you won't have to go back for 2nds and 3rds whereas sugary stuff will make you hungrier.
In my carrot cake, I used both grated carrots as well as carrot pulp from my juicer. Since I hate wasting food, I decided to experiment with the carrot pulp one night. It was no surprise that they came out equally as delicious as when I used grated carrots! Just take note that they will be less moist since the pulp comes out dry.
If you want to add a few healthy optional ingredients, you could include raisins, crushed pineapple, walnuts or almonds. Although this will slightly modify the nutritional macros, they are all great additions to an already healthy treat!
Healthy Carrot Cake Muffin Recipe (servings: 14)
– 8 egg whites
– 1 cup Rolled Oats (*you may substitute ½ almond flour to lower carbs)
– 4 scoops Whey Protein Powder (*unflavored or vanilla work best)
– 2 tsp baking powder
– 2 tbsp vanilla extract
– 1-2 tsp Stevia (*or other sweetener)
– 2 tsp Cinnamon
– ½ tsp Cardamom
– ½ tsp Ground Ginger
– 1 cup Grated Carrots (*I used the pulp from my juicer)
Healthy Carrot Cake Muffin Preparation
Step 1: Combine all ingredients in a large bowl and mix well
Step 2: Carefully spoon mixture into muffin pan leaving about a ½ inch to the top of each cup
Step 3: Bake at 370 degrees for 30 minutes or until golden brown. Remove immediately and enjoy!
Hands down, these protein carrot cake muffins have easily become one of my favorite muscle-building snacks.
Do you like them? Love them? Have a healthy protein snack that takes minutes to prepare and tastes absolutely awesome? Let us know below and we can get some discussion going!