In case you haven't noticed, avocado toast is incredibly trendy right now – and for good reason! Avocados are a delicious fatty fruit (yes, they are a type of fruit) that's high in fiber, potassium, and monounsaturated fatty acids. It's also rich in vitamins, minerals and antioxidants. Spreading some buttery avocado on sprouted grain toast (we recommend Ezekiel bread) with a sprinkle of sea salt is a great way to start the day.
But if you want to add a boost of protein to this tasty breakfast, eggs are the perfect way to go. Eggs are a great source of complete protein, which means it contains all of the essential amino acids your body needs to build and repair lean muscle tissue. Pasture-raised eggs, in particular, are also a great way to get a dose of anti-inflammatory omega-3s.
This breakfast is quick to make, and delicious to eat. I personally prefer fried eggs with crispy egg whites and a runny yolk. That way, when you cut into the eggs, the savory yolk spreads across the avocado and toast like butter, soaking into the bread.
Recipe Ingredients & Instructions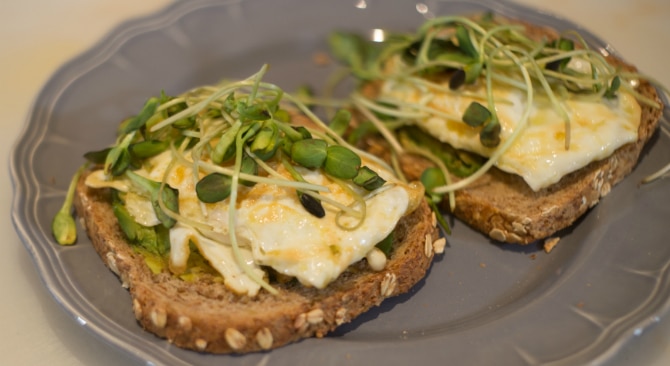 Servings per recipe: 1 hearty breakfast, or 2 snack-sized meals
Ingredients:
Instructions:
½ tbsp Olive Oil

1. Heat the oil over medium-high heat, while you toast the bread in a toaster.

2. When the oil is hot, fry the eggs in the pan until the edges begin to crisp. Sprinkle with salt & pepper. Carefully flip, and continue cooking for another 15-20 seconds.

3. Spread the avocado on each slice of toast, and lightly salt. Top each slice with one egg, and add a pinch of sprouts to each sandwich.

2 Large Eggs (pasture-raised)
½ Avocado
2 slices 7-Grain Ezekiel Bread
Pinch of Sunflower Sprouts
To Taste: Salt & Pepper
| | | | | |
| --- | --- | --- | --- | --- |
| Nutrition Info: | 498 calories | 41g carbs | 21g protein | 32g fat |
3 Ways To Keep Egg & Avocado Toast Interesting
While I prefer my eggs fried, and am more than happy with a pinch of salt and pepper, there are many ways you can keep this recipe interesting. Here are a few ideas to get you started:
Scrambled, Poached, or Hard-Boiled.
Eggs are one of the best ways to get protein first thing in the morning. While I like my eggs fried, feel free to prepare the eggs in your favorite style – scrambled, hard-boiled, poached, etc. You could even make a 2-egg omelette, adding some spinach, mushrooms, and bell peppers to this eggy mix.
Turn Up The Heat.
If you want some extra spice, add a pinch of red pepper flakes or a dash of hot sauce on top of the mashed avocado and eggs. Hot peppers contain a phytochemical called capsaicin, which is responsible for the spiciness. Capsaicin is a powerful anti-inflammatory, boosts metabolism, and boosts your health and resistance to disease.1 While more heat means more capsaicin, milder peppers with less heat still offer health and metabolic benefits.2
Wrap It Up For A Breakfast On-The-Go.
For an on-the-go version, turn this avocado toast into a breakfast burrito by using a whole grain tortilla instead of bread. My favorite brand is the Ezekiel 4:9 Sprouted Grain Tortilla.
Have you tried egg & avocado toast before? How do you like to prepare yours?