What's more refreshing than a big bowl of fresh fruit on a hot summer day?
Frozen fresh fruit! Before you let your mind go wild, we are going to redefine the concept of a "frozefruit". Who needs high-calorie and artificial sugar-filled frozefruit bars when you can transform whole fruits into wholesome sorbet?
Try something new this summer…a handful of frozen grapes.
Why Frozen Grapes?
One of the most underrated fruits, grapes deserve acknowledgement for their powerful health profile.1 There are a few things that may surprise you about grapes.
First, grapes are members of the berry fruit-group alongside raspberries, strawberries, blueberries and cranberries. Second, though grapes taste so sugary-sweet, they are classified as a low glycemic index food, and studies link grapes to improved blood sugar balance, insulin regulation, and insulin sensitivity.
Grapes are packed with health-supportive nutrients including manganese, vitamin K, vitamin C, vitamin B and potassium, as well as countless antioxidant phytonutrients. The growing area of grape research includes their benefits on the cardiovascular system, respiratory system, blood sugar regulating system, and nervous system; grapes are now even studied for their possible role in cancer prevention.
Before you add this fruit to your next grocery list, you should know that imported grapes made it on the "dirty dozen" list: a group of 12 fruits and vegetables that are presumed to be the most contaminated with pesticides. This means that you should only look to purchase imported grapes if they are certified organic. Domestic grapes are the way to go if you're not strict on buying organic produce.
How To Prepare Frozen Grapes
This frozen snack can be prepared in three easy steps:
1. Rinse the grapes thoroughly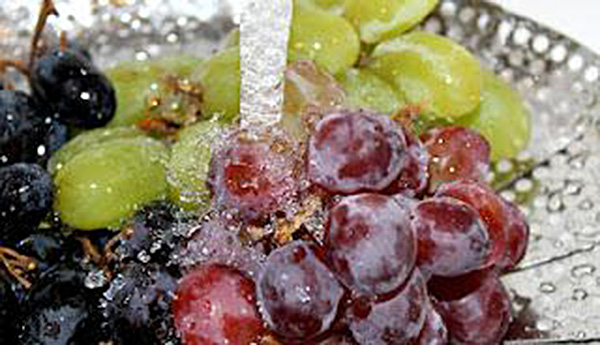 2. Place the grapes in a plastic bag
Use a good seal for the plastic bag. Don't worry about fully drying the grapes before bagging them—a nice pat with paper towel will do the trick. You don't want the grapes to be so wet that they will all freeze together, but a little moistness will give them a nice frosty coating after freezing
3. Freeze the grapes in a freezer
Let the grapes sit in the freezer overnight to allow for an even freeze
If you have more of a sweet tooth, you may want to try freezing red or black grapes. Green grapes are a popular pick for those who enjoy the sweet and tangy flavor. The grapes keep their crunchy character while the inside becomes a smooth sorbet surprise. Whether you are in need of a refreshing snack after a tough workout or craving a cool snack on a hot summer day, frozen grapes won't disappoint!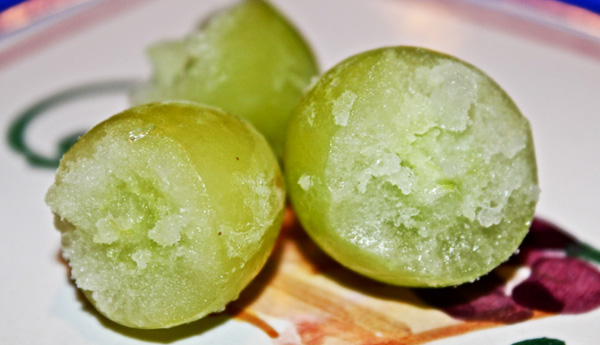 Grapes. World's Healthiest Foods. 2012. ↩