BuiltLean customers around the world have enjoyed training with me through workout videos and getting instruction every step of the way.
So many guys have talked about how motivated they feel when they do the workouts, how they really enjoy the instruction, and how they are getting better results much more efficiently. These workouts are just 30-minutes and require only a pair of dumbbells.
I believe now more than ever it's time to offer you a workout for free so you can experience it yourself. It's called "Viper".
The Viper workout alternates between lower and upper body exercises to hit the sweet spot of both strength and cardiovascular benefits. Your core will also be thoroughly engaged because of the way the exercises are sequenced.
I hope you enjoy it!
Workout Instructions
Start with the BuiltLean Warm Up, then complete the following 5 exercises in sequence, 30-seconds on, 30-seconds off for 3 rounds. Rest 1-minute between each round. After the circuit, rest 1-minute, then complete a finisher for 20 seconds on, 10 seconds off for 3 rounds. End with the BuiltLean Cool Down.
1. Double DB Front Squat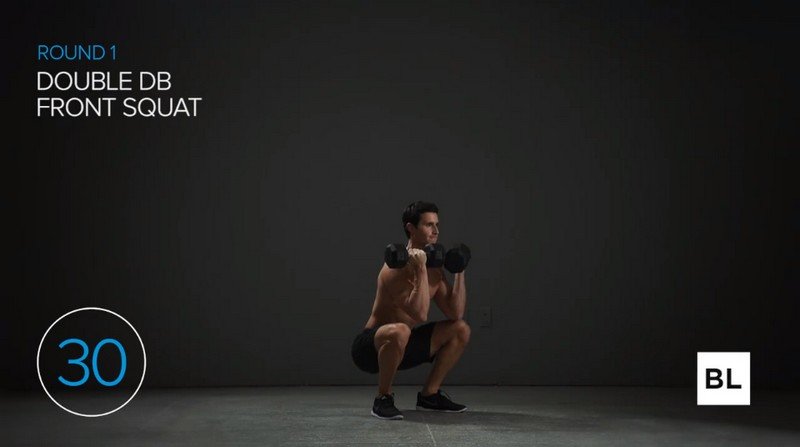 Description
The Double DB Front Squat is a harder alternative to the Goblet Squat, but still easier and less technical than a Barbell Front Squat. The Double DB Front Squat allows for more weight to be used relative to the Goblet Squat. Because the weight is held in front of the body, it engages the deep abdominal muscles, legs, and shoulders to a large degree.
Instructions
Stand upright with your feet slightly wider than shoulder width apart, holding a pair of dumbbells at your sides.
Curl, or clean the dumbbells up to your shoulders, palms facing your body
The dumbbells should be positioned in front of your chest
Keeping your neck straight and shoulders locked down, drop your hips down while pushing your knees outward so they are in line with your toes.
Squat down until your hips are below the plane of your knees, pause momentarily
Push back up to the starting position, pushing through your heels.
Tips
Always maintain a flat to slightly arched lower back position, avoid rounding your lower back, or having it tuck under your hips
Keep your knees pushed outward so they track your toes. Your knees should not move inward, but stay in the same plane.
Keep your heels firmly planted on the ground as you squat
Keep your torso as vertical as possible, so you are not leaning too far forward
Breathe in through your nose at the top, then forcefully exhale as you are squatting up
Alternative Exercises
Bodyweight Squats, Goblet Squats
2. Close Grip Push Ups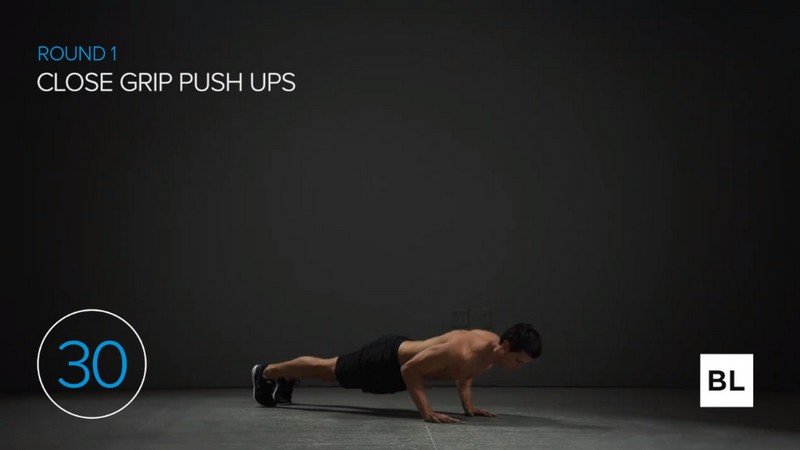 Description
You might notice that the close-grip push-up is a bit more challenging than a standard push-up. This move targets your triceps. Additionally, it strengthens your chest and shoulders while engaging your core and upper thighs. The challenge here is to maintain your strong plank position, meaning don't let your lower back excessively arch or your head drop down. Keep your core tight, and use your exhale to help you strongly press back up.
Instructions
Start in a high plank position, with your hands underneath your shoulders and abs tight.
Keep your head in line with your shoulders. Don't drop your head towards the floor.
Lower down into your push-up while keeping your elbows in close towards your sides. Your elbows should skim the sides of your ribcage.
Push strongly through your hands to return to the start position.
Maintain a strong plank position from top to bottom and back up again.
Inhale as you lower, exhale as you press back up.
Complete for the prescribed number of repetitions.
Alternatives
Standard Push-up, Plank
3. Side Lunges
Description
Side lunges strengthen your hamstrings, quads, and glutes while stretching your adductors on the straight leg. This move also builds power, as you drive off your foot to return your body to center. Stand tall between every single rep, keep your core tight, and keep your chest high.
Instructions
Start standing tall with your feet together, dumbbells in your hands.
Step your right foot out to the side and bend your right knee while pushing your hips back, keeping your chest lifted, and reaching your dumbbells towards your foot. Your left leg should remain straight.
Drive off your right foot to return to the center. Then step your left foot out to the side, bending the knee, and pressing the hips back.
Repeat the exercise, alternating sides for the prescribed number of repetitions.
Alternatives
Bodyweight side lunges
4. Single Arm DB Row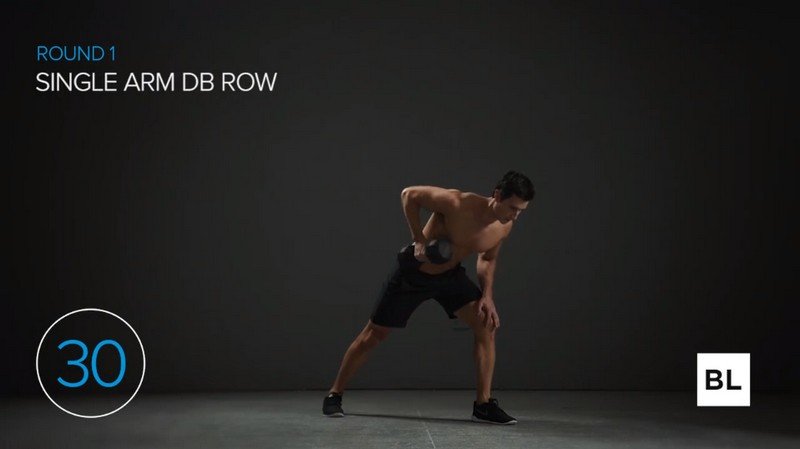 Description
Single-Arm dumbbell rows are an effective horizontal pulling exercise that also works core stabilization because you must keep your torso in place as you pull the weight. Dumbbell rows can also be very helpful to correct strength imbalances between both sides of your back.
Instructions
Standing with a dumbbell in your left hand, move into a split stance position so that your right foot is in front of you with your left leg behind and to your side
Bend over and prop your body up with your right hand on your right knee
Lift the dumbbell up toward the side of your abdomen
Lower the dumbbell slow and controlled
After completing the targeted number of repetitions, switch to the right arm.
Tips
Keep your back flat and shoulders locked down away from your ears. Keep tension on your shoulders and back.
Your lower back should be neutral to slightly arched.
Your body weight should be supported by your leg that is forward. You should not feel any pressure on your lower back.
As you are lifting the weight, keep your torso straight, avoid rotation
Don't swing the weight up. Instead, lift the weight under control.
Alternative Exercises
Single-arm DB Bench Row, Inverted Row
5. Bicycles
Description
The bicycle exercise focuses on strengthening your deep core muscles and your obliques, the ab muscles on your sides. Make sure not to pull on your head or neck with your hands. Focus on lifting your shoulders away from the ground using your abs. If you start the feel this exercise in your neck or lower back, rest or modify the exercise so you can perform each repetition with perfect form.
Instructions
Start on your back with your hands behind your ears and your knees bent to 90 degrees over your hips.
Without pulling on your head, lift your head and shoulders away from the ground.
Keep your spine in contact with the ground. Don't let your lower back arch.
Extend your right leg straight out above the ground as your rotate your right elbow to your left knee. Then alternate sides, twist the other way.
Exhale as you twist your elbow to your knee. Inhale as you return back to center.
Complete for the prescribed number of repetitions.
Alternatives
Dead Bug
Finisher = Mountain Climbers
Description
Mountain climbers are an upper body plyometric move that will challenge your endurance, increase your core strength, and build strong shoulders.
Instructions
Start in a tall plank position.
Draw your shoulders away from your ears and press strongly into the ground with your hands.
Maintaining a strong plank position, drive your right knee into your chest and then quickly switch your feet and drive your left knee into your chest. You'll feel as if you're running in your plank position.
Keep your spine long. Avoid over-rounding your back as you do this exercise.
Complete for the prescribed number of repetitions.
Alternatives
Plank Knee Drives
Workout FAQ
1. How much weight should I use for each exercise?
Use a weight that you know for sure you can complete at least 12 reps for your first set. In later sets, you may only be able to hit 8 reps and that's ok. It's better to choose less weight because you can always increase it on the next set, or the next workout. Starting off with too much weight can cause injury, so trust your own judgement and be safe. Marc will also give you some ideas in the workouts about good weight ranges for most men and also targets to shoot for.
2 . How do I make the workouts more challenging?
Here are a few ways to make the workouts more challenging:
Use a weighted vest, consider starting at 10 or 20 pounds. There are plenty of options on Amazon, just find one that fits snugly so you can still do push ups and be mobile.
Choose heavier weight when doing each exercise. This is the main variable that will make the workout more challenging. At the end of each interval, you should not be able to do any more reps of the exercise. In fact, it's likely that you may not be able to complete the full 30-seconds because you are unable to do more than 10 reps of the exercise.
Complete 10 push ups, 10 bodyweight squats, or 10 jumping jacks during every rest period of the strength circuit. This will make the workouts much harder and more cardiovascularly demanding.
3. How do I make the workouts easier?
Use less weight for each exercise
Do less reps of each exercise during the 30-seconds of the circuit
Use alternative exercises that are easier, like an incline push up vs. a regular push up
Stop the video if you really have to rest when you are first starting out