Below is another guest post from Christy Maskeroni, who is a Registered Dietitian and Personal Trainer in New York City.
Chinese food is one of the staple menus in our take-out menu drawer. What's great about Chinese food is that it's available almost anywhere AND it has a variety of dishes to choose from.
However, if you aren't careful, many of these entrees can make a large impact on your health (and not in a good way) with its high fat, calorie, sodium, and sugar content. The good news is that you can make it work to your advantage.
Here's how to enjoy Chinese food while keeping the food items you choose healthy and lower calorie:
Healthy Chinese Food Options Strategy
Steam It.
Most Chinese Menus have a "healthy" or "diet-friendly" section. All of these items are steamed with your choice of sauce on the side. This is a great way to lighten up on fat, calories, and sodium. Try ordering this with brown rice and use the sauce for dipping or drizzle it lightly.
Eat the brown stuff.
Choose brown rice over white. Brown rice is richer in fiber and vitamins and minerals like manganese and selenium, which will help combat free-radical damage that can build from physically, emotional, or environmental stresses. Just remember, ½-1 cup of rice (size of a baseball, is a healthy serving. And, vegetables contain antioxidants too so don't forget to add these to your plate.
Mix it up.
If there is one dish that you absolutely have to have, here is what you can do: Order a small container of your favorite dish AND a large container of steamed vegetables and mix them together! This will cut calories, fat, and sodium in half and even leave you some leftovers for the next day.
Use Chop Sticks.
Using chopsticks will allow extra sauce to remain at the bottom of the dish when eating or serving onto a plate (a fork will also help). Chopsticks will slow you down, which will allow your body to respond to feeling full and satisfied and hopefully reduce the amount of food you take in.
Request "Less Oil".
If you must have an entree that is sautéed, ask for it 'done lightly' or 'with less oil'. This is an easy change and can save you a couple hundred calories. Steamed is preferable.
Limit the Heavy Weights.
Noodle and fried dishes are going to be some of the heaviest calorie dishes. Trying some of the tips above (reducing oil, adding steamed vegetables) can help you reduce the impact but your best option is to try a more vegetable-based dish.
Healthy Chinese Food Options Comparison
Now, I have compiled a list of some menu favorites and some of the healthier alternatives. The best way to order a dish is steamed and sauce on the side, but if you must, take a look at some of the switches you can make from some of the popular Chinese menu go-to items.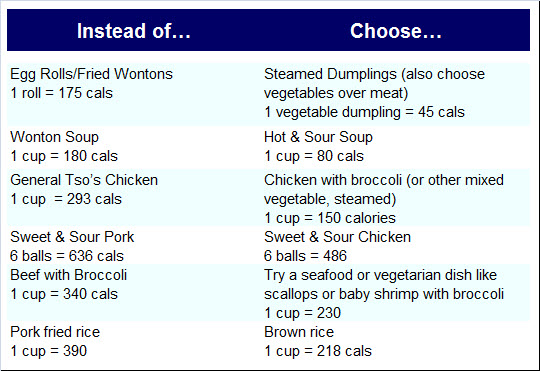 *Calorie content will vary from place to place
Resources: www.myfitnesspal.com, www.pandaexpress.com, www.calorieking.com
Healthy Chinese Food Meal Example
For a little perspective, here is of what a MODERATELY portioned meal might look like from each of the menus:
You can cut your calories by MORE THAN HALF by just making these simple changes! And, if you go a step further and ask for steamed dishes and/or sauce on the side or follow a few of the tips above, you can cut calories, sodium, and fat even more. Before you know it, you will be looking and feeling healthier in a lot less time!

Christy Maskeroni MS, RD is the Director of Nutrition and Master Coach Trainer at CLAY Health Club & Spa in New York City. She has spent the last several years developing customized nutrition and fitness programs for clients interested in reaching a new height of health and wellness. www.insideclay.com