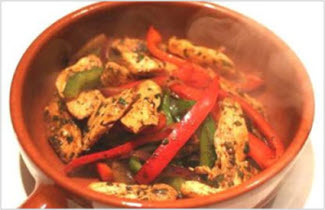 Below is a continuation of the healthy eating article series from Christy Maskeroni, who is a Registered Dietitian and Personal Trainer in New York City.
Rice, beans, lean proteins, veggies, spices, and corn tortillas are the basic ingredients of Mexican cuisine. Cheese, sour cream, lard, and guacamole are the add-ons that can take a healthy Mexican cuisine into an alarming calorie-laden meal. If you stick to these simple suggestions, you'll be eating well and feeling even better.
Here are a few strategies to make a Mexican Cuisine fit into a healthier and lower-calorie lifestyle.
Healthy Mexican Food Options Strategies
Put it on the side.
Ask for cheese, sour cream and guacamole on the side (or without). This will save you 300 + calories! If you choose one, choose the green stuff. Guacamole is made from avocados which are a good source of heart healthy monounsaturated fats, fiber, and potassium, just to name a few. Cheese and sour cream are high in saturated fat which has been known to increase cholesterol and the risk for heart disease.
Keep it unwrapped.
Calories in flour tortillas can range from 150-400 calories! And, that is WITHOUT anything stuffed inside it. Choose corn tortillas as an alternative. They are smaller and lower in calories so they will keep portions and calories under control. Or, change it up all together and choose a dish without the wrap like the fajita skillet.
Switch the sides
Most restaurants serve a hearty entrée WITH a side of rice and beans. There is no need for all of that food! Instead of rice and beans, ask for a side salad.
Watch the fluids.
Frozen margaritas can really put a damper on your goals with their high sugar and calorie content. One standard 8 ounce frozen is roughly 300 calories. However, many restaurants like to super-size their drinks and offer 12 or 16 ounce margaritas. This means you could be drinking 2/3 of your calories in just one cocktail. Is it worth it?
Go simple with your cocktails.
These alternatives can save you the calories and allow you to still enjoy a beverage: 6 ounce mojito 180 calories, 5 ounce glass of wine 125 calories, 6 ounce 150 calories (can vary with ingredients), 5 ounces of sparkling wine 100 calories, 1.5 ounces of tequila 100 calories, club soda, diet soda or water with lime 0 calories.
Don't spill the beans.
Beans may sound like a healthy choice, but be careful. Refried beans are often made with lard, making it a much higher fat and calorie dish. Instead, opt for the black beans
Swap the starter.
The standard chips and salsa can make a pretty mean dent in your meal. Add guacamole on top of that, and you have probably reached your target calories without even picking your fork up for the main course. Instead, start with ceviche – a low calorie, refreshing seafood appetizer made with fish, citrus juice, lime juice, and spices OR try a brothy soup. Many Mexican restaurants have a bit of a twist on the classic chicken soup. Made with chicken, spices, lime, avocado, and herbs this appetizer will definitely satisfy. Skipping out on the appetizer all together is also a great way to reduce the damage!
Remember the basics.
Whether it's Mexican, Chinese, or another cuisine, there are a few basic tips that can help you eat well at almost any restaurant. Go lean. Choose seafood, vegetarian, or chicken over beef. It can cut fat and calories down tremendously without sacrificing flavor.
Watch the preparation.
Avoid items that are fried, crispy, heavily sautéed, au gratin, coated, basted, or stuffed. Instead choose or ask for steamed, broiled, baked, or poached. Order for two. Share dishes with your friends/family. This is a great way to sample several dishes and save you the extra calories.
Mexican Food Options Comparison
Now, I have compiled a list of some menu favorites and a few healthier alternatives:
** calorie content will vary from place to place
Resources: www.polloloco.com; www.calorieking.com; www.myfitnesspal.com
Healthy Mexican Food Meal Example
For a little perspective, here is of what a MODERATELY portioned meal might look like from each of the menus:
You can cut your calories by MORE THAN HALF by just making these simple changes! And, if you go a step further and opt out of alcohol and share some of your dishes, you will really make an impact!

Christy Maskeroni MS, RD is the Director of Nutrition and Master Coach Trainer at CLAY Health Club & Spa in New York City. She has spent the last several years developing customized nutrition and fitness programs for clients interested in reaching a new height of health and wellness. www.insideclay.com