By now you've most likely heard about HIIT, or High Intensity Interval Training. And for a good reason. It's a highly effective way to burn fat in a very short amount of time. For example, one of the most popular HIIT methods called Tabata training lasts for only 4 minutes!1
But before you drop all of your other training in favor of 4-minute workouts, let's talk about the following key concepts:
What is HIIT?
How long should an ideal HIIT workout last?
How much HIIT is too much?
Potential downsides of HIIT
Sample HIIT Workout
What is HIIT?
Without getting too complicated, HIIT simply means that you alternate between a high intensity exercise for a given time and a lower intensity exercise (or rest) for a given time. A great example of a HIIT workout is sprinting at near-maximum speed for 30 seconds, followed by walking for 30 seconds.
HIIT workouts usually prescribe specific work and rest periods, as well as a given number of rounds to complete. In the above example, 30 seconds on and 30 seconds off equates to a 1:1 work-to-rest ratio. And for an intense workout, you could perform a total of 10 sets of sprints.
Japanese researcher Izumi Tabata popularized the "20 seconds work to 10 seconds rest" interval. And it's his research that kick-started the whole movement towards HIIT training as a viable alternative to the typical steady state cardio approach.
What Research Says About HIIT Workouts
In a study on Olympic speed skaters, Tabata found that a certain type of HIIT training – 8 rounds of maximum intensity 20-second intervals (at 170% of VO2 max) followed by 10-seconds of complete rest – was more effective at increasing the conditioning of his athletes than normal steady state cardio (at 70% of V02 max). This study was performed using stationary bikes.
Since then, there have been a number of other studies supporting the idea that HIIT is more effective at burning fat than typical steady state cardio (like biking or jogging).2 For example, one study measured the effects of 15-weeks of HIIT versus steady state exercise on young women. While the women in both groups improved their conditioning, only the women in the HIIT group experienced improvements in their weight, body composition, and fasting insulin levels. 3
Why Is HIIT More Effective At Burning Fat?
The objective with HIIT workouts is to crank your heart rate up to 85-90% of its maximum so that you are working "anaerobically", or without oxygen. This leads to EPOC (Excess Post-Exercise Oxygen Consumption), also known as the afterburn effect, where you're burning more calories throughout the day because your body has to recover from that intense exercise.
When you're jogging at a moderate pace, you're using a different energy system (aerobic), which primarily uses oxygen to fuel your muscles. In other words, when you go for a casual jog, you don't induce the afterburn effect and therefore don't burn any additional calories later in the day.
An important note to keep in mind – all of the studies on HIIT's effectiveness have shown that you really need to be close to your maximum heart rate to reap the benefits of HIIT. What this means is, the most effective HIIT workouts are going to be freakin' HARD.
How Long Should a HIIT Workout Last?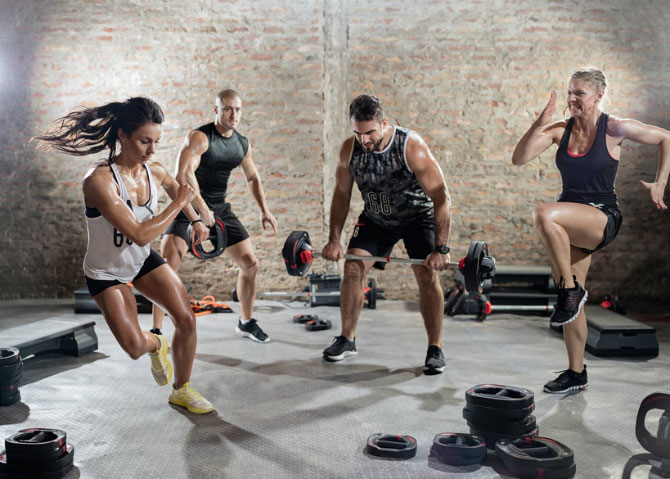 This seems to be the million-dollar question these days. According to a popular NY Times article, there is research that supports the idea that all you need is 7 minutes.
On the other end of the spectrum, I've had clients tell me they go to hour-long HIIT classes at the gym. To say there is huge variance is an understatement.
Determining the perfect duration of a HIIT workout requires a bit of experimenting.
I've found that the sweet spot is somewhere in the 20-30 minute range. If your workout lasts any more than 30-minutes, you're probably not working hard enough to optimize the benefits of HIIT. Any less than 15 minutes, and you probably haven't spent enough time at that high exertion level to make a meaningful difference.
Don't get me wrong, 5 minutes of any exercise is better than sitting on the couch. But if the question is, what is the optimal duration for a HIIT workout to be the most effective, I would say 20-30 minutes.
There are plenty of other factors that determine what is best for YOU and your lifestyle, but I think that is a good range to shoot for.
Possible Downside of HIIT Workouts
1. Too Much Stress
One potential downside of HIIT workouts is that they are very metabolically demanding and induce a decent amount of stress on the body. The thing with stress is that a little bit is good – stress is what makes us stronger and more fit, but too much stress on the body has potential to cause problems.
Our bodies don't differentiate between exercise stress and life stress. If you live a modern lifestyle, you most likely have a lot of other stressors contributing to your total stress levels. Maybe you sit in traffic most days of the week or have challenging relationships at work, or your family and social demands cut into good sleeping patterns. All of these factors influence the ideal frequency and duration of your HIIT workouts.
My point is that – if you live a busy and stressful life, adding a bunch of 60-minute HIIT workouts every week might be too much.
Assuming you sleep pretty well and have some kind of stress management system in place (yoga or breathing exercises work really well here), I would say that incorporating 3 days of 20-30 minute HIIT workouts each week is a great target to aim for. Add one heavier lifting session incorporating long rest between sets to ensure you're building muscle, and you have a really solid workout program to get lean and stay fit.
Of course, everything depends on your activity level and specific goals.
2. Not For Muscle-Building
The other possible downside of HIIT is that, if your goal is to pack on muscle and get really strong, HIIT just doesn't produce the goods. Interval training is great for fat loss and maintaining muscle mass, but for people who want to get bigger and stronger, lifting heavy weights with good form should be prioritized over HIIT.
So, if you're looking to get leaner and stay fit, HIIT is a great option.
My Favorite HIIT Workouts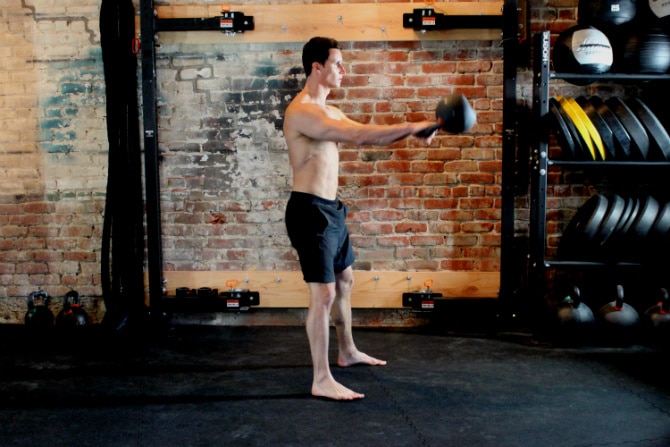 1. 30:45 Sprints
This is an intermediate to advanced HIIT workout. Perform 5-10 minutes of a dynamic warm-up before starting. You're going to perform 30 seconds of work followed by 45 seconds of rest.
Instructions: Complete 15 rounds of the following:
Sprint for 30 seconds at near-maximum effort.
Walk for 45 seconds.
2. 30:60 Kettlebell Swings
Start with 5-10 minutes of a dynamic warm-up. You're going to perform 30 seconds of work followed by 60 seconds of rest.
Instructions: Complete 10 rounds of the following:
Kettlebell swing for 30 seconds at near-maximum effort.
Invisible jump rope for 60 seconds.
If you have a favorite HIIT that you do, I want to hear about it. Drop me a message in the comments below!