When you're on vacation, you may not want to spend a ton of time working out. And on a work trip, you may be too busy to squeeze in a long gym session. That's where this high-intensity hotel workout comes in.
You don't need a gym or any equipment besides your bodyweight to get a serious fat-burning workout. In just 15-minutes, you'll optimize your time, burn fat, and keep on-track with your fitness goals, even while away from your usual training environment and exercise schedule.
You're about to get after it, suck some wind, and make your muscles work hard.
Hotel Workout Preparation
Because this high-intensity workout is built to be quick and efficient, be ready to push yourself constantly for the entire 15-minutes. This is meant to be tough, but I structured the exercises so you can persevere through the challenge. Expect to feel your muscles burn, your heart pump, and to go breathless. At the same time, focus on executing each exercise with perfect technique. Your form is the most important element to pay attention to. Never sacrifice quality!
Before you begin, clear your room so you have an open space to workout in. Move your desk chair, suitcase(s) and other bags, and any other obstacle that could get in your way. You want to make the space as safe as possible, so watch out for bed corners, ends of tables, etc.
Set a timer using either your smartphone or a watch, and have your list of these exercises available so that when you start you can commit to the 15-minutes and not look back. The only equipment you'll need is a chair, or the edge of your bed. Ready to go?
Hotel Workout Instructions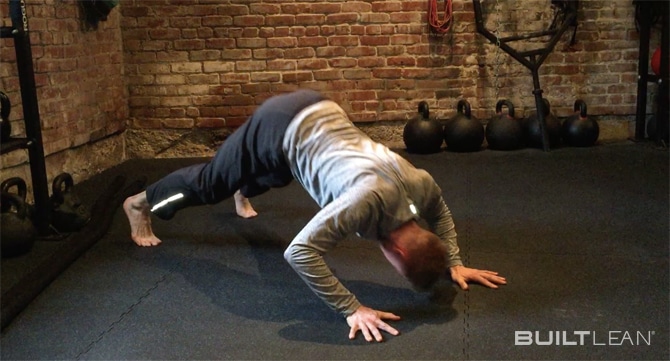 Warm-up:
Complete 2 sets of the following exercises for 1-minute each to prepare for your workout.
1. Inchworms
2. Alternating Spider Stretch with Rotation
3. Jumping Jacks
Workout Circuit
You have 3 rounds that are 4:30 minutes each, with a 30-second rest between.
| | | | |
| --- | --- | --- | --- |
| Time | Round 1 | Round 2 | Round 3 |
| 1 min | Alt. Forward Lunges | Alt. Reverse Lunges | Alt. Side Lunges |
| 1 min | Push Ups | Airplane Push Ups | Bomber Push Ups |
| 1 min | Prone Plank | Alt. Leg Lowers | Side Plank (30s each side) |
| 1 min | Prisoner Squat | Single-Leg Squat | Bulgarian Split Squat |
| 30 sec | Squat Jump | Mountain Climbers | Burpees |
| | Rest 30 seconds | Rest 30 seconds | Rest 30 seconds |
Round 1:
Round 2:
Round 3:
Hotel Workout FAQs:
How often should I do this workout?
Most people should be able to do this workout every other day, while more advanced exercisers could consider doing 2 days in a row. Focus on cardio and outdoor fitness on your days in between.
How do I know if this workout is appropriate for me?
If you consider yourself a complete beginner, meaning you have not exercised regularly for 6 months or more, then this workout is not for you. If you enjoy challenges, a good sweat, and making the most of your time then give this workout all you've got.
Going on a business trip or a vacation doesn't mean you have to skip your workouts. In the first scenario, your time is limited. In the second, you want to rest, relax, and enjoy your surroundings. To keep on track with your fitness goals, focus on high-intensity exercise. In a short period of time, you can rev up your fat-burning engine and get on with the rest of your day.
Give this workout a shot, and let me know how it goes!