While I lived in New York City, the vast majority of meals I ate each week were at restaurants, or ordering in from a restaurant. Some of these restaurants are by no means "healthy" and usually offer mostly high calorie meals.
By far the most important strategy I implement when eating at restaurants is "meal customization". If you eat out all the time, customizing your meals can make a BIG difference.
I have below an example of how to customize your meals when eating out, or ordering in from restaurants. Below I took a deep fried chicken platter and customized it into a healthier, lower calorie meal. I STRONGLY encourage you to customize your meals, even just a small degree whenever you order from restaurants…even the "healthy" restaurants.
High Calorie Meal Example: Chicken Cutlet Platter
Below is a popular chicken platter at a Greek take out restaurant around the corner from my old apartment in New York City. I have tallied up all the foods that make up this meal, so you can clearly see how the calories can add up FAST when you eat what restaurants serve you. I don't mean to bash restaurants, I just want you to be mindful that it's not a restaurants job to care about the calories they serve you. Some restaurants make a point of caring, but these restaurants are very, very rare.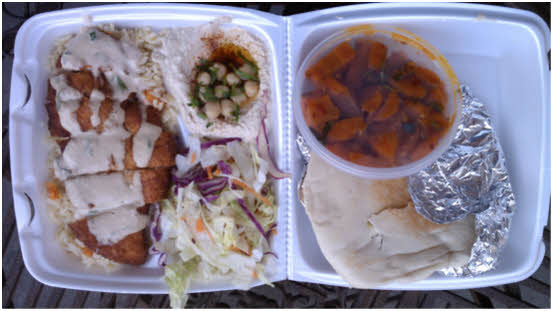 Nutrition Info: High Calorie Meal
Analysis: High Calorie Meal
The total calories for this popular meal is a whopping 1500 calories AT LEAST. Keep in mind that most men on a fat loss program should eat around 1800 calories in an entire day and women should eat around 1200 (assuming average height and 20-30lb overweight).
Notice how just the tahini sauce, olive oil, and deep fried oils in the chicken (250 calories) add up to 570 calories, which is enough for an entire lunch! Because fat has 9 calories per gram, the calories in foods that are high in fat add up fast. I approached one of the helpers at the restaurant and he had a grin on his face when I asked him about the hummus. He said they load it with tahini sauce, so I wouldn't be surprised if the number of calories is DOUBLE what I listed for the hummus.
I also must point out that the pita + rice + hummus is a solid 100 grams of carbs. Unless you are carb loading for a marathon, eating that many carbs is not doing your body good. Personally, in general, I I don't each much more than 50 grams of carbs in any meal, unless I'm preparing for some type of athletic event, or trying to bulk up.
Low Calorie Meal Example: Grilled Chicken Kebab Platter
Nutrition Info: Low Calorie Meal
Analysis: Low Calorie Meal
So what's the difference between these two meals? I replaced the 1 cup of rice with 1 cup of lettuce, added 1/3 cup of beans/veggies, and kept the hummus but asked for no extra olive oil on top and decreased the portion to 1/3 of a cup (I asked for a "little bit" of hummus). I also did not take the pita they give me with the meal, or the extra side of veggies. The above meal is PLENTY!
Notice that the difference between the Chicken Kebab, which is grilled and the deep fried chicken cutlet is more than 250 calories. This is because the chicken is breaded and deep fried, which not only adds calories but very unhealthy hydrogenated oils.
I also would have considered half a cup of rice instead of the beans along with even less hummus. The carbs sources are not perfect, but keeping calories lower and carbs under control makes this meal a heck of a lot better than the deep fried chicken platter monstrosity that I used to call a lunch. This is a more major meal customization than normal, but I just want to give you some ideas.
3 Meal Customization Tips To Create Low Calorie Meals
Below I have 3 tips you can use as quick guidelines when you eat out at restaurants:
1. Swap the Side
Most sides that are offered will be fries, chips, onion rings, or buttery mashed potatoes. Opt for healthier, less processed options like salad, rice, sweet potatoes etc.
2. Get it Grilled, Baked, or Steamed
I used to live on deep fried foods and I used to wonder why my skin looked terrible and how I was putting on fat. Deep fried, battered, sautéed foods should be avoided, or at the very least eaten sparingly. This is how a seemingly healthy meal can become VERY high calorie. Choose grilled, baked, or steamed whenever possible.
3. Ask for a "Little Bit"
I've talked to a lot of Europeans about their eating habits versus Americans and they always point out the portion sizes in the States are just HUGE. The reality is we just don't need that much food to survive, feel energetic, while still maintaining muscle mass while promoting fat loss. Ask for "a little bit" of something if you know it's high in calories. Portion control matters.
Hope this analysis was helpful for you to understand the importance of meal customization. Happy to do another one if you like, just let me know by leaving a comment.