The kettlebell swing is the foundational kettlebell training exercise.
The kettlebell swing is also one of the most difficult strength training exercises to learn outside of olympic lifting. But with the difficulty comes a very high ROI if you invest the time and effort to learn proper form.
If you consider yourself a bit uncoordinated, the kettlebell swing may take a long time to learn. It's a plyometric exercise with several moving parts, so it may feel awkward at first.
If I were to teach you the kettlebell swing in person, it would be a process. You wouldn't just pick up a kettlebell and start swinging it. Not at all.
Instead, we would make sure you had enough hip mobility to hinge your hips properly with the straight leg raise test, which is part of the Functional Movement Screen. Then, we would do a dowel hip hinge test, which is shown in this article. Next, we would start with a deadlift pattern simply reaching down and picking up a kettlebell. Learning a deadlift pattern is a skill you learn, which is a process unto itself. Do you keep your lats tight? Is your low back flat to slightly arched the whole time? How are you breathing?
The point I'm making is that a kettlebell swing is a complex plyometric exercise that in my opinion requires professional instruction. It's also the reason why the kettlebell swing – or kettlebell training in general – is not part of our BuiltLean Transformation Program. With all that said, I'm excited to share this exercise demonstration so you can learn some of the nuances that 99% of exercisers who do a kettlebell swing may never learn.
HardStyle Swing vs. Crossfit Overhead Swing
HardStyle Swing
The kettlebell swing I'm demonstrating in the video is "hardstyle", which is a type of kettlebell training that is focused on strength building. You'll notice I'm stopping the swing around chest height, which is for good reason.
As your arms float slightly higher than your chest, your core is no longer engaged. In other words, you lose your core engagement as you lift your arms much above chest height. One of the huge benefits of the kettlebell swing is building serious core strength.
You can test this with a friend. Extend your arms out straight in front of you about chest height. Ask your friend to push upwards against your hands. What happens? Nothing. You are able to resist the push no issues. Now extend your arms above your heads so that your arms form an angle about 130 degrees. Stand completely straight. Now if your friend pushes up against your hands, you'll see you have little if any core engagement and you simply fall backward.
Crossfit Overhead Swing
Crossfit has helped popularize the use of kettlebells, which look like some sort of medieval weapon, not a strength training tool. The CrossFit style kettlebell swing finishes overhead, so the core engagement is nonexistent at the top of the swing. In fact, the arms are usually bent and the ribs flared out, instead of ribs down with a tight core.
Choose a hardstyle swing. Crossfit has contributed in a lot of areas, but kettlebell swing form is not one of them.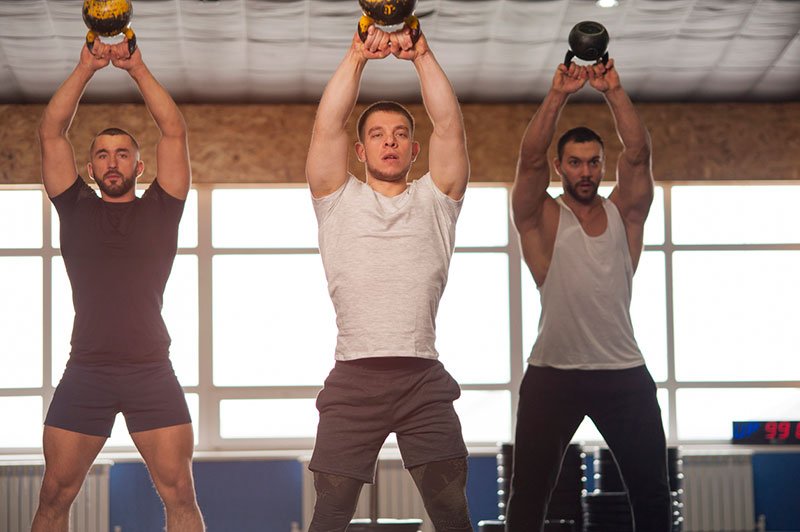 Kettlebell Swing Benefits
Because the kettlebell swing has such exceptional benefits, I've taught the swing to all my immediate family members and several friends.
In fact, I kindly told my parents to do them every week. Ok, maybe with some slight coercion. My dad is in his mid 70's doing 15 reps of kettlebell swings with 24kg (53 pounds). My mom recently had hip surgery, but she'll be back to doing 16kg for 15 reps no problem. They typically do them as finishers or at the end of their BuiltLean workouts.
Because kettlebell swings simultaneously improve grip and hip strength, they are anti-aging.
1. Improve Grip Strength
We've talked quite a bit about the benefits of grip strength on this site such as 8 Grip Strength Exercises and Captains Of Crush Grippers Review. Simply put, if you have a strong grip, you're strong. Holding a kettlebell while you swing it requires significant grip strength, especially if you are using heavier weights. Keep in mind you are not only lifting the kettlebell, but managing acceleration and deceleration phases, which can equate to double to triple the force of just the weight itself.
2. Improve Overall Strength
We have already established that if you have a strong grip, you're strong. Now if you have a strong grip and strong hips, then you are really strong. Extending the hips to propel the kettlebell and requires all of your core muscles to work at their max. What muscles comprise the core is not so simple, but one way to think about the "core" is it transfers force between the lower and upper body. Our bodies are integrated, the human body is one muscle with 600+ pockets. Strong hips, strong core, healthy spine.
3. Improve Conditioning
While the kettlebell swing requires quite a bit of strength, it also is very taxing on the cardiovascular system. In fact, you may be smoked after 10 reps. Part of the reason is that the proper breathing pattern is really important during a kettlebell swing, so that you are forcefully exhaling as you propel the weight up, and inhale as you are bringing the weight back down. I should have talked about breathing in the video, which is admittedly a huge oversight. Even with proper breathing, kettlebell swings are a cardio challenge. You can significantly improve just about any cardiovascular marker without taking one step. You may also develop an intimate understanding of why strength professionals say, "The cardiovascular system supports the muscular system, not the other way around."
How To Swing A Kettlebell Instructions
1. Address the kettlebell so that the bell is a few feet in front of you, your feet a few inches wider than shoulder width apart, toes pointed slightly outward.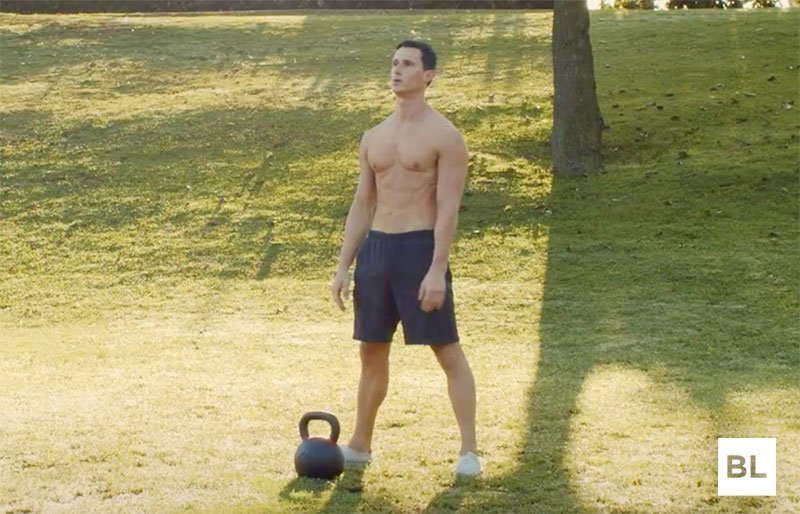 2. Drop your hips downward so that your hips are at least a few inches below the plane of your shoulders.
3. Grasp the kettlebell, then lock your shoulders down and squeeze your arm pits together, lats tight
4. In one motion, hike the kettlebell backwards between your legs while keeping your head neutral and low back straight to slightly arched. Head is looking around 6-8 feet ahead.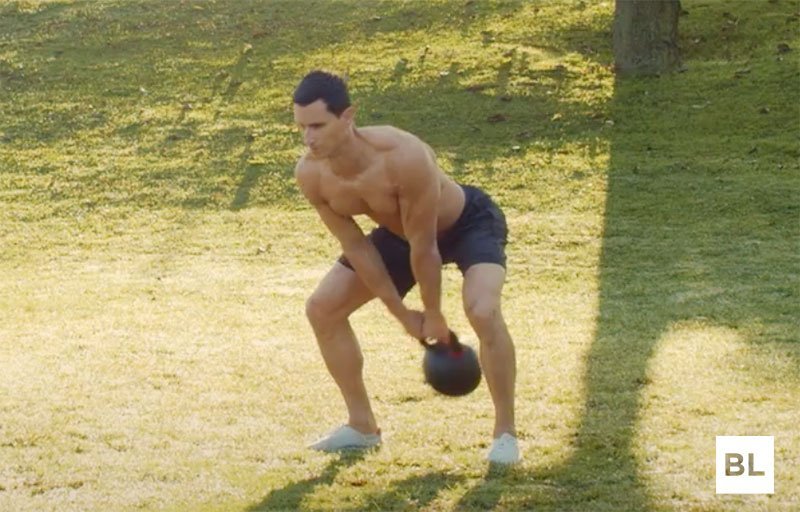 5. Snap your hips to explosively throw the kettlebell in front of you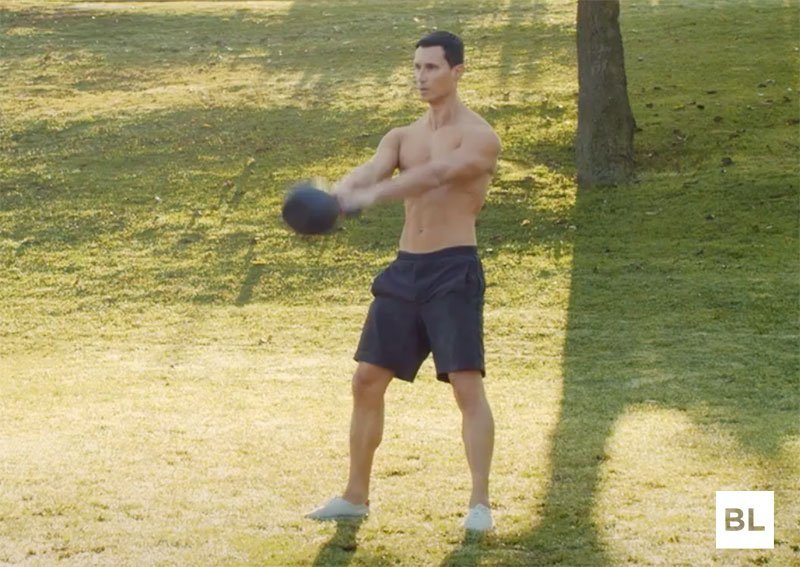 6. The kettlebell should float up to around chest height in an arc. Stand tall, head up, back straight, abs and glutes tight.
7. Catch the kettlebell between your legs keeping your hands as close as possible to your body.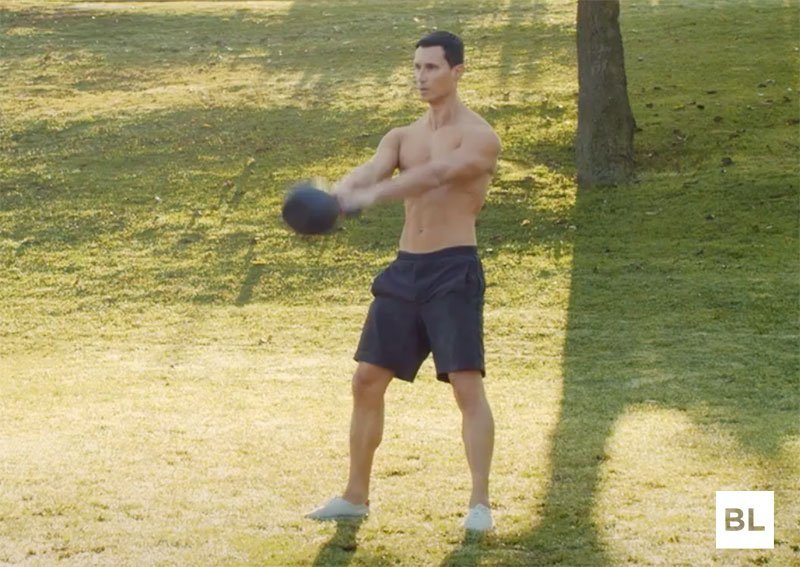 8. When you are completing your last repetition, softly catch the kettlebell between your legs, then pull it forward so it rests in the starting position.
Kettlebell Swing Readiness Test #1: Straight Leg Raise
The first test is the active straight leg raise where you lie on your back with your legs extended straight, arms at your sides. Lift your right leg up as high as you can while keeping it completely straight and making sure your left leg and foot do not move at all. Your right foot should pass the plane of your left knee. If it doesn't, you fail the test. Complete with the other leg.
Kettlebell Swing Readiness Test #2: Dowel Hip Hinge
Using a broom, or stick that's at least a few feet long, align the dowell behind you by grabbing it behind your neck with your right hand, and behind your lower back with your left hand. The dowell should be touching the back of your head, the middle of your back, and your hips. Now bend over and back up while keeping the dowell touching all three points on your body. If you are not hinging your hips properly, the dowell will lose contact with one or more areas of your body.
Where did my legs go in this image! The video should have shown my legs, which is my bad. The key is that your knees do not go far beyond your toes. Unless you are very tall, your knees will not drift over your toes when doing a proper hip hinge. If you keep your knees behind your toes and lats tights, then your hips will be in a safe position.
3 Common Mistakes
1. Leaning Back At The Top Of The Swing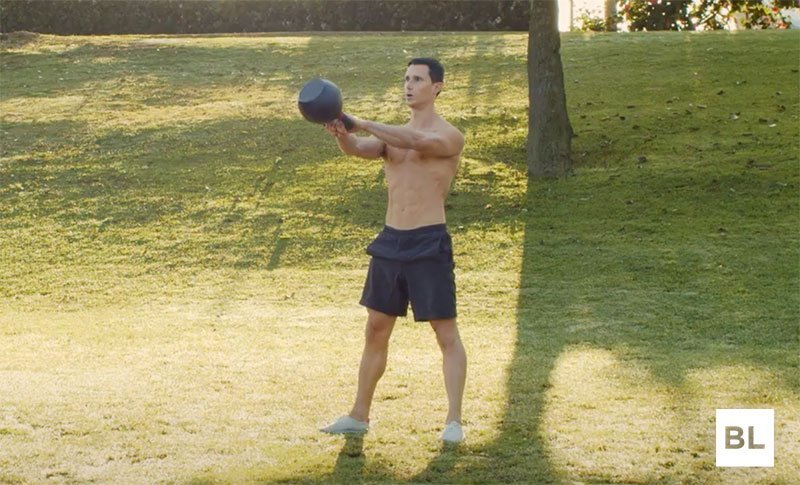 One common mistake is leaning back at the top of the swing. Instead, if you squeeze your glutes, contract your abs, and look straight ahead at the top of the swing, you will stand tall and upright. Think stand tall, tight core, squeeze your glutes.
2. Lifting vs. Swinging The Kettlebell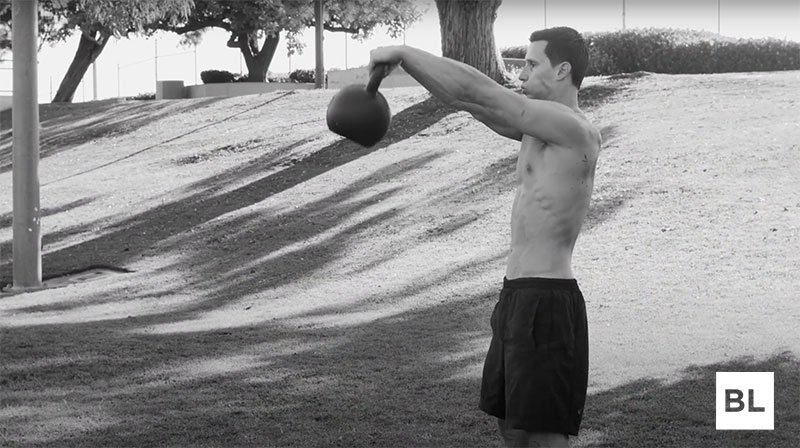 For particularly strong guys who are using a light kettlebell, a common mistake is lifting the kettlebell instead of swinging it. There is no lifting involved. The kettlebell swing is a plyometric exercise. If you find yourself lifting the kettlebell instead of swinging it, then do some towel swings. How it works is wrap a towel inside the kettlebell horns. Then swing the kettlebell with the towel, which forces you to get a proper rhythm and eliminates lifting instead of swinging.
3. Squatting vs. Hinging
I did not do a great job of demonstrating a "squatty" kettlebell swing, but squatting instead of hip hinging is one of the most common mistakes. Many guys are very quad dominant after developing glute amnesia from sitting for dozens of hours each week.
A squat pattern and hip hinge pattern are similar, but different. During the hip hinge, the knees are bent to about 120 degrees. For a back squat, the knees are bent to around 60 degrees. The simplest way to understand the difference is that your knees should not push far beyond your toes when hinging. Hinging is a more powerful position. That's one reason why typically most people can deadlift more than they can squat.
3 Considerations
1. Be Smart – Get Professional Instruction
As I wrote in the beginning of the article, a kettlebell swing is a complex plyometric exercise that requires instruction in my opinion. The best kettlebell instruction money can buy is likely from a StrongFirst certified kettlebell instructor. I'm biased as I completed the Level I & II Strongfirst kettlebell certifications after 5-years of consistent effort. The standards are much higher than any other certification organization I'm aware of, and I have completed certifications from several different providers over the years. It should only take 1-2 sessions for most guys before you are able to do kettlebell swings safely and effectively.
You can find a StrongFirst kettlebell instructor near you by clicking on the image above or following this link => Find A StrongFirst Certified Kettlebell Instructor
2. Be Careful – You Can Hurt Yourself With Poor Form
I hate to be captain obvious, but you can hurt yourself swinging a heavy weight between your legs. That's why it's critical to pass the 2 readiness tests outlined in this article before you learn the kettlebell swing. Only once you prove you have enough hip mobility to hinge properly without rounding your low back will kettlebell swings become much safer. If you're unable to pass the active straight leg raise for example, kettlebell swings are a recipe for injury. I apologize if I sound like a broken record, but professional instruction is the best way to learn the kettlebell swing.
3. Be Patient – It Takes Time To Refine & Improve Your Form
How long does it take to learn how to throw a punch? An hour? Or maybe 10 years? There are different layers and nuances to any skill you learn. I've taken a half-day course on just the kettlebell swing! Even after tens of thousands of swings – and watching this video – I realize I can still certainly make improvements. Getting to the point where a kettlebell swing is safe and effective can happen in as little as 1-2 sessions, building up to 20 reps with 100lb as I did may take a little longer.
So that's everything. This is a long article, but the kettlebell swing is a top functional training exercise. Feel free to leave a comment below if you have any questions!