I started training with kettlebells 6 years ago.
In that time, I've written 0 articles about kettlebell training on BuiltLean.
Why?
While I'm a huge fan of kettlebell training and I've fallen in love with it, it's like learning a whole new sport. A completely different skill.
I could not look at myself in the mirror every day and recommend you use kettlebells without professional instruction. I've had well over 50 hours of kettlebell instruction from live coaches both in group settings and one-on-one.
In other words, it's not a very accessible piece of equipment. If you just want to get strong, fit, and flexible, bodyweight training or using dumbbells is far easier with fewer downsides. Getting professional instruction from a great trainer even if you use dumbbells is worthwhile, but it's not absolutely essential like with kettlebells.
With all that said, I'm going to give you an overview of kettlebell training so you can see if this is something you would like to do. I'll share with you some of the benefits, considerations, top exercises, how to get started, and an FAQ at the end.
What Is Kettlebell Training?
When someone refers to kettlebell training, they are most likely referring to "hard style" kettlebell training popularized by Pavel Tsatsouline, founder of StrongFirst and former fitness trainer for Spetsnaz, the elite soviet special forces unit.
Kettlebells are like a cannonball with a handle that you can swing, press, and do all different kinds of movements. In Russia, they have been a strength & conditioning tool for decades. Pavel emphasized how kettlebells build elite levels of strength & conditioning without the unnecessary puffy muscles many bodybuilders strive to achieve.
Kettlebell training is brutally simple because all you need is one kettlebell for endless workouts. It's a full gym in one piece of equipment.
There are 7 standard kettlebell training weights: 12kg, 16kg, 20kg, 24kg, 32kg, 40kg, and 48kg. In recent times, many gyms have kettlebells with more weight options, and they actually have kettlebells.
The other popular style of kettlebell training is called "girevoy" or kettlebell sport. This training style emphasizes endurance to a greater degree and is characterized by a more relaxed and loose approach.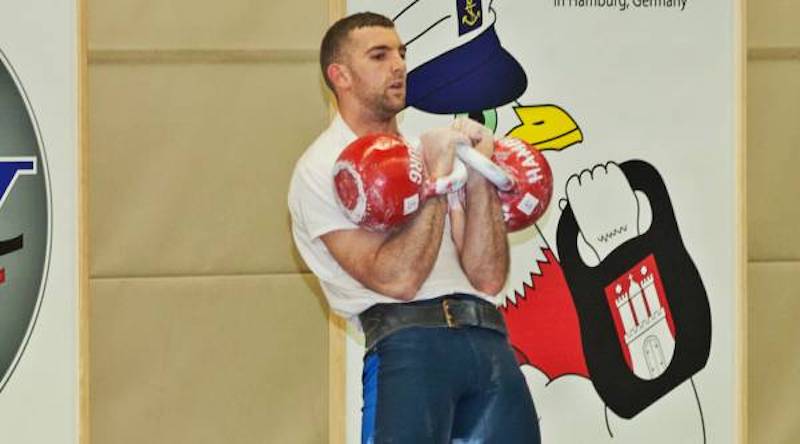 What Are The Benefits Of Kettlebell Training?
1. Builds Full Body Functional Strength & Conditioning
Isolating muscles doesn't really work with a kettlebell. In fact, just about every exercise requires your entire body. The kettlebell swing alone strengthens every muscle in your body and may be the ultimate minimalist functional training strength exercise. Just one exercise, let's say 100 kettlebell swings can help you build impressive strength and conditioning.
2. It's Very Efficient
While you can certainly get leaner and stronger with dumbbells or barbells or any other type of strength equipment, the plyometric nature of kettlebell training makes it brutally efficient from both a strength and conditioning perspective. You are killing two birds with one stone. Because kettlebell training is so full body, mobility is also critical in order to do the exercises properly. So kettlebell training also promotes flexibility.
3. You've Got A Full Gym With A Few Kettlebells
I have 1 16kg, 2 24kg, and 1 32kg kettlebells in my apartment, which takes up about 3 square feet of space. I rarely use the 16kg unless I'm doing corrective exercises. I haven't missed a beat since COVID hit. Even one 24kg kettlebell is enough to stay very strong and fit for most guys. You could make the same argument for adjustable dumbbells (affiliate link), which is what I recommend for most guys who do our program.
What Are Some Considerations Before You Start?
1. Kettlebell Training Is Like Learning A New Sport
How were you the first time you played tennis? Not so great, right? It takes time to learn how to do a forehand, backhand, a proper serve, hit on the run, and volley close to the net to name a few skills.
Learning kettlebell training is like learning a new sport such as tennis. It doesn't come easy. Just the kettlebell swing alone can take days if not weeks to learn properly. Many guys do not have the proper flexibility in order to complete kettlebell training exercises safely like the kettlebell swing. A theme in this article is that you really should get professional instruction if you want to do kettlebell training.
It can be painful. The kettlebell lying against your arm can feel really painful initially.
2. There's A Greater Risk Of Injury Swinging A Weight Around
You can call me captain obvious, but if you have limited hip mobility and you're swinging a weight between your legs, the probability of injury is much higher. You can certainly injure yourself lifting any type weight – or just your kids if you have them – but the plyometric components of several kettlebell training exercises makes the exercise more challenging and potentially injurious.
Top 10 Kettlebell Training Exercises
For most of the exercises in the video and demonstrated below, I'm using 24kg (53lb) kettlebell, or a 32kg (70lb) kettlebell. The first 7 exercises use a single kettlebell, the last 3 are double kettlebell.
1. Double Arm Kettlebell Swing
The double arm kettlebell swing is the foundational kettlebell exercise. The kettlebell swing builds your grip strength, glute & core strength, and overall full body strength & conditioning. You can get very strong and in exceptional condition with this one exercise. Next week I'm posting an article and video that focuses just on this exercise.
2. Single Arm Kettlebell Swing
The single arm swing is very similar to the double arm kettlebell swing. In fact, if you think of a single arm swing as a double arm swing as you do it, you will likely have much better form. As you do the exercise, your body will want to twist at the bottom of the swing. Instead, you keep your shoulders more level, so it's an anti-rotation exercise. The single arm swing is more technical and challenging than the kettlebell swing, which is still technical.
3. Single Arm Kettlebell Press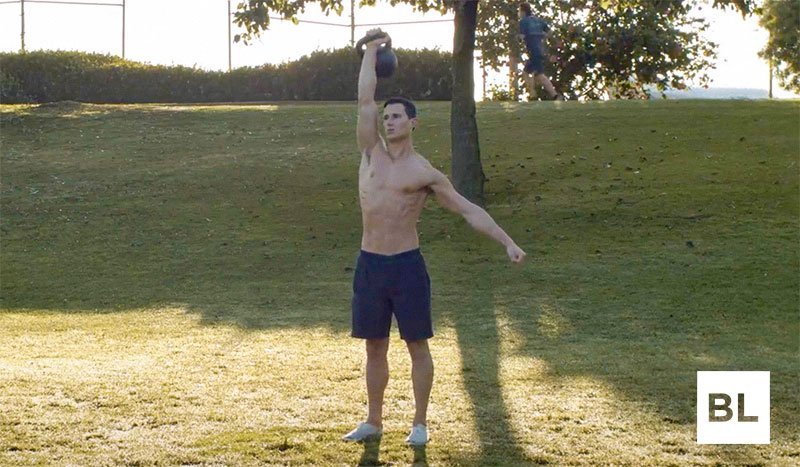 I almost threw in the towel when I did my first few kettlebell presses. The weight of the kettlebell pressing against my arm was so uncomfortable and painful, I thought there must be something I was doing wrong! It turns out that you have to work through the discomfort, kind of like building calluses on your hands. A kettlebell press is more challenging than a dumbbell because the weight is offset so it requires more grip strength and force to press.
4. Goblet Squat
The goblet squat challenges your core to a greater degree than a back squat. It's easier to do a goblet squat by holding a kettlebell by the horns than by cupping a dumbbell. As you go heavier, your grip strength will be challenged, which will likely be the limiting factor to using more weight. For this reason, double kettlebell squats can allow you to add more weight, which is exercise #8.
5. Turkish Get-Up
The Turkish Get-Up is a classic exercise that tests your functional strength on both sides of your body. Lying down on your back with the kettlebell resting by your side, you must end up standing with the kettlebell overhead in one hand. Simply getting up off the ground while lying on your back easily is an excellent test for longevity. Being able to do the same with weight while challenging your joints through a full range of motion on both sides is a high level fitness challenge. I plan to add an article and video on the turkish get up soon.
6. Snatch
Similar to the kettlebell swing, the snatch is a full workout in one exercise. You can get very strong and in very good condition with this one exercise. The best way to get comfortable with it is to first have solid double arm kettlebell swing form, then have solid single arm swing form, then you can work up to smoothly catching the kettlebell as you swing it overhead.
7. Windmill
The windmill emphasizes balance and hip flexibility and strength. How it works if you start with both feet a little wider than shoulder width apart, pointed forwards. Then you press the weight up in one hand, then turn the foot out slightly with the opposite leg. Then you bend over from your hips without rounding your back and while looking at the kettlebell.
8. Double KB Squat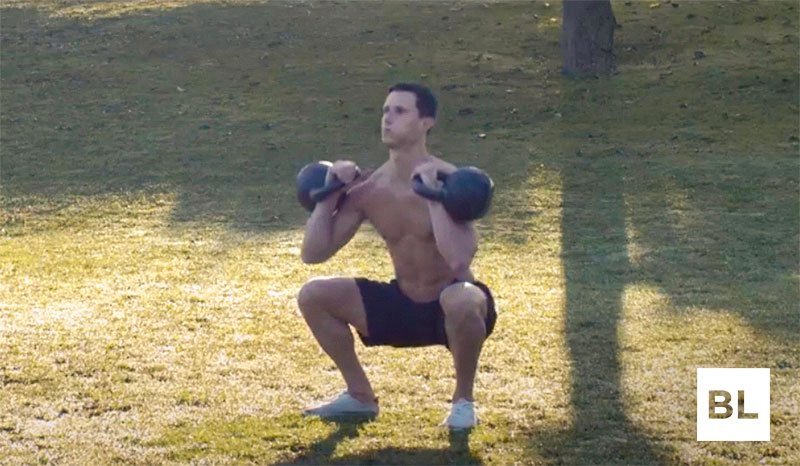 The double kettlebell squat significantly challenges your core and grip, which will be the limiting factors in being able to lift heavier weight. You should learn how to do the double kettlebell clean before doing the double kettlebell squat in order to get into the starting position. My hands could be a bit closer together and my elbows could be pointed down a bit more so that the lats and core are really contracted harder. I've found my barbell back squat is still pretty strong if I only do the double kettlebell squat for a while as it grooves the patterns.
9. Double KB Clean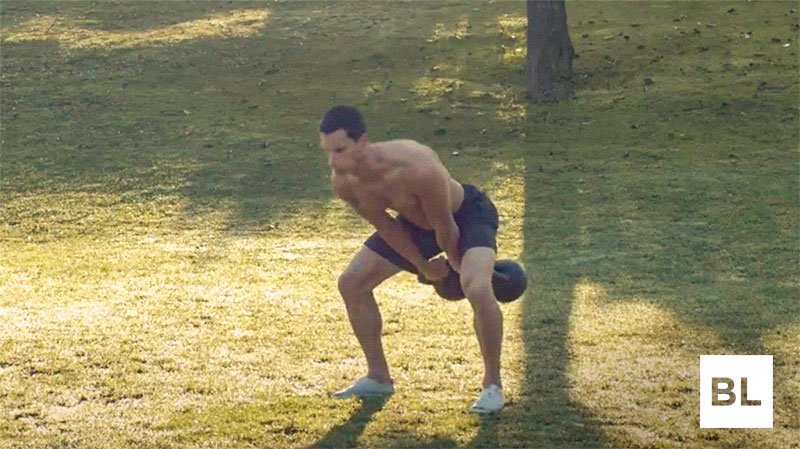 Like the kettlebell swing and snatch, the double kettlebell clean is a full workout in one exercise. You can get seriously strong and fit with this one exercise. Here I'm swinging 2 24kg kettlebells, so that's over 100 pounds swinging between my legs. You will likely be able to double clean more weight than you can swing. You may be using a decent amount of weight so be sure to keep your lats contracted, core tight, and low back flat to slightly arched.
10. Double KB Press
It took me about 5 years before I could do this exercise properly without rounding my lower back. Why? Because my shoulders were relatively immobile, so it took a lot of mobility and yoga to open up my shoulders so I could even have the mobility to do it. Given I was unable to do it without weight, why add weight to it? Even now, this exercise is still not 100% safe and effective for me because I still have room to improve my overhead mobility.
How Do You Get Started With Kettlebell Training?
1. Get A StrongFirst Certified Kettlebell Instructor
It's worth getting professional instruction before training with kettlebells. Not only will you become much more skilled much faster, but you'll also do it safely. Given COVID, this may not be feasible for you right now. There are many kettlebell certifications out there that may help instructors to learn the basics, but I think StrongFirst – created by Pavel Tsatsoline – is at a different level.
From my own experience and perspective (I did Level I & II), StrongFirst kettlebell instructors are like the navy seals of the fitness industry. Just passing the Level I kettlebell certification requires significant strength, conditioning, and flexibility. You must demonstrate nearly perfect form on 6 kettlebell exercises (double arm swing, single arm swing, clean, press, snatch, & tgu) & complete 100 kettlebell snatches with 24kg in 5-minutes, which is the weight required for men above 150 pounds and below 50 years old. If that wasn't enough, you must endure 2 full days of intense kettlebell training and instruction before doing the tests.
You can find a StrongFirst kettlebell instructor near you by clicking on the image above or following this link => Find A StrongFirst Certified Kettlebell Instructor.
2. Read "Enter the Kettlebell!" by Pavel Tsatsouline
Pavel Tsatsouline is credited with popularizing kettlebell training in the U.S. It's truly remarkable given the fitness industry was rooted in a globo gym phase with reliance on machines in the early 2000's when he was attending all the fitness conferences.
I've read 12 of his 15 books, which are all very good. Enter the Kettlebell!: Strength Secret of the Soviet Supermen (affiliate link) is definitely a kettlebell training classic. If you want to dip your toe into the kettlebell world or prepare for a deep dive, this is a great book to read and internalize.
3. Learn the Kettlebell Swing with Proper Instruction
The kettlebell swing is the foundational kettlebell training exercise. Learning the kettlebell swing is like learning how to throw a punch. Yes, you can throw a punch right now, but learning how to master throwing a punch can take years. This is what it's like learning the hard-style kettlebell swing. Over time, you discover layers and over time the exercise becomes more effortless and efficient. I worked up to doing 20 kettlebell swings with 100lb kettlebell over many years. It's definitely worth getting some instruction.
Kettlebell Training FAQ
Which kettlebells should I buy?
Buy Rogue Kettlebells, which I'm using in the video and image demonstrations. Guys should start with one 16kg kettlebell. Then you can graduate to a 20kg or 24kg kettlebell when you really get the form down. Focus on training with one kettlebell at a time in the beginning. Ladies can start with 12kg.
How do I incorporate kettlebell training into the BuiltLean workouts?
If you're currently completing the BuiltLean Transformation Program, there are a couple ideas to consider. First, you can do 1 set of 15 to 20 swings as the finisher for any workout. Second, you can sub kettlebell exercises for dumbbell exercises. For example, instead of doing goblet squats with a dumbbell, you can use a kettlebell. This applies to any dumbbell exercise except chest press.
Is it ok to wear wrist guards? The kettlebell really hurts my arm.
You can certainly wear wrist guards (affiliate link) when you first start with kettlebell training to prevent bruising. Eventually, you may decide to overcome the pain and discomfort and build the psychological equivalent of calluses for your arm.
Should I wear gloves for my hands to prevent blisters?
It's not a great idea because it affects how the kettlebell feels in your hands, which affects your form. The best way to prevent blisters is with proper progression. Just a little more each day will build them. My hands are rough with callouses as they've been toughened by iron. Not exactly soft to touch. If your wife or partner doesn't want you to rub their skin with your hand because it's like a rough leather mitt, don't be surprised.
Can you give some examples of kettlebell workouts I can do?
Sure. The beauty of kettlebell training is that just a few exercises can be more than enough for a full workout. In fact, one exercise is plenty.
Workout Examples
Workout #1 – 10 sets of 10 kettlebell swings on the minute for 10-minutes
Workout #2 – 100 kb swings + 5 sets of TGU both sides Simple & Sinister (affiliate link)
Workout #3 – 10 snatches each arm + 20 push ups for 5 rounds
Workout #4 – 5 single arm press both sides + 5 goblet squats + 10 kettlebell swings for 5 rounds
Workout #5 – 5 double kb presses, squats, & cleans for 5 sets with no rest between exercises and 2-minutes rest between sets
I think you're getting the idea. It doesn't need to be fancy with a bunch of exercises. Keep it simple.
I hope that by this point, you know whether or not you want to do kettlebell training.
Feel free to leave a comment if you have any questions or thoughts to share!