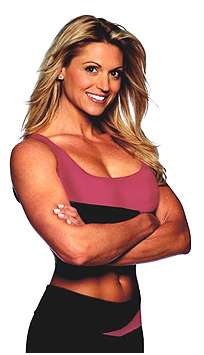 We're excited to share with you an interview with top trainer, fitness entrepreneur, and model Kim Lyons.
Kim Lyons has over 10 years of personal training experience and has become a health & fitness icon as a former trainer on NBC's hit show, The Biggest Loser and Dr Phil's Ultimate Weight Loss Challenge. Kim has been featured on leading media including The Today Show, Access Hollywood, ET, Larry King Live, The Insider, MTV, Extra, People Magazine, TV Guide, US Weekly, Los Angeles Times, Self, Allure, Woman's World, Muscle and Fitness and many more.
Kim just launched her Your Body, Your Life Nutrition Bar, which boasts natural ingredients with antioxidants, omega 3's, and 6 servings of fruits and vegetables. You can learn more about Kim on her website – www.KimLyons.com.
1) How did you first get involved in the fitness industry?
After I graduated from college and spent hundreds of hours in flight school, I had a change of heart with my career choice. I knew I didn't want to be a pilot, but I didn't know what to do with my life! I was just out of college, chunky, had acne, and was depressed. A new gym opened up across the street and I decided to work the front desk just to pay the rent while I figured out what to do. A trainer offered to work with me because he was training a girl that needed someone to share the cost of her session. On a whim, I accepted. In 12 weeks I felt like a new person. I wanted to give to other people what he had given me through exercise- strength, confidence, goals, and a feeling of control over my health. I got certified in 1996, and the rest is history!
2) You have worked with a lot of clients in your personal training career. Is there anything specific that separates the people who get the best results from those who don't get any?
The most critical aspect of success is the ability to overcome obstacles. You can make excuses as to why you "can't" do something or you can find a way to overcome obstacles and achieve your goals. The old saying "If there is a will, there is a way" says it all.
I love to teach people to have fun and embrace obstacles. Everyone gets so freaked out about eating healthy and exercising and it doesn't need to be something that causes anxiety! Just relax, do the best you can, and be proud of your efforts!
3) What are your favorite motivational tips?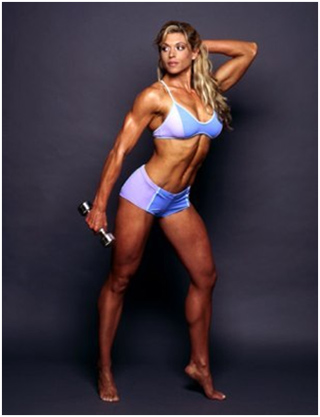 Have hope. Hope is the most powerful form of positive thinking. When you have hope toward overcoming any obstacle you will overcome it.
Believe in yourself and your goals. Too many people give up on themselves and their goals because some where along the way they were discouraged and got off course. It's never to late to become what you've always wanted to be.
Support is great, but internal motivation and drive is key. I was very alone in reaching my goals because everyone around me thought I was crazy and obsessed and tried to talk me out of my goals. I was a bit crazy, but it was just passion and I loved learning about nutrition and exercise.
Let others help you and communicate your need for support, but do not let anyone play "devil" to the "angel" on your shoulder! There aren't very many things we can totally control in this world, but how much you move your body and what you put in your mouth is 100% in your control. I think that's pretty awesome!
4) Despite being a busy parent and entrepreneur, you stay in great shape. Are there any tips you can give to people who are really busy to reduce workout time, or make eating healthier easier?
Stop listening to all the diet and exercise "noise" and go with common sense! Instead of trying to find the "perfect diet" or "perfect workout" start with the knowledge you have. For example, eat and apple instead of a candy bar, pack a lunch instead of eating fast food, go for a walk instead of sitting on the couch for hours every day, spend a few mins on youtube or google exploring exercises.
It's not hard to live a healthier lifestyle, but you have to start! It doesn't take extra time, but it does take a little extra planning and commitment.
You don't have to be great to start, but you have to start to be great!
5) Do you have an opinion on whether men and women should workout differently assuming the same goals (getting leaner and stronger)?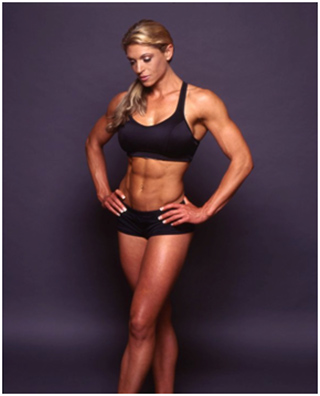 I love this question, glad you asked! I feel strongly that men and women should train the same. Women have this crazy fear of getting bulky and it drives me nuts. Hormonally speaking, it isn't possible. If more women would workout with proper form, heavier weight, and more intensity they would gain the "toned" look they are trying to achieve while increasing their metabolism which in turn, helps with the fat loss. I always tell my female clients "If you want a smaller version of your squishy self go join the cardio queens." Harsh…but true!
6) What are you top 5 favorite healthy snacks?
I go through phases but my favorite snacks right now are:
Roasted Seaweed (love the one from Trader Joe's) I am constantly battling a low thyroid so I like the added kelp.
Almonds-I buy them raw and roll then in a mix of 100% pure maple syrup and cinnamon then put them in the oven till they get crunchy
Greek Yogurt- I love the new Chobani flips
Wasa light and Crisp crackers with sliced tomatoes sprinkled with sea salt and olive oil
My bedtime snack is always frozen blueberries with a little almond milk over the top. The almond milk freezes around the blueberry and makes a yummy ice cream like treat.
7) What does your current workout routine look like?
I'm totally exercising ADHD!! I spent 7 years on a very strict and planned out schedule while I was doing fitness competitions and I've gone 180 degrees from that now. Everyday is different but I make sure to stay active. I mix it up between resistance training in the gym and at home, I'll run stairs, rollerblade, workout on the beach with resistance bands, kick box, ride a bike with my family, or go for a hike.
8) What are your top 5 favorite strength training exercises?
Overhead presses. One of my favorite body parts to work are shoulders. I love the results I get from heavy overhead presses.
Walking lunges – Like most women, my legs are always a work in progress and the first place I put on extra pounds. I keep them in check with lunges. I love adding a sand bag over my shoulders and glute lift for a little extra bootie perk!
Planks – I could do planks all day long. They are so great for the core and I get to chill out on the floor while doing them 🙂
Jump Squats with a kettlebell – This exercise kills a ton of birds with one stone. Killer cardio, great for the legs and glutes, and adds a little burn with the kettle bell.
Pushups – Kind of a boring answer, but I love pushups. It's the old school boot camp thing I guess. Moving your own body weight is important and pushups (when done correctly) engage so many muscle groups.
9) Do you have a favorite HIIT workout, or cardio workout you do?
I'm a huge fan of sprints on the treadmill. I usually prefer cardio workouts outside, but when I really want to kick my own butt, I will hop on the treadmill and do 30-45 second sprints at 12.0-13. I'll turn it up until my feet literally fly out from under me and I force myself to keep up! It takes every ounce of my concentration to keep my feet moving that fast under me. I'll do 8-10 sprints with 1.5-2 min walking breaks in between.
NOT SOMETHING I RECOMMEND FOR BEGINNERS!
10) Is there anything we did not touch upon that you would like to mention
I'm in the process of opening up my own studio, Bionic Body. It's the most exciting project I've launched so far, I can't wait to show everyone! It's going to be located here in Hermosa Beach, but the training will be something that everyone can do at home as well with my unique Bionic Body Track. It's so cool, yet simple and effective. Sign up for my newsletter at www.KimLyons.com to be the first to hear (and see) all about it. I'm about to knock all the walls out to do the remodel on the space and I'm going to get it all on video, Gunter and I with sledge hammers…..SCARY