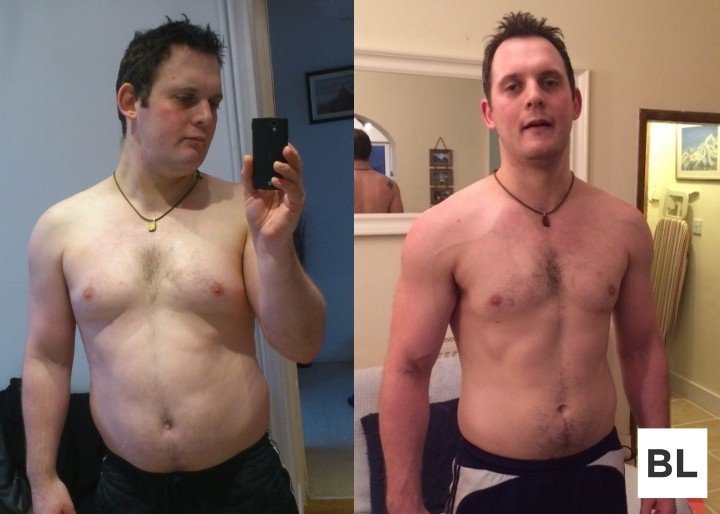 Results may vary. Proper diet and exercise are necessary to achieve weight loss and muscle definition.
I'm honored and excited to share the following email from James Flint who is a busy laywer in the UK. I hope you find it inspirational!
Dear Marc,
I am a British lawyer with a 15 month old baby (a second on the way) and I have very little time to exercise properly but I managed to lose 38lbs, and 20lbs in just the first 8 weeks using your exercise programmes and excellent dietary advice. I used to lift a lot as a teenager but university and a professional career led to a 35" waist 44" chest and a fair amount of excess fat, as you can see. Now I have a 29" waist and a 39" chest!
I didn't buy the formal programme but used the resources on your website and the great articles and email updates on diet and HIIT routines to get to this level of weightloss. I've gone from around 27% body fat (200lbs) to around 13% body fat (162lbs) but I'm still going!
I want to thank you and your colleagues for the help you have provided; the advice on your site is very level headed and for once doesn't push too hard in any one direction which is problem with a lot of websites, especially those advocating 'healthy' eating – the depth and breadth of the articles on your site are unrivalled and the email updates have been invaluable – several times when I've been wavering, an email update will come in with a new tip or update and they served as a great source of motivation.
I am just hitting a plateau now and I plan to try out your full proper 8 week programme to try and get right down to sub 10% body fat!
Thanks again,
James Flint