I've been getting a lot of emails from guys asking me about my workout routine.
Over the last 20 years, I've experimented with tons of different programs and workout routines. I've also created dozens of workout routines for my training and coaching clients.
The workout routine I have below is what I've found works very well for me.
Here it is:
Monday – Strength Circuits
Tuesday – Yoga
Wednesday – Strength Circuits
Thursday – Cross Training
Friday – Strength Circuits
Saturday – Yoga
Sunday – Active Rest
So let me dive a little deeper into each day.
1. Strength Circuits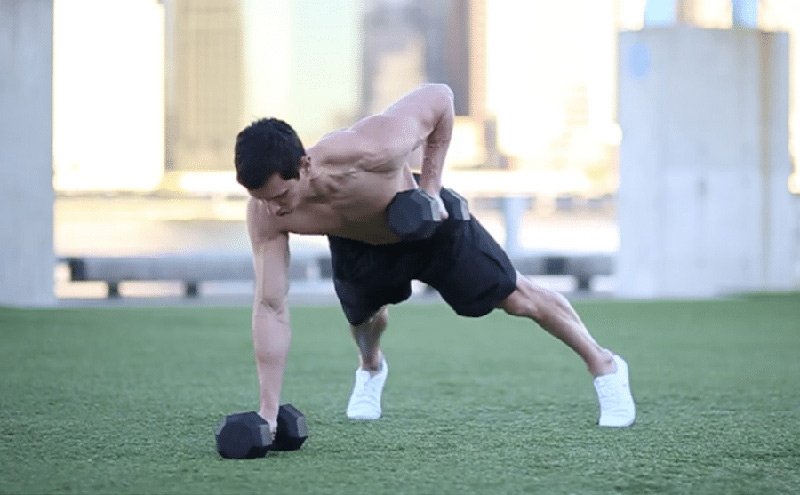 The foundation of my workout routine is strength circuits.
On my strength circuit days, I usually choose 5 exercises and do them for 3 rounds or a few supersets and a finisher. All full body.
The most efficient is doing 5 exercises for 3 rounds, which is how the workouts are structured in my BuiltLean® Transformation program.
Many of the exercises I do are with kettlebells, but I do think most can work well with dumbbells.
While I love kettlebells, I also realize that swinging them around is NOT a good idea unless you've worked with someone in person. It's like playing a sport for the first time; it requires learning a skill.
I'm a Level-2 certified kettlebell instructor through StrongFirst (SFG-II). If you want to learn kettlebells, find a StrongFirst Instructor.
Ideally, my strength circuits workout routine changes monthly. So all the exercises, sets, and reps are figured out in advance. I also like to time my workouts to get the most out of them so I don't waste my time.
Even when I'm training for a certification or some type of athletic event, I keep the template above the same and simply add or subtract to it.
While doing short and quick strength workouts daily can be amazing, I tend to burn myself out and get out of balance because I just can't take my foot off the gas pedal. The exception is that if I'm traveling with no access to weights, I will do bodyweight strength training daily.
2. Yoga
When I first did yoga over 10 years ago, it was a very humbling experience.
At the time I was benching over 300 pounds. Yet in my first yoga class, I could barely hold myself up in the downward dog position for 20-seconds.
I looked around me as several women were putting themselves into pretzels with ease while I was STRUGGLING.
Long story short, my yoga journey has had many ups and downs. I would go to yoga consistently, then just drop off because I would get completely demoralized comparing myself to the other people in my class who were 10x more flexible than me.
But I always had this gut feeling that practicing yoga was the way for me to experience a completely different level of health & fitness. It was expanding my comfort zone and my abilities dramatically.
"How could I call myself a fitness professional and not even be able to balance on one foot with ease?" I would ask myself.
I now do hot yoga – typically a vinyasa class – for 60-minutes, which improves my flexibility and release overall tension in my body & mind. I like hot yoga the most because my muscles get tight, especially after my Monday training session.
Hot yoga is not easy, but I think it's actually better for most guys because it really helps release tension and relax your muscles. We just get way tighter than women do!
My body would never be where it is now without Yoga.
3. Cross Training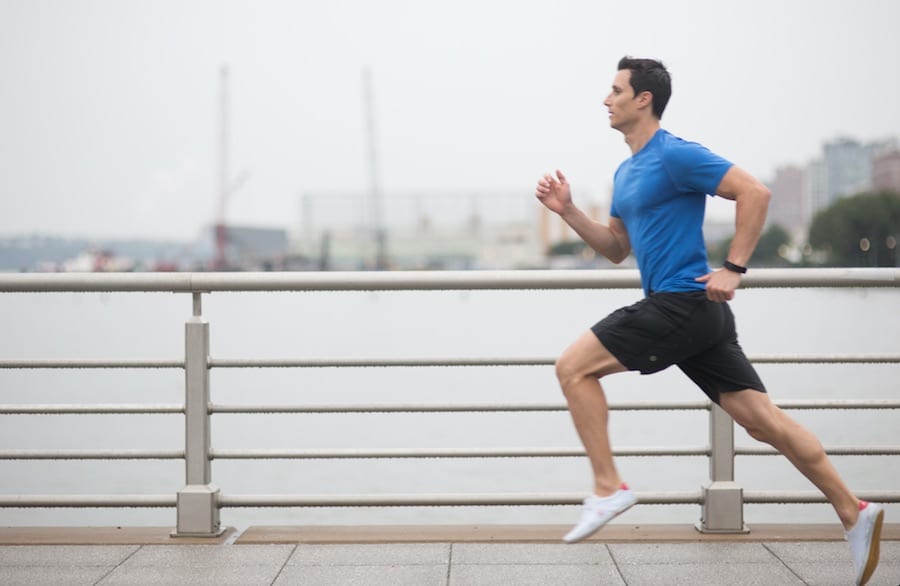 I define cross training as anything that gets my heart rate up that is not strength-based (rowing, running, swimming etc.)
I may go to the gym and do some treadmill sprints, rowing sprints, battle ropes, really any type of HIIT circuit to get my body moving and my lungs burning.
I may instead go for a jog outside on the beach (I live in Santa Monica), some sprints, do the Santa Monica stairs, or some type of new workout or activity.
My cross training days tend to be less structured than my other days, which are very structured. What's nice is that I can choose from a handful of possible options depending on how I'm feeling.
In the past, I was very "anti cardio" and used to joke "Anything above 5 reps is cardio".
But I think building aerobic capacity is hugely important for mental focus, improving overall work capacity (strength over time), and making my body feel limber to name a few benefits.
4. Active Rest
I stay as active as possible, typically with one hike on the weekend, like Sunday.
"Get the blood flowing, keep the ball rolling" is the mantra I tell myself over and over again.
There are certainly days when I just hang out and don't do anything that requires intense physical exertion.
It may seem counterintuitive, but oftentimes the best way to rest is to get the blood flowing. If the blood isn't flowing, your body will typically take LONGER to recover.
Active rest (or active recovery which is probably a more appropriate name), allows me to enjoy the fruits of my labor. I am able to use the strong, lean, and fit body I've built to explore. To enjoy life to the fullest.
In general, I stay as active as possible. The more activity, the better.
In addition to these workouts, I do a core circuit / mobility routine every morning for 10-minutes, which is actually the most important exercise I do. Even more important than the strength circuits because it helps me keep my body in balance.
What's the takeaway?
If you have not structured your own routine, I highly recommend you do so. It's not something that needs to be set in stone. It's simply a template that you follow that helps you get or stay lean, strong, and healthy.
Creating a template takes most of the guesswork out of the equation. If you decide each week what exercise you are going to do, where you are going to do it, and when, then you will be able to stay consistent for a lifetime.
If you have any questions about my routine, ask them below.
Keep training smart & hard my friend!