When you hear the word "meal prep" what comes to mind? I don't know about you, but I automatically go to a dark, scary place – I think of stacks of Tupperware with carefully rationed portions. I think about giant amounts of bland chicken breasts, huge vats of brown rice, and tons of steamed broccoli. "The horror, the horror!"
For just a second, let's suspend the perception of meal prep as the Tupperware-carrying physique competitor that you see at the gym gulping his protein shake. Instead, picture a much simpler, more realistic version.
Here's a quick summary of my meal prep strategy:
You cook extra servings of various proteins and chop a bunch of core veggies to use in multiple dishes. This creates the base for most of your meals. To this, you can add a few select pre-made items (sliced turkey breast, bag of prepared greens, etc.) and boom – you have 80% of your meals for the week.
Now that doesn't sound so hard, does it?
Meal Prep Made Easy
I've got some good news – I'm going to completely change your whole meal prep perspective. You're going to learn some things that might surprise you. For example, it's OK to use fat. In fact, fat is healthy, and it tastes great. Both cheese and avocado (examples of fat) are excellent ways way to make food delicious. Also, spices are your best friend, and don't be afraid to use salt. As far as spices go, these 5 should definitely be in your kitchen arsenal.
The main point is that cooking healthy meals doesn't have to be difficult. I know for some of you cooking is an overwhelming task and you might have no idea where to start.
That's totally OK.
I'm no all-star chef, but I've mastered a few quick, simple, and healthy meals that also support my lean, active lifestyle.
You're about to learn an easy way to prepare 16 meals in 40-minutes. Yes, you heard that right – 40-minutes of focused time in the kitchen will give you 16 healthy meals that are high in protein and loaded with tasty vegetables.
Here's something that's hard to argue with – the more meals you eat at home, the healthier and leaner you will probably be. There are of course exceptions to the rule, but for the vast majority of us, eating home-cooked meals often leads to improved body composition.
A time-crunched schedule is no excuse either.
All you need to do is prep once a week for 40-minutes and you'll set yourself up to be a fat-burning machine.
The Ultimate Grocery-Shopping List
First things first, you'll need to do some grocery shopping to pick up all the ingredients. Here's your shopping list:
PRODUCE:
2 large bags (1lb total) of mixed greens (pick your favorite – spinach, arugula, kale)
5 large carrots
3 large onions (any variety will do)
1 large celery bunch
2 cucumbers
4 red peppers
2 heads of broccoli
2 heads of cauliflower
2 avocados
MEAT
3 lbs. chicken breast
1 lb. turkey breast (cooked, deli meat)
4 cans tuna (solid white albacore)
1 dozen eggs
MISC
If you don't have the below in your kitchen, get the following:
Salt
Pepper
Cumin powder
Cayenne powder
Garlic powder
Worcestershire sauce
Soy sauce
Greek Yogurt
Parmesan cheese
Basic Cooking Supplies
3 large cooking trays or baking dishes
1 large pot
2 large bowls
4 small bowls
Knife
Chopping board
Meal Prep Instructions
Set up a timer for 40 minutes. Remove all of your groceries from your fridge and cabinets. Prepare yourself to make tuna salad, egg salad, baked marinated chicken, parmesan roasted veggies, and a roasted turkey salad.
Step 1: Pre-heat the oven to 400 degrees, and heat a medium pot of water.
Step 2: Place the chicken breast in a large Ziploc bag. Add 2 tbsp of oil olive, 2 tbsp soy sauce, 2 tbsp Worcestershire sauce, and 2 tbsp Greek yogurt. Mix well so every breast is well coated in the marinade. Set aside for 10 minutes.
Step 3: Carefully place 8 eggs into the pot of (almost) boiling water. Simmer the eggs for about 8 minutes. Cooking tip: Placing eggs into hot water will make the peeling process much easier down the road.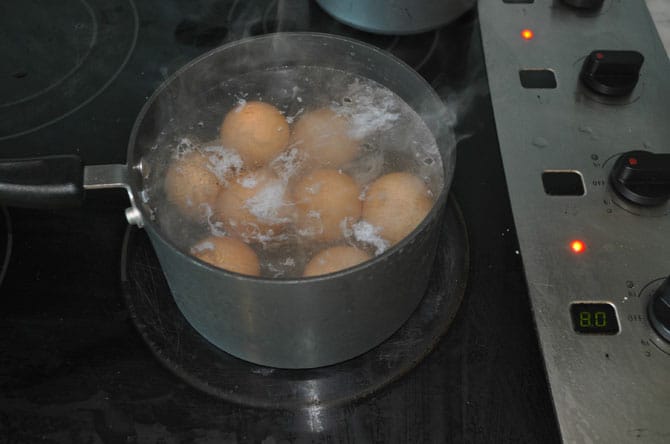 Step 4: Loosely chop the broccoli and cauliflower into large florets and spread amongst 2 cooking trays or baking dishes. Sprinkle with olive oil, salt, and pepper.
Step 5: Transfer chicken from Ziploc bag into baking dish. Place chicken, broccoli and cauliflower into the oven. Set the oven timer to 20 minutes.
Step 6: Dice peppers, onions, cucumber, celery and carrots and set aside in separate small bowls.
Step 7: Place tuna into large bowl and add half the chopped onions and celery. Add 2 tbsp of Greek Yogurt. Add salt, garlic powder, black pepper, cumin, and cayenne powder. Mix well and place in fridge. Your tuna salad is done.
Step 8: Mix large bag of greens in a large bowl with chopped peppers, carrots, onions, and cucumbers. Chop turkey breast slices into 1-inch pieces and toss into salad. Set aside. Your roasted turkey salad is done.
Step 9: Remove the pot with eggs from the heat and run under cold water for 30-60 seconds.
Step 10: Peel eggs and mash them in a large bowl with the rest of the chopped onions and celery. Add 2 tbsp of Greek yogurt. Add salt, garlic powder, cumin, and cayenne powder, and mix until well-blended. Your egg salad is done.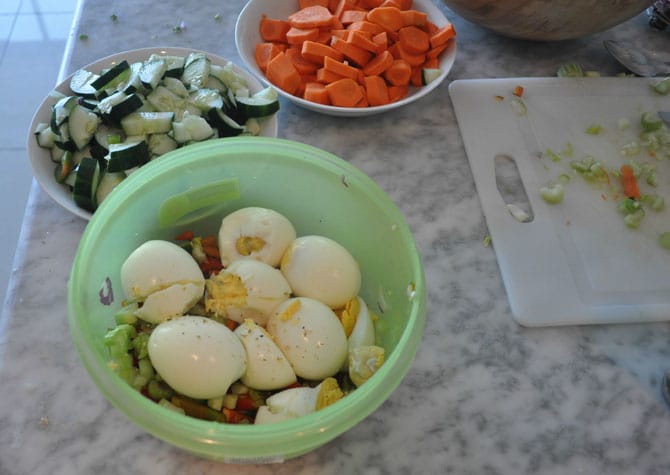 Step 11: Remove the veggies from the oven after 20 minutes. Sprinkle with parmesan cheese. Your parmesan roasted veggies are done.
Step 12: Remove chicken breast 5 minutes later (for a total of 25 minutes of bake time). Your baked marinated chicken is done.
Step 13: Take a big breath. You're completely done.
Recipes: Putting It All Together
What you have: 6 different meals with enough food to make 16 meals.
8 Roasted chicken breasts
2 large trays of roasted cauliflower and broccoli
4 cups of Tuna salad
4 cups of Egg salad
5 cups of pre-mixed salad
1 Lb. of Turkey breast
Meal Ideas
1. Tacos, 4 ways
Instructions:
• Pick your protein. 1) Chicken breast, 2) Egg salad, 3) Tuna salad, and/or 4) Turkey breast
• Heat up 3 corn tortillas, add ¼ cup of shredded cheese, and ½ of an avocado. Place your protein on each tortilla. Add 1 cup of roasted broccoli and cauliflower as a side dish and sprinkle with Parmesan cheese.
Nutrition Information for Chicken Tacos
Calories
650 calories
Fat
20 grams
Protein
65 grams
Carbs
50 grams
2. Big-Ass Salad, 4 ways
Instructions:
• Pick your protein. 1) Chicken breast, 2) Egg salad, 3) Tuna salad, or 4) Turkey breast
• Prep a large plate with the pre-mixed salad (from step 8 above). Place 6-8 ounces of protein on top of salad. Add ¼ of a large avocado.
• Quick and easy dressing: Mix 1 TBSP olive oil with a splash of balsamic vinegar. Add the juice from a fresh lime or lemon and mix well.
You can also spice up your salad with the following easy add-ons: Sunflower seeds, Feta cheese, Sliced almonds, Peanuts, Olives, Diced apple
Nutrition Information for Big-Ass Salad with Egg Salad
Calories
475 calories
Fat
30 grams
Protein
30 grams
Carbs
20 grams
Mix and Match For Different Meals
The best part about meal prep mastery is that once you have a solid foundation of the proteins and veggies, you can mix-and-match to find a winning combo that you love.
Maybe you're feeling a sandwich, so you grab a fresh slice of bread to throw your protein on?
Maybe you want to add some tortilla chips to your salad?
Maybe you want some extra carbs, so you bake a huge potato to go with your pre-made protein and veggies?
The options are really endless.
As long as you're eating protein and veggies with each meal, you'll have a solid foundation to live a fit, lean lifestyle. This one rule alone will have a dramatic effect on how you feel, how you look, and how you think.
Let me know how this works out for you. Drop me a message in the comments below.