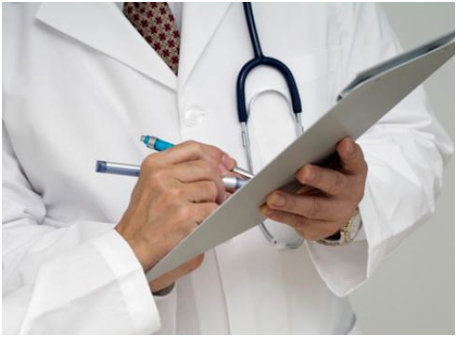 When was the last time you had a regular medical check-up?
If you are healthy and take no medications, there's a good chance it's been quite a while.
And though it may seem unnecessary to see a doctor unless you are sick, there are a number of reasons why it is a good idea to get at least yearly check-up.
Government Recommendations For Medical Check Ups Are Unreliable1
According to government recommendations, men and women from ages 18-21 should have a wellness visit every year, then "at least" every 4 years until age 49. From ages 50-64, the recommendation changes to every 2 years, then becomes yearly.
There are different recommended tests for each of the age groups and they are listed in a chart, which you can find in the reference section of this article.
If you over 21 and less than 65, government recommendations recommend less than yearly visits. Additionally, the same recommendations advise cholesterol checks every 5 years, blood pressure checks every 2 years up until 65. This is less frequent than most people assume and I recommend.
5 Reasons An Annual Medical Check Up Is So Important
Building a relationship with your doctor
Few people think that they will ever get sick, but sometimes it happens. If you know your doctor, and your doctor knows you, he or she will be able to treat you much more effectively.

For example, if you come into the office with an asthma attack and your physician knows that you work hard to keep a healthy weight and body fat percentage (and that you struggle with sugar cravings), he may be more willing to try to treat it without using prednisone, which can cause weight gain and increase carb cravings.

Testing for health markers
My article on health markers lists the tests I think everyone should ask for. The frequency of these will vary based on the individual.
Blood Pressure checks
It is a great idea to track your blood pressure. In fact, I recommend everyone check his or her pressure outside of the doctor's office (the machines in CVS, Rite Aid, etc. are free and pretty accurate) because one measurement every two years is not sufficient to pick up conditions that can be effectively treated but can kill you if undetected.
EKG (one time)
Most doctors don't do EKGs on younger people without specific cardiovascular complaints. However, I think everyone should get a "baseline" EKG to make sure there is nothing wrong with your heart. Specifically, a condition known as hypertrophic cardiomyopathy can cause sudden cardiac death in young people.2

Although an EKG may be normal with this condition, they are frequently abnormal. The test is fast and noninvasive, so it is worth asking for.

Standard screening tests
Most of these tests do not need to be done yearly, and vary with gender and age groups, but they are important to mention as they can save your life.
Pap Test – This test evaluates for cervical cancer, which is deadly and strikes young women. Do not miss these.
Colon Cancer Screening – Colon cancer is a curable cancer which will kill you if it is not picked up early. The screening tests are usually reserved for people over 50, and while not done in the primary care doctor's office, it is the primary who sets it up.
Mammogram and Prostate Cancer screening – Both of these screening tests have become controversial. It is best to talk with your doctor about them. (Another reason why building a relationship with your doctor is important- for example, if you are a very fit 80-year old woman who plans to be exercising until you're 100, your doctor will be less likely to try to talk you out of a mammogram or prostate cancer screening if he knows you and your plans.)
Find A Primary Care Physician You Can Trust
If you are not confident in your doctor's skills, I highly recommend finding another one.
Unfortunately, primary care physicians (or any physician of any specialty for that matter) who have knowledge of exercise, nutrition, and supplementation are few and far between.
If you are reading this article, you are likely interested in all three, and simply seeing a generic physician more frequently than the recommendations dictate may be a waste of your time unless you have a specific list of tests you would like done. A well-versed doctor should test for these things without you asking, but being prepared will ensure you get the most out of your visit if your doctor strictly follows published guidelines.
Note: If you are lucky enough to see a physician with a background in fitness and nutrition, you may benefit from seeing him or her more than yearly. I see a number of extremely fit patients every 2 months or so. During our appointments, I adjust their resistance and cardio programs, tune up their nutrition programs and discuss the latest research on supplementation.
Hopefully this list is helpful in deciding how often you need to visit your doctor, and what kinds of things, especially related to health and fitness, you should discuss together. I believe yearly check-ups are well worth the time, especially if you come prepared.
Adult Wellness Visits, Screenings, and Immunizations. Group Health. 2013. ↩
Barry J. Maron, MD; Julius M. Gardin, MD; John M. Flack, MD, MPH; Samuel S. Gidding, MD; Tom T. Kurosaki, MS; Diane E. Bild, MD, MPH. Prevalence of Hypertrophic Cardiomyopathy in a General Population of Young Adults.Circulation.1995; 92: 785-789. ↩