Here's a metabolic conditioning (aka interval training) circuit you can add to your workouts to help raise your metabolism, or do as a quick workout if you are pressed for time.
I have two metabolic conditioning circuits in this post depending on your fitness level. I do the advanced circuit all the time at the end of my workout as an alternative to traditional cardio such as going for a jog.
Completing a metabolic circuit at the end of a workout is sometimes referred to as a "finisher" and can significantly improve your cardiovascular health.
Metabolic Conditioning Benefits
You may be thinking – how is it possible to replace aerobic activity with a metabolic circuit?
While it was once believed that only aerobic conditioning (i.e. going for a long jog) served to increase cardiovascular health, studies have now shown that anaerobic conditioning (sprinting, or lifting weights intensely) may also condition the heart to a same, if not higher level as aerobic training.
A study by Dr. Izumi Tabata showed that athletes completing intense anaerobic cycling for 4-minutes 3x per week experienced better V02 max improvement than the control group, which followed a 60 minute moderate intensity regimen 3x per week.1
Aside from metabolic conditioning being extremely effective at improving cardiovascular health, burning fat, and raising your metabolism, a few cycles of a metabolic circuit can literally take 5 minutes. That's my kind of exercise! You won't believe the lung burn you get despite metabolic conditioning being an anaerobic activity.
Metabolic conditioning is not appropriate for beginners, or people who have not worked out in a long time.
Workout Instructions
Complete each exercise back to back with no rest between exercises
Rest 2 minutes between each circuit, which is comprised of 3 exercises
Complete 3 rounds of either the intermediate, or advanced circuit below at the end of your workout, or as a quick standalone workout consider 4 or 5 rounds

Intermediate Circuit
To make the preceding circuit less challenging, I modified the exercises to make them easier.
1. Burpee Without Push Up (10 reps)
Instead of using weight and completing a push up, you can do burpees with no weight and no push up. To make the burpee harder, you can also add a jump at the top.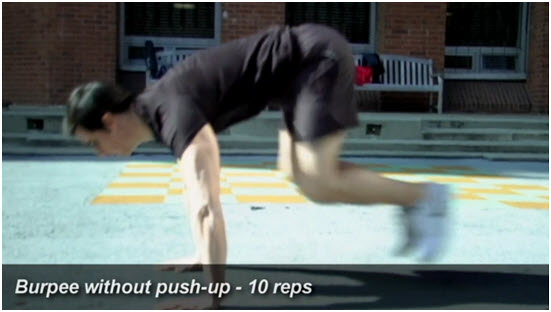 2. High Knees Against Wall (30 reps)
High knees against the wall, which is basically like you are running against a wall and trying to push it down. This is similar to the mountain climber exercise except you are upright, which is easier on your arms/shoulders.
3. Jumping Jacks (30 reps)
Jumping jacks are pretty basic, but one of my favorite exercise for a total body warm up, and in this case, a cardio burnout. By the 3rd round of the circuit, the jumping jacks will not be that easy!
Advanced Circuit
By the 3rd cycle, you should have a pretty serious lung burn. If not, rest less between sets, or increase the number of reps.
1. Weighted Burpee (10 Reps)
I hold 20-25lb dumbbells in my hands as I do a burpee with a push up. The first set is usually not too difficult, but weighted burpees get really hard by the 3rd round, especially if you are doing this circuit at the end of your workout.
2. Mountain Climbers (30 reps)
Going from burpees to mountain climbers is a smooth transition. There are two primary ways to do mountain climbers, either touching the front foot to the ground as I'm doing it in the video, or keeping your front foot off the ground while simply running in place. It's up to you what feels better.
3. Jump Rope Double Unders (20 reps)
Consecutive double unders are pretty tough, which means you are spinning the jump rope twice around for every one jump. You may consider doing a double under once every 5 revolutions, or even 10, or not at all. Whatever works for you.
If you give one of these metabolic conditioning circuits a try, let me know what you think!