"Movement is a medicine for creating change in a person's physical, emotional, and mental states." ~Carol Welch
For the last several years, I've been doing a morning mobility routine every day without fail.
My mobility routine is constantly evolving with all different types of exercises, some of which include tools like a foam roller and rad roller.
The following is a very effective full body mobility routine with no equipment and takes just 10-minutes. You can also cherry pick some of these exercises if you already have your own mobility routine. All of these exercises are effective and I've learned them from workshops & amazing coaches.
If you workout in the morning, you can consider doing this routine in the afternoon or evening, or skip it all together if your warm up routine has some mobility exercises. In other words, your mobility routine can become part of your workout warm up routine. Most of the time I do both a mobility routine and warm up routine separately as I often train in the afternoons and enjoy the extra mobility training.
If you're unable to do a full mobility routine for some reason, consider doing just a spider stretch with rotation. Even just a few minutes a day can make a massive difference.
As you move, remember to breathe deeply and connect your breath to your body. This is the most important thing of all. Focus on your breathing and relaxing the body, letting go of tension. Think breathing exercises with movement.
Mobility Routine Benefits
Improves Joint Range Of Motion

If you don't use the range of motion of your joints, you lose it. Losing joint range of motion over time has consequences that may include arthritis, low-back pain, loss of muscle mass, and increased stiffness.

Build Exceptional Strength
The more flexible you become, the more you build your strength potential. A prerequisite for exceptional strength is exceptional flexibility.

Longevity
If you want to be able to bend down and pick up your grandkids easily when you are 85 years old, mobility is key. Practicing daily mobility is anti-aging since movement is the only true antidote to our modern sedentary lives.
Mobility Routine Exercises
Perform the routine moving from one exercise to the next with about 1-minute for each exercise. Breathe slowly & deeply to optimize the effects. Relax into the stretch, don't fight it.
1. Hands, Fingers, & Wrists Flexibility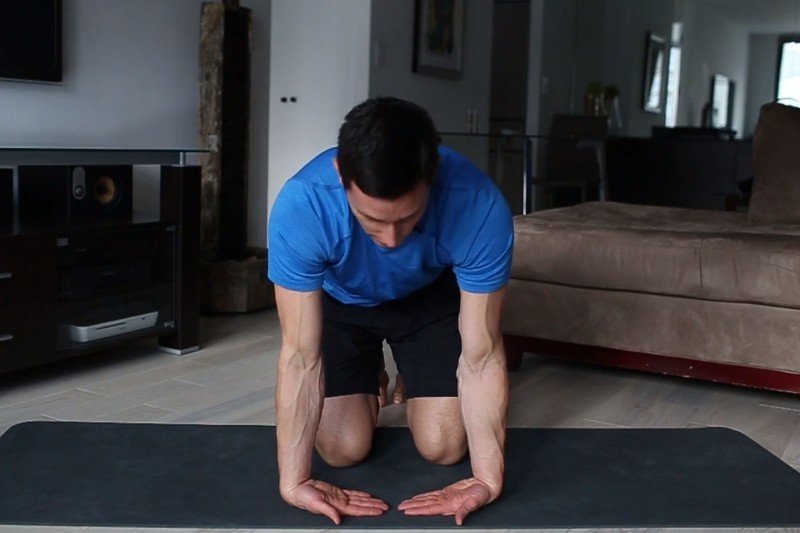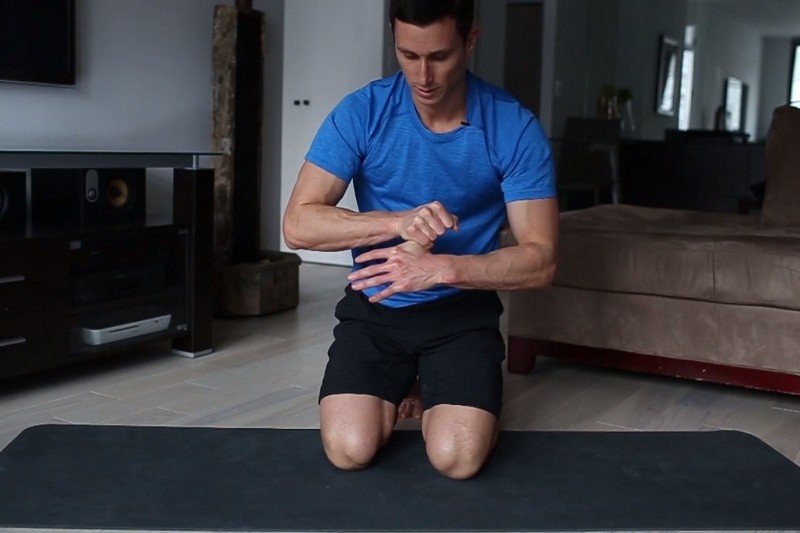 Description
Many mobility routines do not mobilize the hands, wrists, and fingers (especially fingers). The exercises I show in the video are similar to what many gymnasts do before doing intense training. There are three stretches (1) supination, (2) pronation, and (3) finger holds. The human hand has 27 small bones, 27 joints, 34 muscles, so be careful not to push through tightness but to breathe deeply and relax.
Instructions
Supination
Start in a kneeling stance with your hands against the ground in front of you in line with your shoulders
Your fingers are pointed towards your body
Rock back so that you feel a stretch in your fingers and wrists
Pronation
Start in a kneeling stance and align your hands so that the top of your hands are flat against the ground about shoulder width apart and in line with your shoulders
Your fingers are pointing to the right and left sides of your body
You will slowly lean over your hands to add weight so you feel a stretch
Finger Holds
Start by slowly pulling your thumb and forefinger away from each other to create a gentle stretch
Then one by one, pull each finger backwards and the fingers on each side forwards at the same time.
2. Rocking With Head Nods
Description
Rocking with head nods is a simple yet powerful exercise to help your body move better. You used to rock all the time as a child with ease and fluidity. In fact, rocking is based on the human developmental movement pattern to help restore your mobility (See Original Strength Book Review).
Instructions
Start in a kneeling position with your arms straight out in front of you on the floor about shoulder width
Extend your knees outwards as much as you can comfortably
Rock forward and backward as you breathe into your belly and slowly improve the range of motion in your hips
Rock backward and look straight ahead
Look up and hold the position while breathing into your belly
Look down and hold the position while breathing into your belly
Look to the right and left and hold the position while breathing into your belly
Repeat as desired
3. Lying Hip Rotations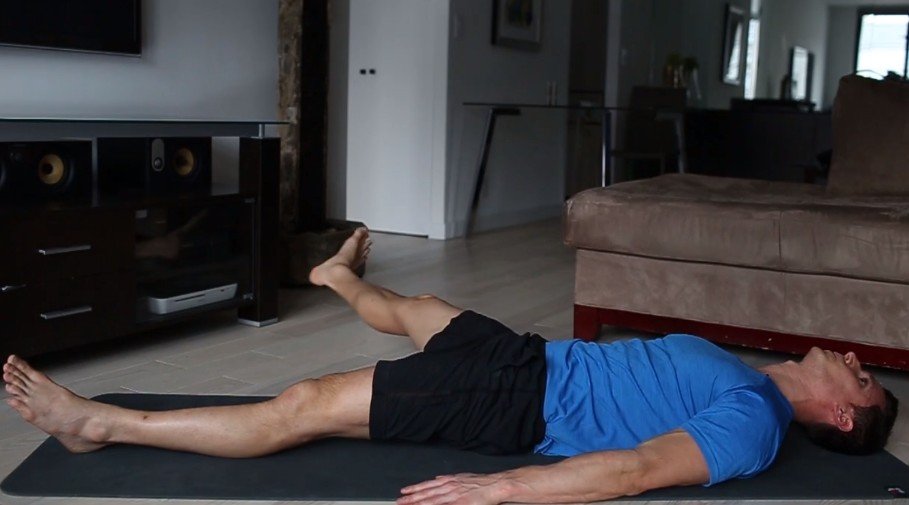 Description
Lying hip rotations can help you build more mobility in your hips because it's an active stretch that can strengthen some weak muscles that cause others to become stiff. This exercise may be difficult in a small apartment or space, so you can choose an alternative if that's the case. You also challenge your hamstring and groin flexibility through a multidirectional movement.
Instructions
Lie down with your back on the floor, legs extended straight, toes pointed upward, and arms at your sides.
Pull your right leg up off the ground as high as you can while keeping it straight and toes pulling toward your shins
Pull your leg across to your right side in one circle and make the circle as big as possible
Then pull your leg all the way across your left side clockwise, continuing with one big circle while keeping your back and head against the ground
Continue for desired reps, then change the direction so that it's counter clockwise
Then switch to the other leg
4. Seated Hamstring Stretch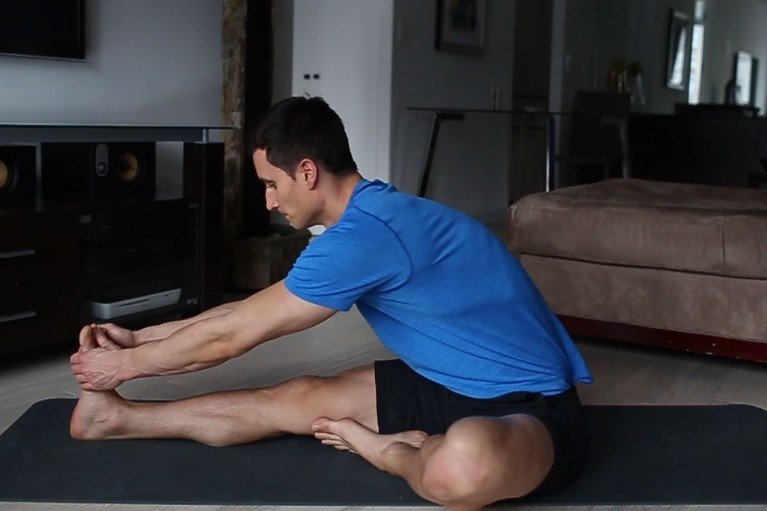 Description
The sit & reach stretch seated hamstring stretch is great for hip mobility, hamstring, and calf flexibility. If you feel a painful stretch in your hamstring, or pain in your lower back, slightly bend the knee of your straight leg and be sure to relax and ease into it.
Instructions
Start seated with your legs straight out in front of you.
Bend your right knee bringing your right foot to the inside of your left thigh.
Staying tall through your spine, fold over your straight leg reaching your chest towards your knee.
As best you can, try to hinge from your hips before you round your back.
Hold for the prescribed amount of time. Repeat on the other side.
5. Half-Kneeling Hip Flexor Stretch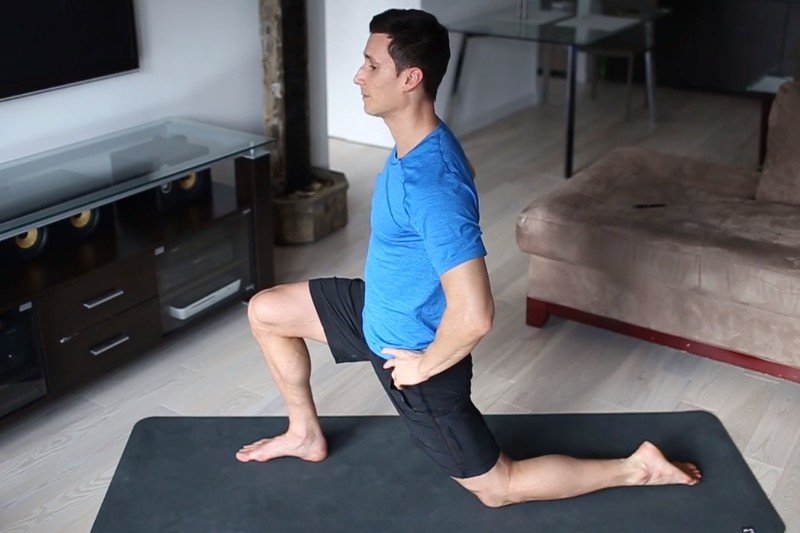 Description
This is a fantastic stretch to increase the flexibility of your quadriceps and hip flexors. Put a mat or pad underneath your knee to keep it comfortable and safe. Contract your core throughout the exercise to protect your spine and prevent overarching.
Instructions
Start with your left foot forward, and right knee down, with the top of your right foot flat against the ground.
With hands on your hips, contract your core to keep from over-arching your spine, and begin to push your hips forward until you feel a stretch in the front of your right leg.
Squeeze your right glute to increase the stretch. This position might be a big enough stretch for you. If so, hold here.
For more of a stretch, keep your left hand on top of your left thigh, and raise your right arm towards the sky. Then reach that hand up and over towards the left.
Hold for the prescribed amount of time, and then repeat on the other side.
6. Bird Dogs
Description
The Bird Dog is a classic core exercise that emphasizes core strength and stability as you move your legs. The key is to keep your low back flat and hips pointing toward the ground so that you are engaging your core. While it looks easy, if done correctly, the bird dog requires focus and is an excellent exercise to help teach core control.
Instructions
Start on the floor resting on your hands and knees, while keeping your head, neck, and back straight
Raise your right arm forward while at the same time kicking your left leg backward until it's straight and in line with your torso, hold for 1 second
Slowly bring your arm and leg back to the ground and repeat with the opposite arm and leg
Tips
Your back foot should be pointed down at the ground, which keeps your low back and hips straight
Keep your head and neck straight and in line with your body
Complete each repetition slow and controlled, don't rush through the movement
If you are doing it properly, you will feel a contraction in your abs from your hand that is pushing against the ground and the opposite knee
7. Spider Crawl Stretch With Rotation
Description
If you were to perform only one stretch, this is it. With just one exercise, you're stretching your hip flexors and glutes, as well as mobilizing your thoracic spine (upper back), stretching your chest and shoulders, and activating your core.
Instructions
Start in the high-plank position with arms extending straight from the shoulders, spine long, and core tight.
Keeping your palms flat against the ground, step your right foot forward outside of the right hand.
Keep the left palm on the ground as you lift your right arm and rotate to face your front leg. If possible, keep the back leg straight. If that's too much of a stretch, bend your back knee slightly.
Bring your right hand back to its start position in plank and step the right foot back to meet the left.
Repeat on the other side, and complete the prescribed number of repetitions.
Modification
If you can't reach your foot all the way up to your hand, just bring your foot as close to your hand as you can, that's ok. If you are unable to twist after bringing your foot up closer to your hand, that's ok too. Over time, you will become more limber.
8. Squat Hip Flexibility (& Ankle, Feet, Toes)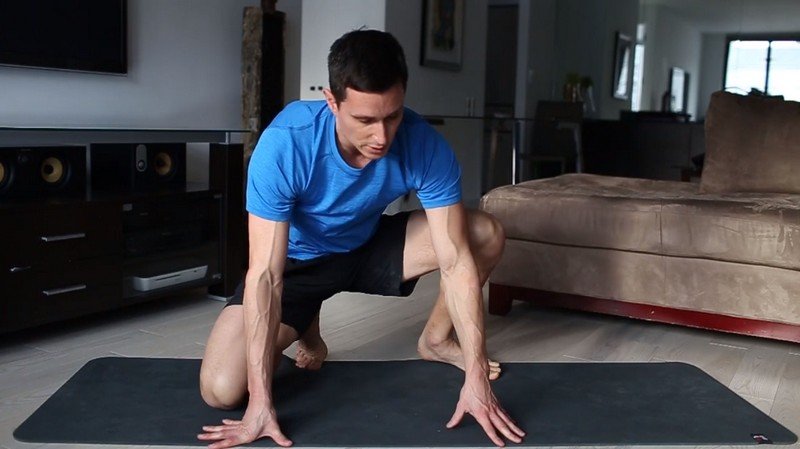 Description
The squat is a primal movement pattern that requires flexibility in the ankles, hips, and back. Billions of people go to the bathroom comfortably in the squat position. To make the deep squat more accessible and also stretch out your feet and toes, you can go on to your toes on one side as you keep your hips open. If you have great mobility with flexible ankles, you can hold a deep squat and keep your heels planted for a longer duration.
Instructions
Start in a squat stance with your heels off the ground
Hold yourself up with your hands outstretched in front of you against the floor
Drop your heels back as far as you can comfortably in a squat position
Extend your right knee downward towards the ground so that you are stretching your right toes
Pull back to the starting position repeating with the other leg
You can also lightly push the inside of your right knee outward to rotate the hip away from the body, then repeat with the other knee.
9. Standing Side Stretch
Description
The standing side stretch helps to increase flexibility in your core and shoulders and helps unlock more full body flexibility. You will likely feel this stretch in the side part of your body above your hip most intensely, but you should not feel this in your lower back or have any pain.
Instructions
Stand straight with your hands at your side looking straight ahead. Feet should be shoulder width apart or even wider if that's more comfortable
Extend your right arm straight above your head
Slowly lean to your left. As you breathe out, you can lean further.
Slowly straighten your body and repeat with the other side
How To Create A Mobility Routine (& Do It Daily)
Choose Your Exercises
I recommend choosing 5 or 10 exercises, and performing each exercise one or two times. Your routine should engage all the joints in your body. I'm a HUGE fan of yoga, so consider creating a Yoga flow. Whether you want to follow the mobility routine here, or create your own, write down and complete a mobility routine consisting of 5 to 10 exercises.
Choose A Time Every Day
Choose a time that you can commit to every day without interruptions. I do my mobility routine first thing when I wake up, which helps me get ready for the day. You may choose to focus on mobility before you shower in the evening, or right before you go to bed. Consider using a 10-minute timer on your phone so you are efficient and use the time you give yourself wisely.
Commit To Daily Mobility
Complete your mobility routine every day 7 days a week. Your body needs it, it's like brushing your teeth – but for your body. You can also do mobility training while consuming entertainment like watching TV, or listening to a podcast or some music for example.
If you give this a try, leave a comment below or on the youtube video. We would love to hear how it works for you!