I did a few sets of weighted pull ups with 65 pounds around my waist at the gym recently.
Out of the corner of my eye I noticed a guy who was staring at me like I was an alien.
He came up to me and asked incredulously, "How did you do that?!?!?"
The answer is by following simple principles, which I have outlined in this article.
I'm not a huge guy; I'm 5'10'' and about 167 pounds. Maybe that was part of the reason he was so surprised.
I really love pull ups because you can build excellent pulling strength, develop an impressive muscular back, and demonstrate bodyweight mastery.
The pull up is one of the best upper body exercises in my opinion. That's why I've spent 20+ years of my life doing pull ups and 10+ years teaching them.
It's no surprise that the pull up is used as a benchmark for overall strength and physical fitness in the military.
Here are my top tips to help you do more pull ups quickly.
Top 5 Tips To Do More Pull Ups
1. Practice Pull Ups
The best way to get better at pull ups is to practice them. In other words, do pull ups more frequently.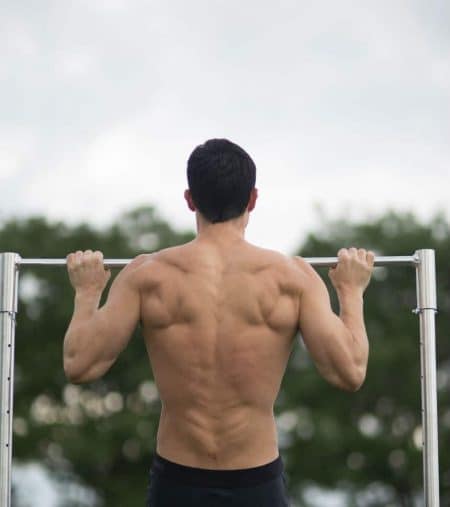 This is called "greasing the groove".
The more pull ups you do, the more efficient your neuromuscular system becomes. In other words, the movement becomes hard wired into your brain and body.
There are tons of different ways to practice doing pull ups.
You can get a pull up bar for your office or in your home, and just do 1 rep here or there. This goes a long way to improving your strength.
Another way is simply to add them to every workout.
And finally, possibly the best but most time consuming way is to use "ladders".
Let's say you can do 7 pull ups. You will do 1 rep, then 2 reps, then 3 reps, then 4 reps, then 5 reps, resting between each set. Then go all the way back to the 1 and repeat 2x.
So it's 1-2-3-4-5 repeated 3x total.
This style of training allows you to do a ton of volume without burning yourself out. You are able to practice pull ups without going to failure. That's the key.
If you constantly max out and train to failure, it will take you much longer to build strength and injuries are more likely to occur
2. Lose Fat
The 2nd easiest and fastest way to get better at pull ups is to lose body fat.
If you have 5, 10, or 20 pounds to lose, or more, you are doing a weighted pull up every set.
By losing body fat, the pull up becomes MUCH easier.
This is one of the key reasons why I'm good at pull ups is because I'm a lean dude around 6-7% body fat.
My flagship fitness program called BuiltLean® Transformation helps you lose fat consistently every week.
If you have some fat to lose, take action and get started asap.
3. Do Negatives Or Hang (if you can't do any pull ups)
If you are unable to do pull ups, then do negatives.
This means you use a box or bench to help you jump up to the bar, then you resist the way down.
I'm not a big fan of using the lat pulldown machine or even using an assistance band to help you do pull ups. The load is just too light.
If you are not strong enough to jump up to the bar and resist on the way down – or you are too overweight where that would be dangerous – then either do sets of hanging on a bar until you build up your strength or lose weight.
Both will help you get to the point where you can start doing negatives.
If you can already to pull ups, then don't do negatives.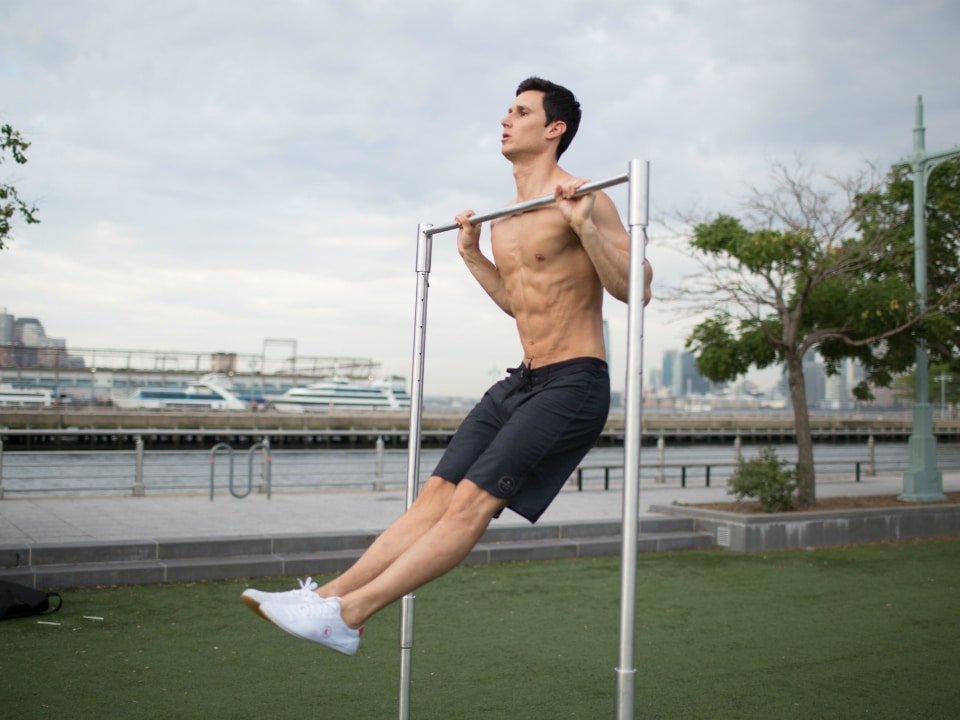 4) Increase Grip Strength
I've said this before, but the 2 fastest ways to increase your overall strength is to increase your (1) grip strength and (2) core strength.
If you have a weak grip, it's like trying to drive with the parking brake on.
You are limiting your strength development.
The stronger your grip, the more your body allows you to generate force. It will be much easier for you to pull yourself up the bar if you have a strong grip.
5. Do Weighted Pull Ups
When you can do 5 or more pull ups, you can start adding weight.
This may sound crazy, but it's a shortcut if there is one. A difficult and intense shortcut!
If you practice 1 or 2 reps with additional weight (10 or more pounds), bodyweight pull ups start to feel a lot easier.
Your nervous system adapts quickly so that you can do more pull ups.
Of course, you need to be careful. Don't train to failure. You should not do any reps where you are struggling like crazy because that will not help you get stronger faster and may put you at risk for injury.
Other Tips To Do More Pull Ups
While the previous 5 tips are the best place to start, I have a few others I must share with you.
Heavy Deadlifts
Remember how I said increasing your grip and core strength is the fastest way to get stronger?
Well the deadlift is the #1 exercise to help you do both simultaneously. I believe it is the undisputed king of all strength training exercises.
The reason why I did not include deadlifts above is because I don't believe most men should do deadlifts without a coach.
The barbell is very unforgiving and the deadlift in my opinion is the most dangerous of all standard barbell lifts.
I am a casualty of deadlift – I got low back surgery after a slipped disc from doing them – but I've since learned how to deadlift properly. I'm even a barbell certified instructor.
The more you can deadlift, the easier pull ups will be. For most guys, it's just not worth it. The risk is too high.
Engage Your Lats
Some guys have a lot of trouble engaging their lats, or the muscle that is on the side of your body underneath the armpit.


If you try to use only your arms to pull up to the bar, it's not going to happen!
If you struggle with feeling any tension in your lat muscles, you should activate your lats before doing pull ups. This will help immensely.
You can do straight arm pull down to help activate the lats, or you can also grab them and poke them to help to help stimulate the muscle fibers. If you have a friend to poke them as you are doing the exercise, that would be ideal.
Keep in mind when you first start the pull up, the first motion is depressing your shoulders or pulling them down, not trying to bend your arms. That comes second.
Use A Grip Slightly Wider Than Shoulder Width
There are many different pull up variations that you can do.
A pull up means your palms are facing away from you, not towards you like in a chin up. Pull ups are more difficult than chin ups because your biceps are less engaged.
The wider your grip, the harder it is to generate upward force to pull you up the the bar.
If you use a slightly wider than shoulder width grip, you will be able to pull your body up more effectively to the bar. It's similar to why doing a reverse biceps curl (with palms facing away) is harder than standard biceps curls.
If you do start doing more pull ups, keep in mind it's imperative to stretch.
Reason-I don't want you to be that guy with internally rotated shoulders (your arms and shoulders are rounded forwards) who develops a shoulder injury.
Be sure to stretch your lats and keep your shoulders mobile.
Have fun with pull ups and remember to have patience. Like anything, if you stick with it you will get better and better.