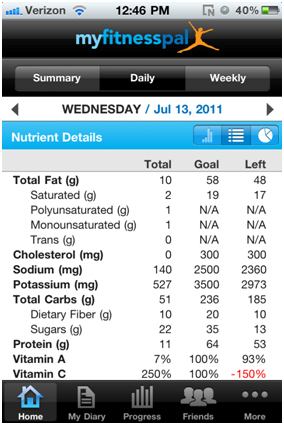 For most of us, life already requires a balancing act: we have family, friends, work, working out, and hopefully some downtime in between.
Add keeping track of your food and exercise to the equation, and it may seem impossible.
Within the past few years, new smart phone apps have been popping up left and right in an effort to help you manage your weight easier on the go.
One of the most popular apps, MyFitnessPal is a website that helps people count their calories by entering it into an online diary, as well as keep track of their exercise. It's for anyone with a busy life, looking to lose weight or simply maintain a healthy weight.
It can be tailored to fit the needs of anyone with specific and/or doctor/dietitian-recommended requirements. The free application is available for Blackberry, Android, Windows, and the iPhone.
MyFitnessPal Review: Key Features1
1. Community
MyFitnessPal's community aspect basically consists of a forum, where other fellow users of the app are free to exchange tips and advice, as well as to create relationships through sharing personal experiences or struggles.
2. Exercise Tracker
MyFitnessPal has more than 350 exercise stored in its database, and it shows how much each person burns during each activity, based on their specific height, weight, and gender. It includes most cardio and strength training workouts, as well as yoga and Pilates.
3. Calorie Counter
The app's calorie counter is basically an online diary of each MyFitnessPal member's intake. The counter allows members to set daily goals, and the app can add multiple foods at once. It also automatically stores food and meals that members eat often, which makes them easy to find when they eat them again and need to log them.
MyFitnessPal Review: Pros
1. Convenience
The app allows members to log food from anywhere and has a food database of 3,282,000 different kinds of foods to choose from (customized recipes can be added to the database), and all changes made via phone are also made on the website.
2. Instant Feedback
One study of obese and diabetic people revealed that the use of self-monitoring of calories (going in and out), through "an electronic tracking program" or an iPhone app like MyFitnessPal, is effective in losing weight healthfully. It claimed that the digital calorie diaries are more effective than traditional self-reporting, because they give people direct feedback, and provides them with information about what is healthy for them specifically.2
3. Flexibility
MyFitnessPal is not a one-size-fits-all app. Personal diet profiles can be changed to fit a person's specific needs, whether they are on a strict diet or have certain recommendations from their doctor or dietitian. The program calculates caloric need based on height, weight, gender, and lifestyle.
MyFitnessPal Review: Cons
1. Inconsistent Updating
While MyFitnessPal allows people to scan the barcode of a food product to go into their digital diary (and record all nutritional information), sometimes the scanner will not find the product, and needs constant updating. Additionally, the program does not let members edit certain amounts of consumed food. For example, if you wanted to record you drank less than 8 oz. of wine, the program will not let you edit that.
2. Mobile Dependability
Yes, MyFitnessPal works on the go, but if there is no wireless signal, it is impossible to log on to even record anything in the app. In certain situations, people are not always in areas with wireless signals, and will not be able to record in the diary when they want to.
3. Health Drawback
Some may argue that just counting calories is not the best or healthiest way to lose weight and to maintain a healthy life. While basic science does say a calorie is a calorie is a calorie, there are other factors at play. In other words, the fewer calories you eat, the more weight you'll lose.
But there are several reasons why food choices should be based on other aspects – not just calories. Calorie counting seems to be the most straightforward and easiest way to reach weight loss and/or health goals, but different types of food effect the body in various ways. Some foods produce hormonal affects that store fat, release sugar, or build muscle. Two separate diets consisting of the same amount of calories, but with different variations of fat, protein, and carbs, may have a much different satiety affect.
That's why it's important to focus on other parts of food, and not just the calories that come with it, in order to develop a proper eating plan.3
Under a more extreme light, calorie counting can sometimes be detrimental to a person's mental health. In fact, it is a typical fixation for people with eating disorders, and can make people make increasingly unnecessarily restricted food choices.4
Take these tips into account and decide if MyFitnessPal is the right choice for you. Let us know if you try it out, and please share with us how or how it did not help you to fulfill your personal weight loss and/or healthy lifestyle goals.