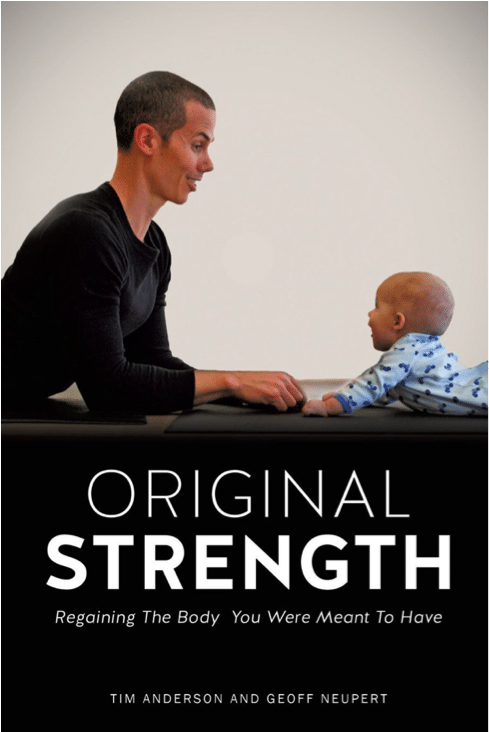 It may sound strange, but infants can help us glean insights into how we can improve our movement and fitness as adults.
Last year, I learned of a book dedicated to infant and child development applied to adult fitness – "Original Strength: Regaining The Body You Were Meant To Have" (affiliate link) written by Tim Anderson & Geoff Neupert.
In the last several months, I've tried nearly every exercise described in the book, along with several workouts, and "resets", which are like mini workouts comprised of a few movement patterns. I've also used some of these exercises with my clients with great success.
The following is a review of the book along with some insights I gleaned from reading and applying it.
The Theme: Reclaim Your Health Through Movement
The Original Strength hypothesis is that by moving more and integrating the body using developmental movement patterns, the range of motion and strength you had as a kid will return.
These developmental movement patterns include crawling, rolling, and rocking, which are presented with easy and more difficult variations. Here are a few examples:
Crawling Pattern: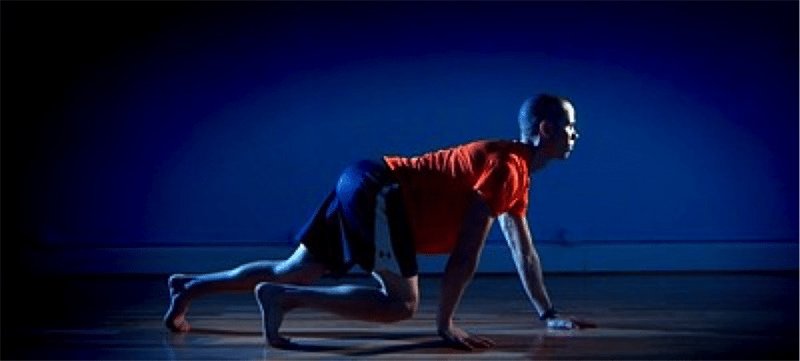 Upper Body Rolling Pattern: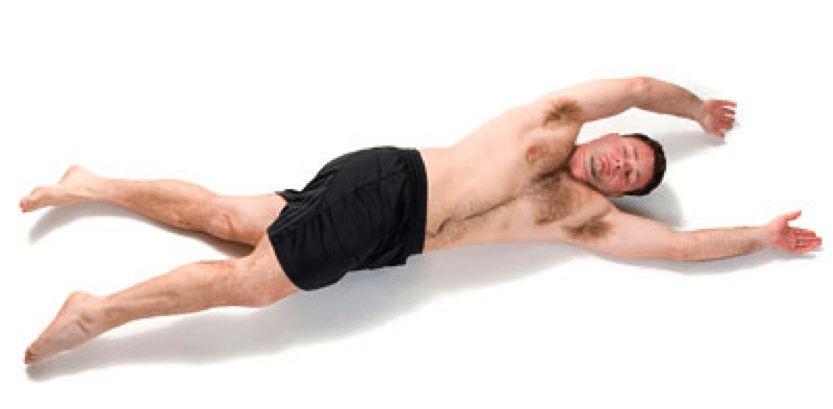 Bottom of a Rocking Pattern:
Co-author Tim Anderson does not advocate the use of foam rollers, or stretching, because he believes these methods treat a symptom, not the cause of the symptom. The cause of tightness is lack of movement (let that concept sink in for a bit).
The overarching theme of the book, which is eloquently and insightfully presented, is the importance of movement for health and vitality.
Here's are a few excerpts, which highlight the importance of movement:
"Our bodies and brain are developed through the cycle of movement. The more we move through our natural movement patterns, the more we develop our brain. The more we develop the brain, the more efficient we become at moving."
"Movement used to be a form of play for you, a form of exploration. We need to get back to the place where we find the joy in moving, discovering, and exploring."
"When we are 70 years old, we should still have a healthy body that allows us to enjoy life, a body free from pain, restrictions, or limitations."
Original Strength Book Pros
Effective Exercises You've Never Tried – Some of these exercises may help improve your fitness substantially. I tried one of the advanced exercises – spiderman crawling – for 50 yards. Crawling forward was challenging, but doable. Crawling backwards was unbelievably difficult. I've never done an exercise that challenged my core and my shoulders in the same way. I've incorporated crawling into my warm ups and workouts. And this is just one of the many movements presented.
Useful Concepts For Long-Term Health – If you are on a never-ending quest for a six-pack, the Original Strength book is not for you. But if you want to learn more about how the body works and develops, you'll learn a lot. For example, just learning more about the core X concept is easily worth the time I invested into reading the book. The idea is that the core is the center of our bodies and if working correctly, is integrated into nearly every human movement. Daily movement is another powerful, but important concept that if applied, can be a game changer.
Change Your Perspective Of Exercise – Exercise and working out can become a boring chore. But this book may change your perspective as to why you exercise and how you approach your exercise regimen.
Original Strength Book Cons
There really isn't much I didn't really like about this book, but there are a few points to consider:
No Video Instruction – Of course, Original Strength is a book, but it would be very helpful if there was an online resource with videos demonstrating and explaining how to do each exercise. These exercises should be intuitive as we learned them with no instruction when we were kids, but they are not. These are unlike any exercises you've done before and they may be very challenging for you to figure out how to do on your own without video instruction. Original Strength does have a youtube channel, but it takes some time to find what you are looking for.
The Application Can Feel Overwhelming – Several developmental movement patterns are presented with harder and easier ways to complete each one. It can seem a bit overwhelming to try to apply everything you learn in the book. In the middle of the book you'll find the "Big 5" exercises and "Daily Reset", which is where I think you should start applying the Original Strength system. Then do one of the Original Strength workouts.
The Exercises May Make You Feel Awkward – This really depends on you, but crawling in a park as I did on the West Side Highway in NYC can be a bit awkward. If the idea of rolling, crawling, and rocking in a public park makes you feel uncomfortable, you can do it at home, or find a more secluded area.
Exercise Demonstrations By Tim Anderson:
Here's a quick video of co-author Tim Anderson demonstrating some of the original strength exercises as a warm up. While they may appear basic, doing these exercises as fluidly as Tim is very difficult. Tim has reached a very high level of fitness and you can see his body is tied together in one piece:
Have you ever tried any of these exercises before?