As a competitive decathlete, I've completed tons of plyometric workouts and exercises. Through my experience, I've learned that not all plyometric exercises are effective, or even safe. When creating a plyometric workout, it's important to keep in mind that plyometric exercises can be very effective, but they can also become dangerous, especially when stacked together with fatigue.
If you're looking for an effective and safe plyometric workout that takes just 20-minutes, you will love the workouts I have for you below. I've even included video clips of me demonstrating the exercises so you can see the proper form and technique.
But before we get into the workout, let's first define what constitutes plyometric exercise.
What are Plyometric Exercises?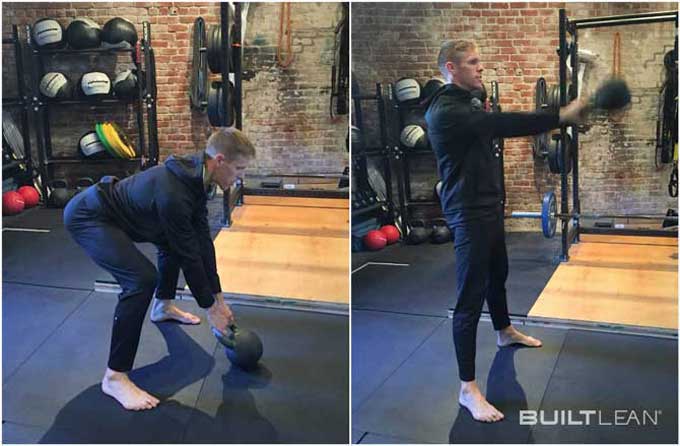 Simply stated, a plyometric exercise is a movement that is performed rapidly where there is a quick stretching or loading of the muscle followed by a forceful contraction. Some examples of plyometric exercises are jumping rope, sprinting, throwing objects at fast velocities (think baseball, football, and Olympic throwing), and even punching or kicking like in martial arts.
Before ramping up the intensity of your workouts with plyometrics, it's a good idea to check in with your doctor, or get evaluated by a physical therapist, or competent trainer. If you're new to plyometric training, exercises like jumping rope, skipping, hurdling and jumping on low objects are great ways to get started. If you're more advanced, you can challenge yourself with harder exercises like box jumps, plyometric push-ups, and burpee pull-ups.
Benefits of Plyometric Exercises
Plyometrics are beneficial for many reasons:
1) Because they induce oxygen debt (which means they cause you to feel muscular burn and fatigue, and make you to go breathless), there is high fat-burning potential.1
2) They train your fast-twitch muscle fibers, which are responsible for speed and power
3) Over time, plyometric exercises train your muscles to store more energy because they increase the number of mitochondria (the energy-producing powerhouses of your cells) in the trained muscle groups.2
4) They're a fun and effective way to train like a professional athlete
Plyometric exercises are a great addition to any comprehensive strength or wellness program because of the demands they place on your muscles and cardiovascular conditioning. With the right plyometric exercises you can simultaneously improve your weaknesses, increase your coordination and agility, build your power and cardiovascular endurance, and burn more fat as your fitness, recovery from training, and overall performance improve .3
Plyometric Workout Tips
Plyometric exercises can be performed as a superset or in a circuit. A more advanced option is to superset heavier strength training exercises with plyometrics, as professional athletes are known to do.
Here are some important tips to keep in mind:
1) Quality comes first! Within a few minutes you'll be sucking wind, so mentally prepare and don't let your exercise form suffer. Performing plyometric exercises with poor technique is a great way to get injured.
2) Train different body parts in your circuit. Consecutively fatiguing the same muscles can decrease your workout performance over the 20-min session (or much sooner) and lead to poor exercise form.
3) Understand oxygen debt and EPOC (excess post-exercise oxygen consumption)4 . What you're really doing here is asking your muscles and body to do more work than you can provide oxygen for. The result is increased calorie- and fat-burning, even after your workout is over.
Plyometric Workout Instructions
Warm-up:
Perform a 5-10 minute warm-up with dynamic stretches and movements that match the exercises in your plyometric workout. For example, if you're about to do 50 squat jumps, your warm-up should include some bodyweight squats and stretches for improved squat technique. Check out this dynamic warm-up, which will get you prepped for any workout.
Level 1: Beginner Workout
Complete 4 sets, performing the exercises as a circuit. Do each exercise for 45 seconds, resting for 15 seconds between exercises.
| | |
| --- | --- |
| 1. | Jump Rope (alternatives: Fake Jump Rope, or Fast Run-In-Place) |
| 2. | Squat Jack |
| 3. | Speed Skaters (alternative: Curtsy Squat) |
| 4. | Lateral Thrusters |
| 5. | Rest or Shadow Box for 60 seconds |
Rest for 60 seconds between sets. Repeat 3 more sets of the circuit.
Level 2: Intermediate Workout
Complete 4 sets of the circuit using your first set as a warm-up to practice technique, gain familiarity with the exercises, and get sweaty. Do each exercise for 30 seconds, resting for 30 seconds between exercises.
| | |
| --- | --- |
| 1. | Box Jumps |
| 2. | Clapping Push-Up |
| 3. | Tuck Jumps |
| 4. | Burpees |
| 5. | Lunge Jumps x10 each side, rest remaining time |
Rest for 30s before repeating again for 3 more rounds.
Level 3: Advanced Workout
Perform 4 sets of the circuit, resting for 60 seconds between sets.
Do each exercise for 45 seconds, resting for 15 seconds between exercises.
| | |
| --- | --- |
| 1. | Star Jumps |
| 2. | Frog Squat Jumps |
| 3. | Plyometric Push-Up |
| 4. | Plyometric Pull-Up (aim for sets of 3-5) |
| 5. | 2-Hand Kettlebell Swing |
Rest and repeat for 3 more rounds.
Plyometric Training Considerations
With any kind of training, it is you, the athlete that needs to be responsible for your wellbeing. It's awesome that you're finding the time to train and improve your body, mind and soul, but you also have to be aware of when your exercise technique has lost its quality. Recognize your strengths as well as your limitations.
If you're doing a 100 lunge-jump challenge and notice on your 32nd repetition that the muscle burn has turned into a legit pain and you're wondering why you decided to do this workout, then it's probably time to stop because you've forgotten how important and crucial your movement quality is. This is especially true for plyometric exercises where you're challenging your muscles to rapidly stretch, contract, and produce optimal power. Train smart, and you'll definitely see improvements in your performance.
If you try one of these plyometric workouts, let me know how it goes in the comments below!