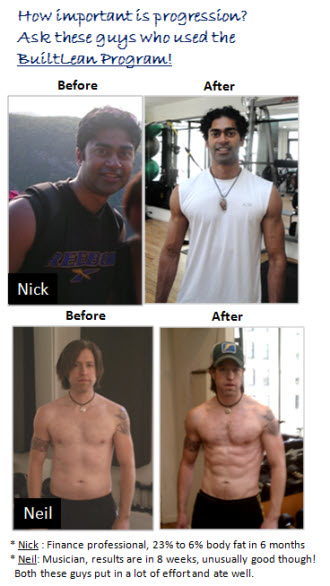 I was on TV earlier this week discussing the BuiltLean Program) and the benefits of progression, which in my opinion is the most important exercise variable to safely, quickly, and effectively get in shape and change your body, whether you want to lose fat, or build muscle.
Nick and Neil to your right were on TV with me discussing the benefits of progression and how working with me and using BuiltLean Program helped them get in the best shape of their lives and change their bodies.
Progression is a really big topic so I'm going to try to give you a helpful overview.
What is Progression?
Progression is an exercise concept where you slowly make your workouts more challenging over time.1 The body is a homeostatic organism that is resistant to change, so progression in combination with smart nutrition forces the body to change and become stronger and fitter. Conversely, if workouts do not become more challenging, the body may not improve.
How Fast Should You Progress Your Workouts?
Many popular fitness programs require as many as 6-7 workouts per week for 60-90 minutes. If you haven't worked out in a while, attempting to workout too hard and too frequently is simply not a smart idea. Similarly, if you are already in shape with a 250lbs bench, don't try to jump to 300lbs cold turkey. Even small increments of 5lbs can help increase your strength and progress your workouts.
The key is to listen to your body and slowly adjust the variables in your exercise regimen to make it more challenging. Overall, it's better to progress too slowly then too quickly. If you are just starting out, light workouts 2-3x per week then ramping them up is a smart approach.
Using the right pace of progression decreases the risk of injury, overtraining, and burnout.
Do You Have to Progress Your Workouts to See Results?
If you want to increase strength, or improve your cardiovascular capacity to get in great shape, you absolutely do need progression. In addition, if you are going for muscle gain, you must create progression by lifting heavier weights over time to build muscle mass.
If you want to lose fat without muscle loss, you can get away with not progressing your workouts while still eating clean foods and maintaining a calorie deficit. The issue, however, is that your results will not be nearly as good as compared to progressing your workouts.
I know the thought of constantly making your workouts more challenging can seem daunting, but think of it as a challenge, or competition. Because you are only making small changes over time, you don't need to feel intimidated, or fear being able to complete a workout. I only progress my workouts when I'm trying to make changes in my body and I will do so for 1-2 months at a time. Most of the time, I do not progress my workouts, because then I would be working out as hard as a professional athlete, which is not my goal.
Three Ways to Progress Your Workouts:
There are a number of different ways to tweak your workouts and exercise regimen to make it more challenging, but below I believe are the big three:
1) Increase the Volume
Exercise volume can be defined and calculated in different ways, but the basic idea is to increase the overall amount of "work" when working out:
• Lift more weight
• Increase the distance of running, or doing cardio
• Increase the number of sets, reps, or exercises performed in a workout
• Increase frequency of workouts per week
2) Decrease the Duration of Exercise
Try to decrease the amount of time it takes you to complete a certain amount of volume:
• If you are running intervals, you can decrease rest between intervals
• During strength training, you can decrease rest between exercises
• If you are going for a jog, you can decrease the amount of time it takes you to run a certain distance
3) Choose Harder Exercises
There are many different exercises, or movements that can be made more challenging:
• Start out walking, then jogging, then running, then sprinting
• Choose harder and harder exercise variations:
Legs Exercises(Easy to Hard)
1) Exercise Ball Squats
2) Smith Machine Squats
3) Barbell Squats
Abs Exercises (Easy to Hard)
1) Standard crunches
2) Reverse Crunches
3) Hanging Leg Raises
I hope this overview has helped improve your understanding of why progression is important and how to add it to your workouts, whether you want to lose fat, or build muscle.
Let me know if you have any questions, or have anything to add by leaving a comment!