When performing an overhead press, or a core exercise, do you ever notice your rib cage poking out? If so, then you're a culprit of "rib flaring". This compensation pattern might make an exercise feel easier, but it's also setting you up for potential injury.
What Is Rib Flare, and Why Is It Bad?
First, lets make one thing clear – rib flare should not be confused with pectus excavatum, which is a specific chest deformity that leads to anatomically flared ribs. When the average trainer points out you are "flaring your ribs" or tells you to "keep your ribs down", they are usually referring to a break in your core stability.
In most cases, trainers are bringing attention to a temporary dynamic state where a person may "cheat" by flaring their ribs to help with specific movements, such as reaching overhead. This compensation pattern is surprisingly common because it makes certain exercises feel easier. It also typically occurs when people lack the range of motion to complete exercises with correct form and technique.
Anatomy of Rib Flaring
When you flare your ribs, you're not only moving your spine out of neutral, you're also turning off your abdominal muscles whose job it is to solidify and stabilize your core.
Your oblique abdominal muscles attach to your lower ribs, and when they contract together, they work to increase abdominal pressure and transfer the large forces from your legs to your upper trunk. When you allow your ribs to flare out, you simultaneously relax these abdominal muscles meaning they can no longer support your spine.
Rib Flare & Breathing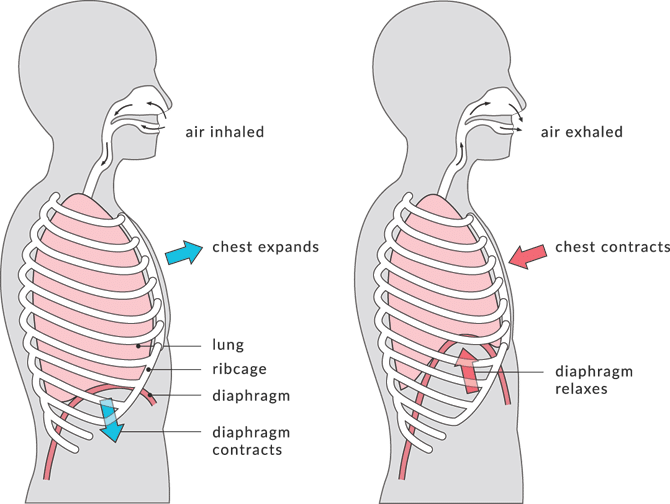 Your natural breathing mechanics should favor the use of your diaphragm muscle. When the diaphragm contracts, it creates more space in the chest cavity, which expands the lungs. And you have other muscles that help this action and work to increase the chest cavity size when exercising (or when stressed). Muscles in the neck help to lift the ribs from above, and lack of ab muscle activation (aka inhibition) allows the ribs to flare out from below. Both of these compensations may temporarily enable you to inhale more air, but when performed chronically they can lead to a host of muscular imbalances and problems.
What Does It Mean To Keep Your Ribs Down?
When you contract your abdominals, they help keep your ribs down and in place. You should be able to do this action without flexing your spine, since the spine should always be in neutral when doing strengthening exercises.
A great cue to keep in mind when you're exercising is "chest up and ribs down".
Chest up is a good cue by itself, but unfortunately it can lead to the overextension of the lumbar spine and rib flare. Instead, keep the chest up while engaging your core to keep your ribs down.
Importance of the Neutral Spine
Lifting with a neutral spine and a packed neck will prevent hyperextension of the spine and help maintain trunk stability. It will also place the load onto the muscles that you directly want to train and away from the muscles that can cause pain and problems (scalenes, upper trapezius, etc).
Best Exercises to Strengthen Your Core & Prevent Rib Flare
1. Diaphragmatic Breathing
Practice breathing with your diaphragm (belly breathing) instead of with your secondary accessory muscles (chest breathing).
You should be able to breathe in and out without activating your neck muscles. You should also be able to breathe while maintaining a braced trunk posture (a contracted core), which will help separate the control of your diaphragm from your abdominals.
Instructions: Lay on your back with neutral spine. You might find this exercise easier when your knees are bent and your feet are on the ground, rather than legs straight along the floor.
Breathe in through your nose, and out through your mouth. Focus on expanding your belly while keeping your chest and neck relaxed. To make this easier, you can place one hand on your belly and the other on your chest. Breathe your belly into your hand, while keeping your chest down. Once you've mastered belly breathing, you can practice lightly contracting your abs and taking larger breaths while keeping your ribs still.
2. Chest Stretch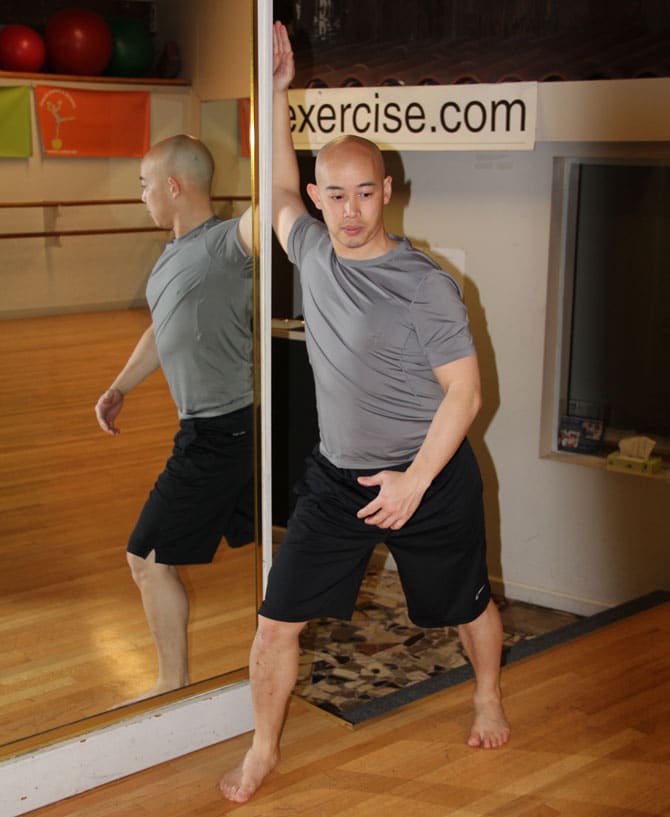 Some people lose the neutral spine position when they reach overhead simply because they lack adequate range of motion. To increase your flexibility, you'll want to stretch out the two main muscles that can inhibit overhead movement: the pecs and the lats.
Instructions: Hold the pec stretch for 30 seconds on each side. Repeat 3x. Notice that when you keep your ribs down while performing this exercise, you feel a greater stretch.
3. Shoulder Stretch
Instructions: Hold the lat stretch for 30 seconds on each side. Repeat 3x. Keep your core engaged and your ribs in place while performing this stretch.
4. Dying Bug Exercise
This classic exercise is great for low back stability, and to help you build your core control. Focus extra attention on preventing your ribs from flaring as your arms reach back by your head.
Instructions: Lay on your back with your knees bent to 90°, feet off the ground, and arms reaching up toward the ceiling. Maintain a neutral spine as you extend opposite arm and opposite leg to hover just above the ground. Return to center with control, and repeat on the other side. Perform for a total of 60 seconds, holding each side for about 5 seconds. Repeat 3x.
5. Wall Angels
Instructions: Use this exercise as a part of your warm-up. Stand with your back to the wall, arms bent to 90° against the wall (like cactus arms). Reach your arms overhead without letting your ribs flare. Feel your abdominals engage to keep your ribs and spine in neutral. Reach as far as overhead as you can without moving the ribs.
Once you can master this movement with full overhead motion and without rib flare, you're finally ready to perform overhead strengthening exercises like the overhead shoulder press.
Your ability to stabilize your ribs not only affects your risk of injury, but also your capacity to get stronger. When your core is stable and your body is in the correct alignment, you're in the optimal position to achieve strength gains. Spinal alignment, core stability, and rib placement all work together to transform your body into a powerful machine. When you get everything to work together, you can take your performance to a whole new level.