Have you ever found yourself hungry and in need of a quick meal, but unable to think of something to make? My usual go-to in these situations is a stir-fry.
Depending on the ingredients you choose, you can cook up a hot, delicious meal in as little as 10-minutes. Now, that's definitely faster than ordering delivery or take-out, and it's usually healthier too.
How To Make A Stir-Fry
To make a stir-fry, all you really need is a nonstick skillet, a cast-iron skillet, or a wok and some cooking oil. The best oils for stir-frying are avocado oil, algae oil, and high-oleic sunflower oil because of their relatively high smoke points.
The first step is to choose your ingredients. You can combine any variety of proteins, veggies, carbohydrates, and healthy fats. Here are a few ideas:
Protein: chicken, beef, pork, bison, seafood, tofu, tempeh, etc.
Vegetables: bell pepper, broccoli, cabbage, carrots, cauliflower, eggplant, green beans, snap peas, zucchini, etc.
Carbohydrates: brown rice, white rice, millet, quinoa, beans, sweet potato, russet potato, etc.
Healthy Fats: cashews, sesame seeds, walnuts, peanuts, sliced almonds, pistachios, pine nuts, etc
Aromatics: garlic, ginger, shallots, green onion, peppers, etc.
Pick and prep your favorites, or just use whatever is leftover in your fridge.
Health Benefits of Shrimp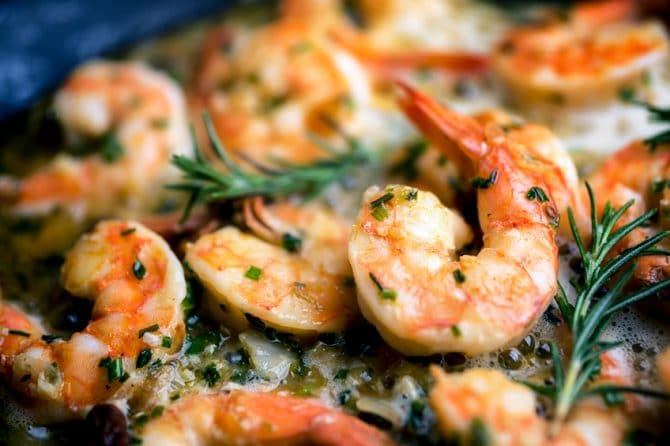 The protein in this recipe is shrimp. Shrimp is an excellent source of selenium and protein, while also being relatively low in fat and calories.1 It's a nutrient-dense source of protein that definitely deserves a place in your diet (as long as you enjoy it and aren't allergic to it).
If you don't like shrimp, you can absolutely replace it with any protein of your choice, such as chicken, fish, or tofu.
Easy Shrimp Stir-Fry Recipe
This recipe makes one healthy and satisfying meal. To speed up the cooking process, it's useful to have some precooked brown rice ready to go. Feel free to switch out any of the ingredients to suit your preferences and needs.
Ingredients:

7 oz Baby Shrimp
3/4 cup Brown Rice, cooked
3/4 cup Broccoli & Carrots
1 tbsp Avocado Oil
1/2 tbsp Soy Sauce
Optional Seasonings: Black Pepper, Garlic, Ginger, Green Onion, etc
Instructions:
1. Heat the avocado oil in a cast-iron or nonstick skillet, or a wok.
2. Sauté the broccoli and carrots until lightly crunchy.
3. Add the cooked brown rice and baby shrimp, and stir until the shrimp is hot.
4. Drizzle the soy sauce (and optional seasonings) over the stir-fry, and stir for about 30 seconds.
5. Serve, and eat!
Nutrition Info:

| | | | |
| --- | --- | --- | --- |
| 459 calories | 26g carbs | 18g fat | 47g protein |
Try out this dish, and let me know what you think! Do you stir fry at home? What are some of your favorite recipes?
Available at: http://www.whfoods.com/genpage.php?tname=foodspice&dbid=107 ↩