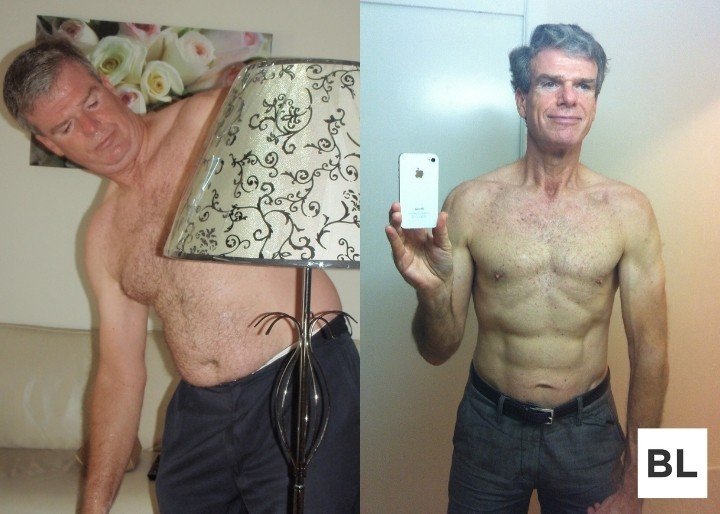 Results may vary. Proper diet and exercise are necessary to achieve weight loss and muscle definition.
I'm thrilled to share with you a BuiltLean Success Story who at 50 years old achieved his self described "ridiculous" dream of a six pack with help of the BuiltLean Program.
John, who is a Pediatrician from Australia went from a strategy of thinking about weight loss in terms of weight, to analyzing his results in terms of fat, muscle, and taking a more scientific approach.
This shift in his mindset created some jaw dropping results. Check out the Q&A below to read his story:
Background:
Age: 50
Occupation: Pediatrician
Residence: Sunshine Coast, Queensland, Australia
Hometown: Sunshine Coast.
Why did you get out of shape? What happened?
I got old, dammit. And fat and lazy as well. I was never into organized sport but when I was younger I enjoyed running, canoeing and kayaking. I stopped exercising regularly decades ago, and had a slow increase in alcohol, appetite and adiposity until I became obese.
What sparked you to make a change?
When I was 49 years old I had this dream to get "six pack abs" by the time I was 50. I thought it was a fantasy, a ridiculous goal. I was over 98kg, wore 38 inch pants and could get a belly overhang by leaning forward. I did nothing about the goal, and my 50th birthday came and went.
I developed high blood pressure. My blood tests showed all sorts of problems in all sorts of organs. I was a ticking time bomb of preventable diseases. My fat was like suicide vest. In January this year I gave up alcohol, and started diet and exercise. I called the diet the "SELAP diet" for "Stop Eating Like A Pig", which was cute but had no science.
How did you come across BuiltLean?
I had already lost around 14 kg (30 lb) when I first found BuiltLean while looking for information about body fat percentages. Marc's articles were well written, accurate and freely shared so I kept coming back and reading more on the site.
BuiltLean Program Review:
What results did you get with the BuiltLean Program?
I decided to buy the program when I calculated that using my conservative, establishment approved approach of cardio and diet over 7 months, I had lost 15 kg but ALMOST HALF was muscle. Over 6kg of muscle loss! I didn't know it was happening until I did all the measurements and calculations recommended on BuiltLean.
Over 2 months on BuiltLean I lost 6 kg. My body fat went from around 20% to around 11%. I showed an increase of 1.5cm in bicep measurements but reduced my waist by 9cm and hips by 10 cm. I now weigh 78 kg, waist 81cm (32inch). I am 181cm tall.
My blood pressure and blood tests are all absolutely normal.
I have six pack abs!
How did the BuiltLean Program help you reach your goals?
Once I started on the program I was so shocked at my progress that I realized that my ridiculous goal of six pack abs at 50 was achievable. I can't tell you how optimistic and focused that made me. The program helped because it made me look at my weight loss in a structured, scientific way. Photographs, measurements, calculations, all made me see my progress accurately. I felt that what I was eating and the exercises were based on current research and practice, so I trusted them to work.
When I had questions the answers were on the website or available by email.
What did you like most about the Program?
The photographs of Marc demonstrating the exercises made it easy to follow. The clear, simple diet advice that I could follow was very helpful, without requiring me to make specific meals. I understood what I could eat, and worked out my own meals.
What are the workouts like?
I enjoyed the workouts. They were well graded to my ability and increased at the right pace. They were very time efficient. I wore a heart rate monitor and would sweat and have an elevated heart rate throughout the whole workout.
Can you elaborate on how your eating habits changed?
I don't have a temporary diet. I have had a permanent change in my way of eating, and I love it. I don't eat much processed food at all now, I am never hungry and I no longer have a food coma in the afternoons at work.
I hit a "plateau" in my weight loss for a week or so, and found advice on the BuiltLean website suggesting that I track my entire food intake. I thought there was no chance at all that I could be that fussy. Then I found an iphone app that made it very simple (easydietdiary – it is made for Australia), which I still use. Once I tracked my calorie intake properly, progress started again quickly.
What have your friends thought after seeing your results?
People comment on my weight loss every day, often multiple times per day. I have dropped multiple sizes in clothes and my face looks entirely different. I have had far more comments over the last 2 months on Builtlean than over the previous 7 months, even though I lost much more weight before going on the program. The difference is the obvious loss of fat from my face, neck, and upper body.
What would you tell someone who's on the fence considering the BuiltLean Program?
Commit. Be serious for 2 months. Don't fudge things, be honest with yourself and follow the program exactly. There is good science here. Use it.