Whether or not you're a runner, you've likely heard of increasingly popular obstacle races like the Spartan Race series.
Obstacle course races are a fun way to challenge your mental and physical limits, compete with others, and get a little dirty.
In every Spartan race, you can expect mud, barbed wire, and a field of Gladiators poised to hit you with their pugil sticks. And although there are some signature obstacles at every race, there's a lot of variety between courses so you can never anticipate exactly what you're going to face.
If you've never done a Spartan Sprint before, you might wonder how you would train for one. The race is about 3-4 miles with 15+ obstacles. Because the Spartan Coordinators don't release the course map to competitors beforehand, there's no way of knowing exactly what you need to prepare for: you have to be ready for anything.
Regardless of what the obstacles are, your endurance, speed, and upper and lower body strength are tested. If you want to be competitive, you're going to have to include all these components of fitness into your training routine.
Another important factor to keep in mind—if you skip or fail any obstacle, you're charged with a burpee penalty before you can move on. Whatever you do to train, make sure you include burpees. To help you prepare for a Spartan Sprint, we've got training tips and a sample workout routine you can follow.
Spartan Race Training Components
1) Endurance Training
Although the race is only 3-4 miles, don't think you're getting off easy. Even if you can finish a normal 5K in less than 30min, the Spartan Sprint will take anywhere from 45 minutes (if you're fast) to as long as 2+ hours to complete. To get ready for the distance, I recommend at least one long run per week. You should progressively train to be comfortable running 6+ miles before race-day. If you can handle longer distances, you'll be more prepared to handle the short, intense terrain of the Spartan Sprint.
2) Sprints and Hills Training
Get comfortable with feeling uncomfortable. The Spartan Sprint is going to challenge you. The more you can adapt to training at slightly uncomfortable intensities, to more competitive you'll be on race day.
Expect to face some nasty hills. While hill training is hard, make sure you include one hill workout per week to prepare your body to race up some steep inclines between obstacles.
You also want to include a sprint or interval workout per week to increase your anaerobic threshold. Working on sprints will help you recover faster between obstacles and between hills. Play around with the duration and speed of your intervals. For longer intervals, decrease your speed. For shorter intervals, increase your speed. Start with shorter intervals and increase the intensity/duration over time.
3) Total Body Strength Circuits
To prepare for the obstacles in the Spartan Sprint, it's important to work on your upper and lower body strength. You might have to climb over a wall, carry a sandbag uphill, complete a set of box jumps, climb across monkey bars, do a Herculean hoist, crawl under barbed wire, and more.
Easily being able to do push-ups, at least a few pull-ups, squats and lunges, is essential. Having experience climbing walls or monkey bars is a huge asset. And including plyometric exercises will help get you ready for any jumping exercises they might throw at you.
4) And Finally…Rest!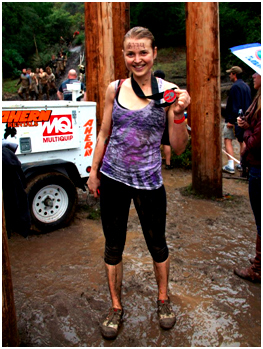 Make sure you give yourself at least 1-2 full rest days per week to allow your body to make necessary adaptations and repairs. Rest is crucial to improving your fitness, maximizing your results, and preventing injuries.
Sample Spartan Race Workout Routine
Here's a sample routine you can use to get yourself ready for a Spartan Sprint. Be sure to warm-up with some dynamic stretching before this workout. Complete 3 sets of each strength circuit with minimal rest between exercises. Rest 30s – 1min between sets. Use weights that are challenging to you. Burpees between sets are optional, but strongly encouraged.
Sample Workout:
Workout Instructions: Complete all exercises in each circuit with little rest between exercises (30 seconds, or less) and complete 2-3 rounds of each circuit. Complete one circuit before going to the next. Consider adding 15 burpees between each circuit for added difficulty.
Strength Circuit #1
1A. 10+ push-ups
1B. Max rep pull-ups (weighted if pull-ups are easy for you. Inverted rows if pull-ups aren't available to you yet)
1C. 15 box jumps
Strength Circuit #2
2A. 10 DB/Barbell/KB clean-and-press
2B. 8 Step-up to balance, each leg
2C. 30s plank crawl (move forward/backward and side-to-side)
Strength Circuit #3
3A. 10 hanging knee/leg raises or toes-to-bar
3B. 10 cable chops, each side
3C. 15 KB swings
(optional: 15 burpees)
4. Stretch
Sample Spartan Race Workout Schedule:
Monday – Strength Circuits
Tuesday – Hill Workout
Wednesday – Rest
Thursday – Sprints/Intervals
Friday – Strength Circuits
Saturday – Endurance Run
Sunday – Rest
Train smart. Eat right. Rest enough. Race hard.