Oatmeal is a staple for busy and active people who need a filling breakfast to help kick start their day. The challenge is that buying a box of instant Quaker oatmeal is fast and convenient, but the convenience comes at a cost; less nutrient value and a lot more sugar.
A healthier and low-sugar alternative is to spend just 15 minutes on Sundays making an all natural, home-made steel cut oats recipe. Preparing a supply of oatmeal in advance will save precious minutes in the morning and give you some variety to mix in with other nutritious breakfasts like eggs, fruit, and Greek yogurt.
While steel cut oats may not be the best option for those with insulin resistance (muscles don't absorb carbs properly) or gluten allergies, for active adults and athletes without these issues, oatmeal can provide much needed essential nutrients to power you through the day.
Steel Cut Oats Recipe | Nutrition Comparison
Notice in the following chart how the steel cut oats recipe has more protein than the other brands, 3 times more fiber, a fraction of the sodium, and only one third of the sugar. While the BuiltLean steel cut oats recipe has the most calories at 350, those calories are going to fill you up with more nutrients and less sugar.
Steel Cut Oats Recipe | Ingredient Comparison
There are a couple general nutrition rules that apply in most situations: (1) the fewer ingredients, the better and (2) the easier the ingredients are to pronounce, the better. The steel-cut recipe has 9 ingredients, all of which are unprocessed. Now check out the amount of ingredients and additives in Quaker's Instant Oatmeal and even more surprisingly, the McDonald's Oatmeal. Some products such as Kashi's Go lean Heart Cinnamon Hot cereal have over 40 ingredients!
BuiltLean Steel Cut Oats – Steel Cut Oats, Quinoa, Walnuts, Cinnamon, Blueberries, Strawberries, Chia Seeds, Almond Milk
McDonald's Fruit & Maple Oatmeal – Whole grain rolled oats, brown sugar, food starch-modified, salt, natural flavor (plant source), barley malt extract, caramel color, Apples, calcium ascorbate, Sweetened dried cranberries (sugar, cranberries), California raisins, golden raisins, sunflower oil, sulfur dioxide as a preservative (contains sulfites), Milk, cream, sodium phosphate, datem, sodium stearoyl lactylate, sodium citrate, carrageenan.
Quaker Instant Oatmeal Cinnamon & Spice Ingredients – Whole grain rolled oats, sugar, natural flavor, salt, cinnamon and other spices, calcium carbonate, guar gum, oat flour, caramel color, reduced iron, vitamin A plalmitate.
Steel Cut Oats Recipe | Ingredients Analysis
Steel-cut oats vs. quick cooking oats
Quick cooking oats goes through a processing phase of being rolled, steamed, rolled, re-steamed, and toasted, whereas steel-cut oats retain their natural texture and flavor in an unprocessed state. Steel cut oats are loaded with fiber, essential vitamins and minerals, while being low in fat, salt, and carbohydrates. Some people have a negative response to grains, so if you feel any digestive stress, grains should best be avoided.
Quinoa
Unlike most grains such as instant oats, quinoa is considered a whole protein which is made up of all 9 essential amino acids that help support muscle growth and tissue repair. Known as the "mother of all grains" quinoa is low in fat and packed full of antioxidant and vital nutrients.
Walnuts
Walnuts contain almost twice as many antioxidants as any other commonly consumed nut. In addition to being chock-full of essential vitamins and minerals, walnut's most important nutritional benefits come in the form of omega 3 fatty acids, protein, and fiber.
Cinnamon
Studies have shown that cinnamon can have a regulatory affect on blood sugar and lower LDL Cholesterol levels. Cinnamon's anti-inflammatory properties can also help relieve arthritis and help with food digestion.
Blueberries & Strawberries
Blueberries and strawberries are great sources of dietary fiber and extremely beneficial to your immune system because they are packed with antioxidants and vitamins. They also can help reduce fat, fight disease, and regulate digestion.
Chia Seeds
Chia Seeds have more omega 3 fatty acids than any other natural source. They are a great source of antioxidants, protein, fiber, vitamins and minerals that can help curb cravings and keep you feeling full.
Unsweetened Almond Milk
With only 50 calories per serving, almond milk has zero added sugars that can help with weight management while still containing all the nutritional benefits of regular cow's milk.
Steel Cut Oats Recipe | Cooking Instructions (Makes 8 servings)
NOTE: To make 4 servings, cut all the ingredients and measurements in half. Use as an occasional substitute, or in addition to other healthy breakfast options.
1. Combine 1 cup steel cut oats with 2 cups water in cooking pot. Bring water to boil, cover and simmer 10 to 12 minutes
2. Combine 1 cup of quinoa with 2 cups of water in cooking pot. Bring water to boil, cover and simmer 10-15 minutes
3. Combine 3-4 servings (75-100 grams) of chopped walnuts with cooked quinoa and steel cut oats.

4. Cover and refrigerate.
5. Add ½ cup of unsweetened almond milk and 1/2 tsp. of cinnamon to 2 cups of pre-made steel-cut oats and cook in microwave for 1 to 2 minutes
6. ADD ½ cup blueberries, ½ cup strawberries, and 1 tbsp. of chia seeds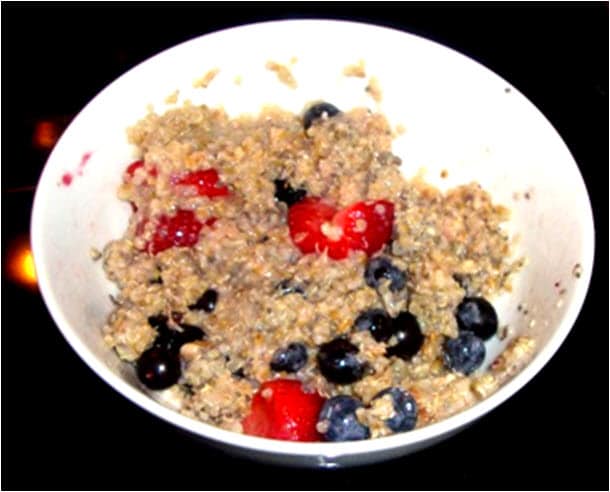 This home-made recipe can be tailored to your individual taste and needs by adding some of your favorite ingredients. Adding nuts & nut butters can help you achieve higher protein levels while adding different spices and fruits can give you added antioxidant benefits.
Mixing in some whey protein powder can give you additional flavor and help you achieve higher protein levels as well. Likewise, a couple hard boiled eggs, in addition to the steel cut oats, can provide you with essential healthy fats while boosting protein levels.
Mix and match your favorite breakfast options to create a great tasting meal!