Back in 2014, I flew down from NYC to Chatham, Virginia to see Gray Cook for an 1-on-1 fitness assessment.
When my brother heard I had just spent $500 on some random auction website (I won an auction for the assessment), and that I was taking 2 flights from NYC to see some guy in Virginia for 2-hours, he was perplexed. He joked that Gray Cook must be "The Oracle From Virginia".
Looking back, it's one of the best decisions I've made in my health & fitness career. It helped cement a shift from focusing on muscle groups to movement patterns, and approaching the body as one integrated unit.
Gray is the author of Movement (affiliate link) and the co-creator of the Functional Movement Screen, which are among his most notable contributions. He is in a league of his own for helping professional athletes to navy seals to grandmas to weekend warriors improve their functional fitness.
After my assessment with Gray (which is a story for another time), he gave me several educational DVD's & workbooks. One of the courses was "Kettlebells From The Ground Up", which is a 2-hour DVD and 36-page manual on just the Turkish get-up!
Needless to say, the Turkish get-up has many nuances, and in fact, it can be a corrective exercise tool. I've done hundreds of them over the years and worked up to 40kg (88 pounds) on both hands. Maybe one day I'll do it with "the beast" 48kg (106 pounds).
In this guide, I'm going to give you a step-by-step breakdown of how to do a Turkish get-up along with some common mistakes and considerations as well. The Turkish get-up demonstrated in the video and outlined in this article is the form taught by StrongFirst, which maximizes the amount of weight one can lift.
What Is The Turkish Get-Up?
Legend has it that old time strongmen taught apprentices the get-up, then told them to come back when they were able to do it with 100 pounds1. The exercise is at least 200 years old and modern science has confirmed what strongmen have known all along – it's really good.
Here's a great description from Gray Cook:
"The Turkish Get-Up is the perfect example of training primitive movement patterns – from rolling over, to kneeling, to standing, to reaching. If I were only limited to one exercise, it'd be the Turkish Get-Up."2
In a nutshell, you start on the floor with a weight in one hand, stand up with the weight overhead, then get back down safely. That's it.
Turkish Get-Up Benefits
The Turkish get-up is like yoga meets strength. It's a full workout in one exercise that can improve your strength, conditioning, and mobility. My top two kettlebell training exercises are the kettlebell swing and the Turkish get-up. Here are some specific benefits.
1. Balance Strength Between Right & Left Sides Of Your Body
Is your right side a bit tighter than your left? Or maybe your right arm is much stronger than your left? The Turkish get-up can help balance any asymmetries between the right and left sides of your body. The Turkish get-up has 7 distinct movements, so if one or two of the movements causes difficulty on either side, you can work through them.
2. Improve Functional Strength & Mobility
You probably noticed the Turkish get-up – or at least doing it well – requires solid mobility. What you will learn is that the better your mobility, the more effortless the exercise. I can do 32kg with a completely relaxed face while talking. How? My joints are bearing the brunt of the force in a joint strengthening way, not shearing way. I'm not really lifting anything. And that's the point. Your muscles are not working that hard. Your muscles work together like an orchestra playing a symphony, that's what functional strength is all about. Mastering this exercise – or at least becoming proficient – will improve your mobility and strength.
3. Increase Longevity
You've probably heard that being able to get up easily from the ground is a longevity test. Well what happens if you can get up from the ground with a heavy weight in one hand? Well then you have exceptional longevity. In the long run, the primal movement patterns – rolling, rocking, crawling, squatting, etc. (See: How To Restore The Mobility You Had As A Child), are one of the keys to longevity.
Turkish Get-Up Instructions
The Get-Up
1. Lie on your right side with a kettlebell sitting next to ribs and knees bent. Crush the kettlebell with your right hand so you have a strong grip and your wrist is straight
2. Roll over while extending your legs at about 30 degree angles, then bend your right leg, and press the bell up using your opposite hand for support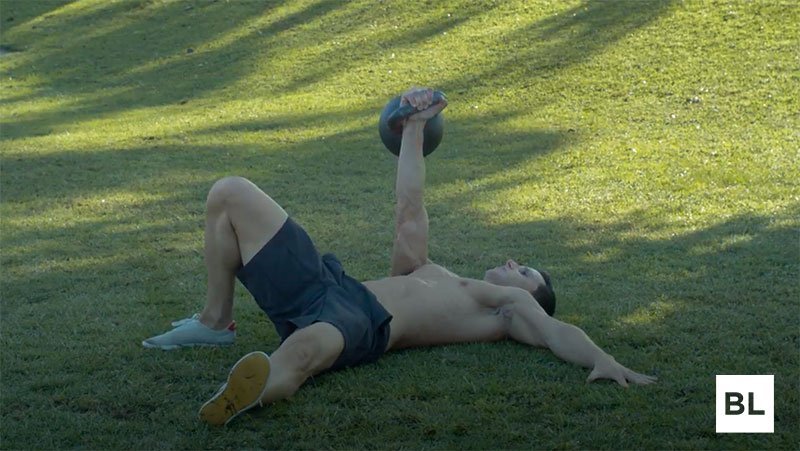 3. Roll to the left elbow by pushing with your right leg
4. Move from your elbow and post to your hand
5. Lift your hips up slightly and do a low sweep where you sweep your left knee next to your left hand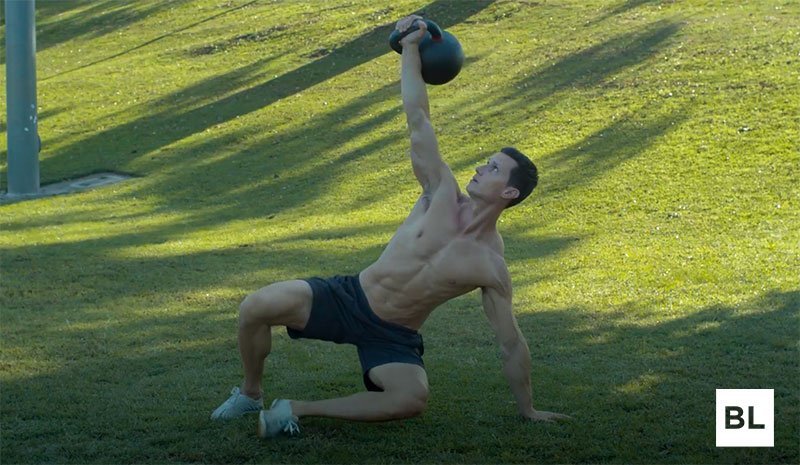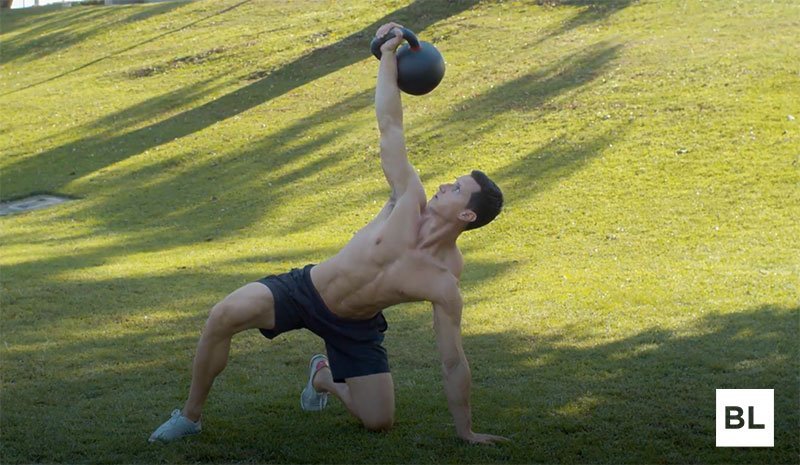 6. Hinge your hips, then go into a half kneel position
7. Windshield wiper your back foot so you square your hips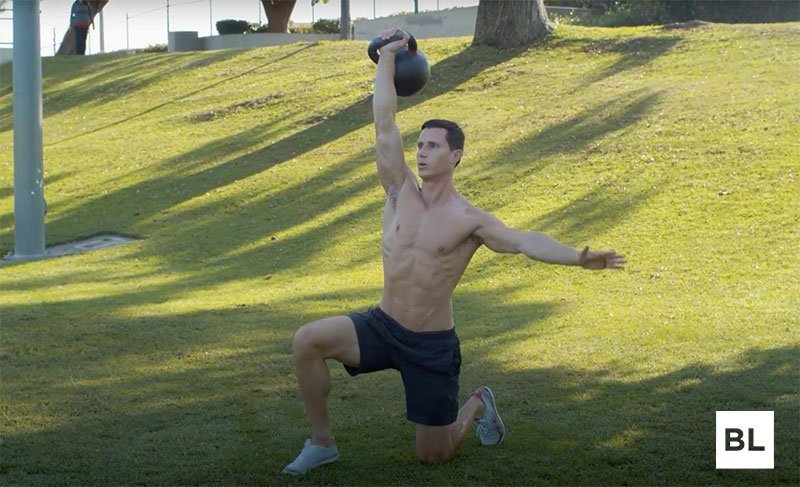 8. Now stand up so your body forms a straight line
The Get-Down
Now we're going to do everything in reverse.
9. Step back to a soft knee with your left leg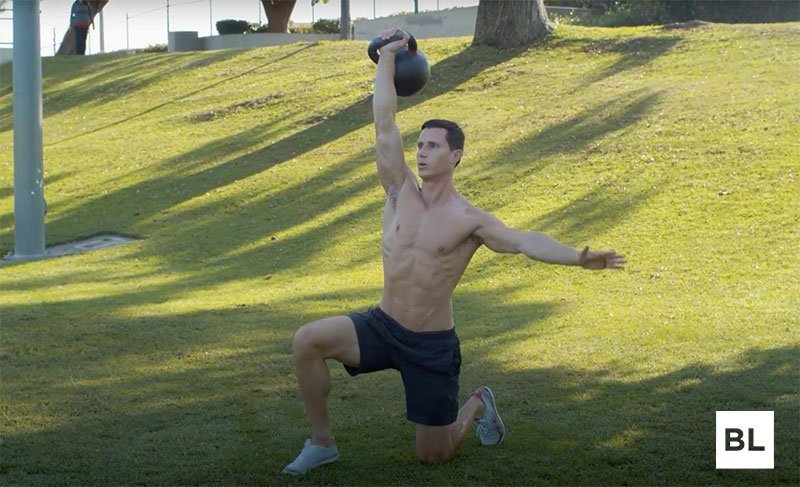 10. Windshield wiper the left leg
11. Hinge your hips again, then post your left hand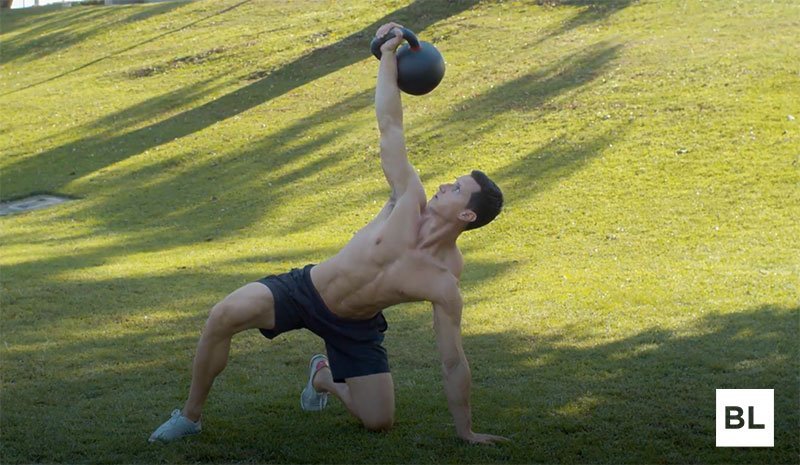 12. Do another low sweep so that your left leg is extended straight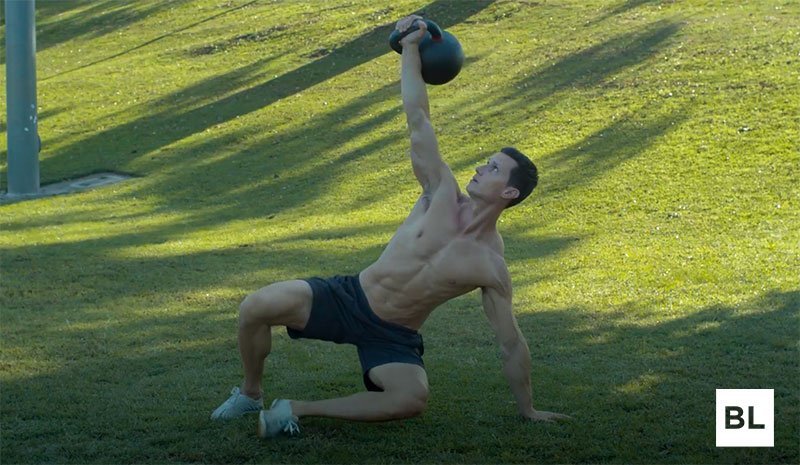 13. Now drop to your elbow
14. And then lie back with your shoulders on the ground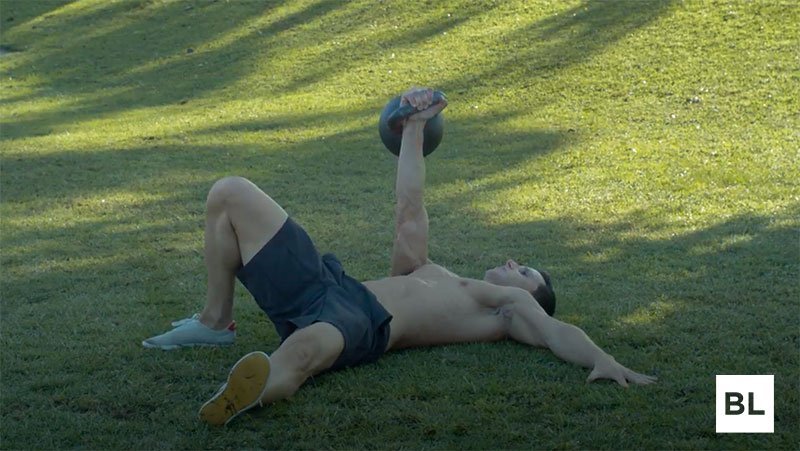 15. Pull the bell down and roll on to your side
Now repeat the 15-steps with the other hand!
Top 3 Common Mistakes
1. Not Looking At The Kettlebell
You'll notice that up until the half-kneeling step, I'm looking at the kettlebell. To be more specific, I personally look at my hand grasping the kettlebell. Looking at the kettlebell instead of where you place your hand on the ground requires training. The more weight you lift, the more you want all your focus on efficiency, not figuring out where to put your hand, or position any other part of your body.
2. Not Keeping Your Wrist Straight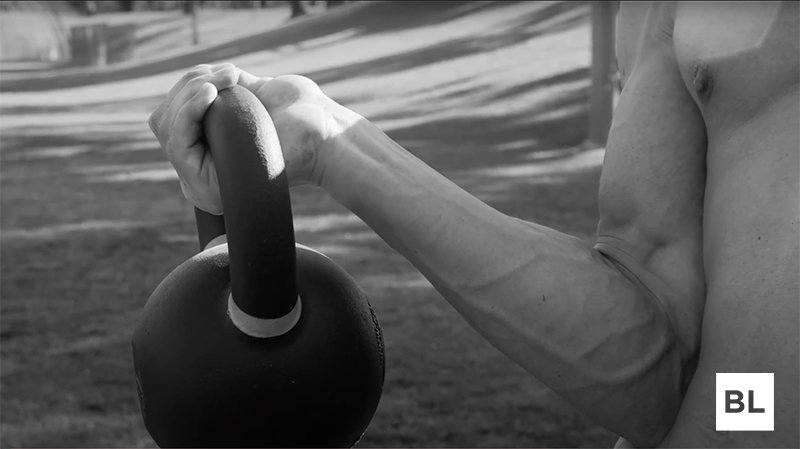 If you have not learned how to hold a kettlebell properly, you will bend your wrist instead of keep it straight. Why? The more you bend your wrist, the less pressure the kettlebell places on your forearm. Keeping the wrist straight is uncomfortable – or simply painful – for most people. You want to "spear" the kettlebell and crush the grip. The harder you crush the grip, the straighter your wrist will be and the more weight you will be able to lift.
3. Not Keeping Your Shoulders Packed Away From The Ears
Packing the shoulders away from the ears is like a fundamental strength law. By doing this, you are able to fully engage your lats and all the surrounding muscles to not only protect your shoulder, but make your shoulder and entire body stronger. See: How To Protect Your Shoulders While Lifting Weights. During all 7 movements of the Turkish get-up, be sure to have your shoulders packed away from your ears.
Top 3 Recommendations
1. Get Professional Instruction
The Turkish get-up may be the most difficult kettlebell exercise to learn. The kettlebell swing is challenging, but the Turkish get-up is 7 movements in one exercise. Simply put, the Turkish get-up is a difficult exercise to learn even with instruction, so I strongly recommend getting some professional instruction from ideally a StrongFirst certified kettlebell instructor. I'm biased because I completed StrongFirst Level I & II kettlebell certifications, which are far more rigorous than any other certification in the industry.
You can find a StrongFirst kettlebell instructor near you by clicking on the image above or following this link => Find A StrongFirst Certified Kettlebell Instructor
2. Practice TGU Form Without Weight
A Turkish get-up with no weight is referred to as a "naked" get-up. If you're unable to do the exercise without load, then you certainly won't be able to do it properly with load. Gray Cook has famously said, "Don't add strength to dysfunction."
The Turkish get-up can be a fantastic mobility warm up with no weight. I do it regularly with no weight, especially to refine my form. Refining form while you have a weight in your hand is nonsensical. So do yourself a big favor and learn how to do this exercise and practice it for at least a couple weeks with no weight. And of course, get some instruction!
3. Kettlebell Or Dumbbell Can Work
You can do the Turkish get-up with both a kettlebell or dumbbell. In fact, I've seen people do it with a barbell, but that's outside the realm of basic strength. I've done tons of Turkish get-ups in hotel gyms with just a dumbbell. So what's the difference? Which strength tool should you use? The main difference is that a kettlebell version requires more grip strength to hold your wrist straight because the weight is offset. Additionally, the weight will be pressing on your forearm, which may be uncomfortable. I personally find the exercise more controlled with a kettlebell versus a dumbbell, but that may be because I've done it so many times with a kettlebell. Both are great options after you have practiced with no weight for a couple weeks.
So that's my comprehensive guide to the Turkish get-up that's been percolating in my brain for 5 years. If you have any questions, be sure to leave a comment!
Tsatsouline, Pavel. StrongFirst Girya Certified Kettlebell Instructor Manual. Power by Pavel Inc. 1st Edition 2013, 55. ↩
Ibid. ↩