If you spend a lot of time sitting at a desk, slouching in your seat, and rounding your shoulders over your computer, there's a good chance you have some muscular imbalances.
Chronic poor posture leads some muscles to be tight and shortened, while others are weak and lengthened, which is less than ideal for many reasons. These muscular imbalances can eventually lead to pain and injury, especially if you exercise.
Two common muscular imbalances are upper cross syndrome and lower cross syndrome. These terms were coined by Dr. Vladimir Janda, and are used to describe how the body can have imbalances that lead to a negative cycle of pain & discomfort. These patterns can affect your quality of movement, and over time cause predictable symptoms such as poor posture, pain, and injury.
What Is Upper Cross Syndrome (UCS)?
Upper Cross Syndrome is specific to the upper body, and refers to a slouched forward-head position with forward rounded shoulders.
In Upper Crossed Syndrome, muscles that stay in a chronically shortened position become dominant and "tight", which include your pecs and suboccipitals (muscles behind the upper neck). This leads to increased tonicity, which is a term used to describe a muscle's tension at rest. When a muscle is hypertonic, it's shorter than it should be, which makes it difficult to lengthen that muscle fully. The opposite is true for muscles that are chronically lengthened, as they become weak and inhibited – the middle trapezius, scapula retractors, and anterior neck muscles.
With these muscular imbalances, you'll typically see a cross-pattern between the muscles that are tight and the muscles that are weak.
How to Fix Upper Cross Syndrome
While Dr. Janda was able to identify the specific muscular imbalances leading to upper and lower cross syndrome, his treatment protocol involved looking at human movement as a whole. Similarly to fixing poor posture, you can't just target isolated muscles if you want to correct upper cross syndrome. To enable people to move safely and correctly, these specific muscle impairments absolutely must be fixed. But in order to do that, the focus should be on executing movement patterns with proper form and alignment rather than targeted stretches and strengthening exercises.
Step 1: Restore Proper Spinal Alignment
The first step is to correct the alignment of the spine. This involves bringing your head back over your shoulders.
Step 2: Align The Shoulders
When the muscles of your upper body are balanced, your shoulder blades should rest directly on top of or behind the rib cage. If you see or feel your shoulders falling forward, pull them back. Squeeze your middle-trapezius muscles, which help bring your shoulder blades together and pull your shoulders into place.
Step 3: Perform All Strength Exercises With Proper Posture
Perform ALL of your strength exercises with your head and shoulders in proper alignment, and immediately correct your form if you find your chin or shoulders pulling forward.
This last part is key – your body will want to compensate into the position that you've maintained for years. Because of these compensation patterns, you might even find that a certain exercises are more difficult when you perform them with proper form versus suboptimal form. The only way to get functionally stronger is to train your body in the position and posture that you want to maintain.
Flexibility Exercises To Fix Upper Crossed Syndrome
The best stretching exercises to start with are the stretches that will help elongate all the shortened muscles. This will help you achieve and maintain ideal posture.
1. Pec Stretch
Using a doorway, raise your arms to 90° (like cactus arms) and place your arms on either side of the wall. Place your right foot forward, left foot back. Pack your shoulder blades down your back. Keeping your core tight and staying tall through your spine, lean your body forward until you feel a stretch in your chest. Breathe, and hole for 60 seconds.
2. Dynamic Wall Angels
Instructions: Stand with your back against a wall, and your feet a bit in front of you. Keep good posture, and raise your arms up the wall while keeping your core tight and ribcage down. Your spine should remain neutral, even as you raise your arms up. You should be able to extend your arms fully overhead while still touching the wall, without arching your back. If performed correctly, you'll feel the middle of your back and your abs contract to stabilize your spine.
3. Suboccipital Massage
Anyone who sits at a desk will like this one. Sitting tall with your core engaged, place your hands on the back of your head with your thumbs on the base of your skull. Then, tuck your chin in and pull your head towards your chest. You should feel the muscles there release along with any tension.
Strength Exercises To Fix Upper Cross Syndrome
The best strengthening exercises to perform will be exercises that target the weakened and stretched muscles.
1. High Rows
High rows are an excellent exercise to target your middle trapezius.
Instructions: Using a resistance band, TRX, or cable machine, set your anchor high. Hold the handles in each hand and stagger your feet (right foot forward, left foot back). Start with your arms extended, your shoulders packed, and your core braced. Your gaze should be at the anchor point. Get tall through your spine, and then pull your elbows high and wide as you bring your hands towards your armpits. Squeeze your shoulder blades without overarching your back or jutting your chin forward. Return to the start position with control, and repeat. Complete 3 sets of 15 reps.
2. Bear Hugs
Bear Hugs are an excellent exercise to target your serratus anterior.
Using a resistance band, stand with your feet hip-width apart and spine tall. Holding the ends of the resistance band in each hand, extend your arms straight out to the side and just below shoulder-height. Pack your shoulder blades down your back and keep your ribcage down. With straight arms and a tight core, pull the band until your arms extend straight out in front of you. Then return to the start position with control, and repeat. Complete 3 sets of 15 reps.
Be careful to maintain the tucked chin position during each strength exercise (technically it should be in neutral, but it may feel like you are tucking your chin if you are not used to it).
What Is Lower Cross Syndrome?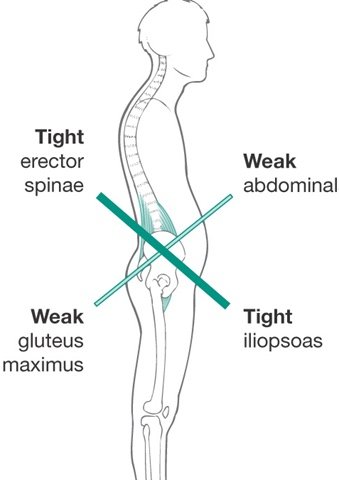 Lower Cross Syndrome is a muscular imbalance specific to the lower body.
In the same way that slouching in the upper body comes to feel "normal", slouching in the lower body might feel easier to you, however it will also lead to poor compensatory movements and potential injury.
In lower cross syndrome, the pelvis is "anteriorly rotated", or tilted forward. The muscles on the front of your hips called your "hip flexors" and low back muscles are tight, while the lower abdominals and the muscles that act in kick your leg behind you like in a running stride known as your "hip extensors" are lengthened and weak.
How To Fix Lower Cross Syndrome
Just like with Upper Crossed Syndrome, all strength exercises should be performed with proper spinal alignment. That means you want to perform all of your exercises with a neutral spine. "Neutral spine" refers to the natural, normal curvature of the spine. There should be a small curve (lordosis) in your low back. If the pelvis tilts forward, the curve in the low back increases and becomes hyperlordotic (too curved). When the pelvis tilts backwards, the low back "flattens" and becomes straight. Both of these extreme positions (hyperlordosis and flat back) are suboptimal, and can eventually contribute to the development of pain and injury, especially when performing strength exercises.
Flexibility Exercises To Fix Lower Crossed Syndrome
Here, tightness in muscles can significantly prevent proper movement. The biggest culprit is tight hip flexors.
Tight Hip Flexor Test: If you are unsure about whether you have tight hip flexors, you can try this test first. Lay on the edge of a table and pull one knee to your chest, letting the other knee relax straight down (pic needed here).
If the knee of your straight leg falls out to the side, or stays elevated above hip-height, then you need to stretch your anterior hips. The simplest stretch to do is the kneeling hip flexor stretch.
1. Half-Kneeling Hip Flexor Stretch
2. Child's Pose
Strengthening Exercises To Fix Lower Crossed Syndrome
If you've spent any time at a gym or physical therapy clinic, there's a good chance you've heard the cue, "Activate your glutes." The glute muscles are typically inhibited in Lower Crossed Syndrome, which is bad because they are the most important movement- and power-generating muscles in the body. The abdominals, which pair with the glutes on the other side of the cross, are the most important for transferring that movement from your legs to your upper body. Both of these integral muscles become weaker with Lower Crossed Syndrome.
1. Bulgarian Goat Bag Swing
This is a great movement to emphasize the hip-hinge motion, while maintaining lower trunk stability. As such, it targets both the glutes and the abs in one effective exercise.
Hold a kettlebell or dumbbell against your belly, contracting your core against the weight. Pull your elbows back and squeeze your shoulder blades together. Now, hinge from your hips, pushing your hips back as you reach your chest forward until you feel a stretch in your hamstrings. Keep pulling the weight into your belly. Then use your glutes to pull you all the way back to standing, and squeeze your glutes at the top. Complete 3 sets of 10 reps.
2. Reverse Lunge-to-Balance
As you step back and lower into a lunge, you can lean slightly forward with a straight spine. This will target your glutes more than a regular reverse lunge. When you step forward onto your front leg, raise your knee above your pelvis while keeping your spine tall and neutral. This will help emphasize proper spinal position, as well as facilitate increased glute activation.
3. Plank
In plank, you're supporting your body weight on your forearms and your toes. Your elbows should be right underneath your shoulders, knees off the ground. Pack your shoulder blades down your back, tighten your core, and squeeze your legs. You should be able to draw a straight line from your head to your heels.
Simple right? Squeeze your glutes and core, and feel your abdominals stabilize your body. Hold, smile, and feel the burn.
Try holding the plank for 2 minutes straight. When you can do this easily, you can mix it up with other variations of plank. Train these muscles with a focus on endurance, as that's more important for your ability to maintain good posture for sustained periods of time.
How is your posture? Have you noticed that your shoulders rounded forward, or your hip flexors are tight? Incorporate these exercises into your weekly routine to move better, feel better, and build good posture.