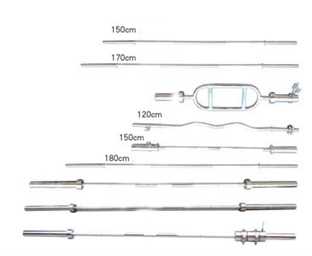 When it comes to strength training, the barbell will always reign supreme for the big lifts. But, with more and more interest in strength training, some gym owners are starting to stock their facilities with specialized strength equipment. If you look around your gym you might see different types of barbells and oddly shaped bars that aren't getting much use.
Specialty barbells come in all shapes and sizes so that you can add variety to your training, supplement your big lifts, and in some cases, allow you to work around limitations or injuries1. In this post I am going to guide you towards selecting the right bar for your goals and experience level.
1) Standard Bar

If you've ever performed a barbell exercise in a commercial gym, this is probably the bar you are accustomed to. Power bars are the most common type of barbell. They're typically 7 feet long and fairly rigid, though they do bend a bit when heavily loaded. They vary greatly in quality as well as the amount of weight they are able to support.
Most bars are made from American steel and its quality can be the difference between a good bar and a bad one. Some steel has the ability to bend a bit and rebound, which is known as the bar's "whip."
Bars also have a grooved or "knurled" part that allows you to get a better grip on the bar. The knurling on cheaper bars tends to be smoother, which doesn't allow for optimal grip.
These bars are best for traditional strength and power exercises such as the bench press, squat, deadlift, overhead press, Romanian deadlift or bent-over row. Most power bars can handle anywhere from 600lbs with a standard bar to 1,200lbs with a competition bar. They range in price between $50-$1,000.
Although you can use these bars for a wide variety of exercises, there are some minor nuances that make some power bars better for some exercises than others – such as the thickness, knurling, and whip. As you get stronger, this becomes increasingly important for the heavier lifts such as squats, deadlifts, and bench press.
Squat Bar – This bar will always have knurling in its center to help grip the back of your shirt to ensure it doesn't slide on you. Bars without the center knurling aren't the best for squatting. Squat bars tend to have a thicker diameter and have very little whip to them.
Deadlift Bar – This bar will have a little more whip to allow it to bend so you can 'take the slack out' of the bar before you pull, which gives better bar speed off the floor. The bar itself tends to be slightly narrower in diameter with sharper knurling to give you a monster grip.
Bench Press Bar – This bar has almost zero whip to prevent the bar from bending at all, allowing for a more stable press. It also has a slightly thicker diameter to help it sit better in your hands.
Bar Weight: 45lb (but some with thicker grips can be 55lb).
2) Olympic Weightlifting Bar
There are special weightlifting bars designed for the sport of Olympic Weightlifting to enhance performance and reduce injuries. They look just like power bars, but are designed with slight differences due to the dynamic nature of the sport.
They are made from special steel that gives them much more whip than a typical standard bar, which makes them easier to 'catch'. They also spin more easily due to precision bearings in the ends that help prevent wrist and arm injuries.
The knurling isn't quite as sharp as a deadlift bar and many Olympic bars don't have center knurling at all since they sit in the front of your neck during cleans and front squats.
Bar Weight: 45 pounds.
3) Trap Bar
A trap or 'hex' bar is aptly named due to the shape of the bar.
This bar is in the shape of a trapezoid or hexagon, which allows you to position yourself in the middle of the bar's center of gravity for deadlift exercises.
I am a huge proponent of using trap bar deadlifts with athletes and general fitness clients as it is a little easier on the joints than a traditional deadlift. Due to the positioning of the handles, it is easier to get into the proper deadlift posture when lifting heavier weight.
Bar Weight: 45 pounds is most common.
4) Safety Squat (Yoke) Bars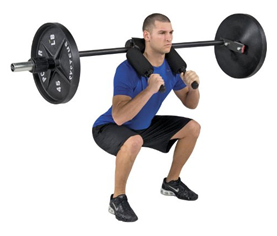 The safety squat bar is a specialty bar, which typically has 'arms' that come off the bar outside its neck and is covered with thick padding where the bar rests. This allows the bar to sit more comfortably on the neck and shoulders and also gives you bars to hold onto.
If you lack shoulder mobility or feel pain during a traditional back squat, this is a great option as it is much nicer on the shoulders due to the yoke attached to the front of the bar for you to grab.
This bar will also change the mechanics of the squat and force you to use more hamstring, glute and back muscles than a traditional squat. This makes it an excellent choice to build up your deadlift as well as your squat.
Bar Weight: 60-65 pounds.
5) Cambered Bar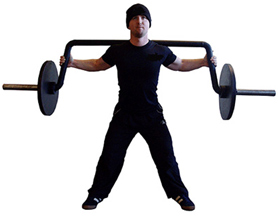 An arched or 'cambered' bar is another option for training your squat that really challenges your posterior muscles, similar to the safety squat bar. The cambered bar also challenges your stability much more as the weights swing and force you to get much tighter while squatting.
Due to the challenging nature of this exercise I would recommend this bar for more advanced lifters.
Bar Weight: 45 pounds.
6) Swiss Bar
The swiss bar is used for traditional upper body exercises such as pressing, rowing, curling, or triceps extensions with a neutral grip. The neutral grip makes all these exercises a bit more shoulder friendly and great for anyone with shoulder issues or coming back from rehab.
Bar Weight: 35lb.
7) Curl Bar (aka EZ-Bar)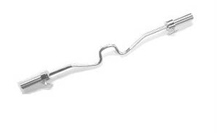 The curl bar is designed to allow you to do a more comfortable bicep curl by allowing you to pronate your wrists. They also work well with triceps extension exercises.
Since these bars are typically shorter you can find them in a stand or at the preacher curl bench.
Bar Weight: 15 pounds
Ultimately, the type of bar you choose depends on your training goals, experience, and anatomy. They can add a fun element to your training regimen and help you bust through some strength plateaus. Pepper some into your routine and let me know what you think!
Avoid doing any overhead presses or any lifts if injuries persist. Simply redistributing weight is good, but ultimately there is still risk if you are lifting with an active injury. If it is only discomfort, changing bars is definitely acceptable and recommended. ↩