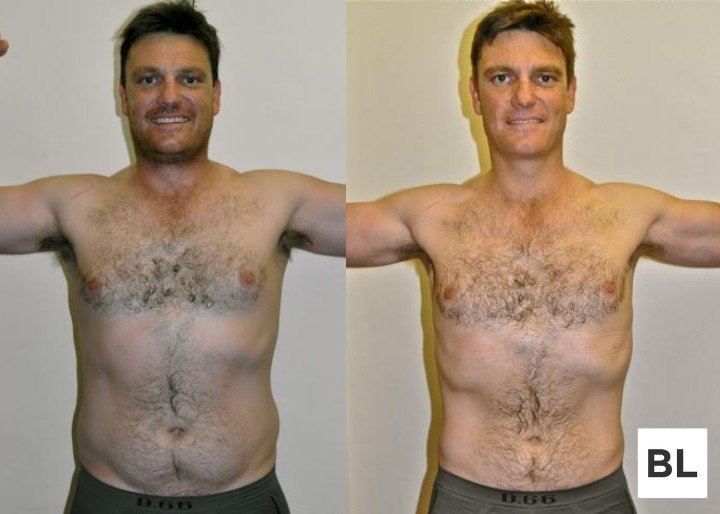 Results may vary. Proper diet and exercise are necessary to achieve weight loss and muscle definition.
I have below a Q&A with South African Willem Steenkamp (photo to right) who completed the BuiltLean Program with some impressive results; he lost 6 inches off his waist (42 inches to 36 inches) and lost 20lb of fat (227 to 207lb) to name a couple changes*.
When I first saw an order from Namibia, Africa, I was surprised to say the least. In the ensuing weeks, I was able to converse with Willem via email during his journey to transform his body. Since I launched the BuiltLean Program, I have answered all customer questions myself (and I will for as long as I can!).
While Willem is still focused on losing more fat and getting in even better shape, his transformation in only 8-weeks is impressive. I hope you find his story inspirational!
Background
Name: Willem Steenkamp
Age: 36
Occupation: MD Seasonaire (Pty) Ltd (Refrigeration & Air Conditioning Contractor)
Residence: Namibia, Africa
Hometown: Windhoek
How long have you been in Namibia?
I was born in Namibia
What is it like living there?
Best place in the world, very beautiful landscapes and wide-open spaces
Why did you get out of shape? What happened?
The most contributing factor was eating habits. We have a farm and a lot of unhealthy fatty meat, always for free.
What sparked you to make a change?
I felt unhealthy and unfit, even though I did cycle from time to time it was just not enough.
How did you come across BuiltLean?
I saw an advert on the Internet
Results
What results did you see after 8 weeks with the BuiltLean Program?
Weight loss: 227lb to 207lb in 8 weeks
Waist inches lost: 42 inches to 36 inches in 8 weeks.
Total inches lost over my whole body in 8 weeks = 16.53inches
All of this was just in 8 weeks, I am still focused and doing the program all over again. I would love to see core strength improve.
BuiltLean Program Feedback
How did the BuiltLean Program help you reach your goals?
It was the combination of everything: exercise, nutrition guide, and motivation.
What did you like most about the Program?
The fact that when I walked to the exercise area in the morning, I had no worries about what to do, or how many I must do, in what sequence etc. Everything was worked out for me. I just had to show up.
What are the workouts like?
Loved it, still doing them.
Can you elaborate on how your eating habits changed?
The biggest change were the following 4 things: (1) stopped eating unhealthy fats, (2) cut out a lot of sugar, (3) changed my portion size, (4) no alcohol for 9 entire weeks!
What have your friends thought after seeing your results?
They are jealous.
What would you tell someone who's on the fence considering the BuiltLean Program?
Go for it. It is worth your while 100%.