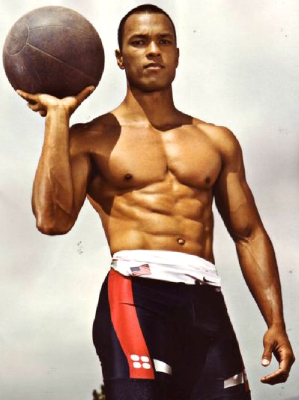 This past fall I had the honor of having a private lunch with Olympic gold medalist Bryan Clay at the ACE Fitness Symposium in Orlando, FL where Bryan was the keynote speaker. Myself and two other lucky fitness professionals who won a raffle drawing were able to pick his brain about his training regimen, nutrition, and just talk about life.
Bryan Clay won the silver and gold medals for the U.S. in 2004 and 2008 respectively in the decathlon, which is a track and field event comprised of ten events completed over 2 days.
How great of an athlete is Bryan Clay? It's hard to put into words.
Prior to the 2008 Olympics, Clay was tested by SPARQ, which is a rating system to test sports-specific athleticism that stands for Speed, Power, Agility, Reaction, & Quickness. At 5'10'', 180 pounds, Bryan recorded a score of 130.40 for the football SPARQ, the highest ever recorded up to that point. By comparison, superstar Reggie Bush scored a 93.38 on the popular test. Bryan also has a 43.5-inch vertical leap.
Bryan graciously agreed to do an interview with me for BuiltLean.com. I'm super excited to share with you his story. While I learned a lot from him, the two themes that really stuck out at me were (1) the incredible detail of his 4 year training plan and (2) his superhuman determination.
You can learn more about Bryan at his website www.BryanClay.com along with his Bryan Clay Foundation and read his autobiography "Redemption: A Rebellious Spirit, a Praying Mother, and the Unlikely Path To Olympic Gold" (affiliate link).
Mindset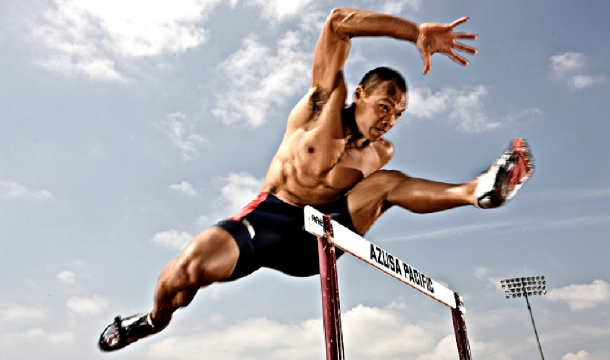 1) In your book, you describe how you were a troubled teen going down the wrong path. What changed your attitude and direction?
Being surrounded by good people was huge for me. Track and Field got me out of trouble. Ability led me to opportunity, and those opportunities led to some coaches who fortunately had tons of integrity and cared as much about me as person as they did an athlete. They, along with family, a few close friends, mentors, and the amazing girl I ended up marrying all shed light on a more righteous path.
2) While you spent up to 8 hours a day training for years, most of us have trouble getting to the gym for even 30 minutes. Do you have any advice for the yo-yo exerciser to finally stay consistent?
My best advice for people who are struggling with consistency is to set some specific goals and create a plan with accountability built in. Make a trainer or friend with similar goals a part of your life. Even a good fitness app on your phone can give you this necessary structure for consistency. After that, its a question of how serious you are about reaching your goals. I'm confident you recognize the scenarios throughout the day when you have a chance to answer that question, but just in case: Morning alarm clock: running shoes or snooze button? Lunch: Burger joint or real food? Route home from a day's work: gym or b-line to the couch? Accountability and encouragement from another source can really help keep you in the fight, while a steady commitment to the right choices form good habits.
3) You now famously said that "nothing changed" after you won the gold medal. What did you mean? What did you learn?
Let's just say that changing your kid's diapers as an Olympic Champion makes medals profoundly irrelevant.
Exercise & Nutrition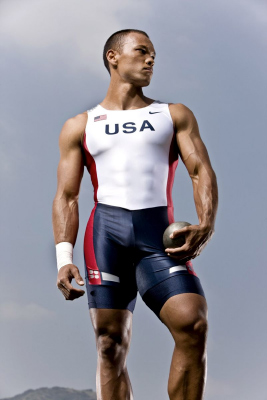 4) As a decathlete, you need the whole package including strength, flexibility, power, and endurance. How do you train for all of these fitness goals at the same time?
Simply put, incredibly organized training. We have to compartmentalize while keeping all aspects of physical and mental training in concert which each other, and that requires a serious plan.
5) Many people who are trying to get leaner and stronger do not create, or follow a plan. How detailed was the plan you followed? How important was it to your success?
I had to be at peak performance levels at the precise moment the100m start gun fired on day 1 of a decathlon. Getting there requires a deliberately orchestrated plan built on science and a series of attainable, realistic, compounding goals. As Olympians we have a 4 year training cycle with a very lofty goal. Those 4 years are broken down into months, months into weeks, days into minutes, and so on. The idea is to try and win each day in order to win it all.
6) What are your top 5 favorite strength training exercises?
Clean, Snatch, Squat, Bench, and Box Jumps.
7) I was surprised to hear your warm up routine takes an hour. Can you give a quick snippet of what you did in your warm up and why it takes so long?
They didn't always take an hour, but when they did, it was because of what I mentioned before – we have a lot of ground to cover. Active warm ups get the core of the muscle warm and also served as a piece of our conditioning. Leg swings, and the high kicks we called "Frankensteins" are good examples of strength, conditioning, active stretching, and warming up all in one.
8) Do you have any favorite meals? What about snacks?
Training at the elite level doesn't allow for 3 squares a day. You're constantly refueling so its a lot small meals and snacking throughout the day is necessary to keep you going. I'm not a fan of protein bars and stuff like that because I prefer stuff that goes down easy when you're working out, like fruit.
9) Are there any nutrition tips you can give that helped you optimize your athletic performance?
Remember that recovery is just as important as the workout itself, and a big part of recovery is nutrition. Simple carbs with a bit of protein and hydration were key for me to be able to get on with the master plan.
Bryan Clay Motivational Video:
Bryan is a true inspiration. Check out this video to get a feel for his passion and approach to competition: