Soup is a great way to include tons of healthy ingredients in your diet and fill up without tons of calories. The problem is, how many of us feel like a bowl of steaming vegetable soup when it's a 95 degree scorcher?
The good news is that there are tons of soups you can serve chilled, so you can still experience the benefit of a soup during these hot summer months.
One of the best options is a gazpacho. Traditional gazpacho is a tomato-based chilled vegetable soup with Spanish roots. Tomatoes are highly nutritious, but they are also highly acidic. The high acid content can make traditional gazpacho hard for some people to enjoy despite its deliciousness! Adding low-acidity fruits and vegetables like cucumber and watermelon can be the perfect solution to cut the acidity. Plus, it just happens to be the peak of watermelon and tomato growing season.
Chilled soups can be made with raw fruits and vegetables, providing an abundance of enzymes, vitamins, minerals, and phytonutrients that may otherwise be destroyed or removed through the cooking process. In addition to the nutritional benefits, making raw chilled soups also has its benefits for those looking to stay lean without having to spend all day in the kitchen. You can essentially put the ingredients straight into a blender, saving tons of prep and cleanup time.
Try cooling off this summer with this refreshing, nutritious, and super easy Watermelon Tomato Gazpacho recipe.
Watermelon Gazpacho Recipe – Ingredients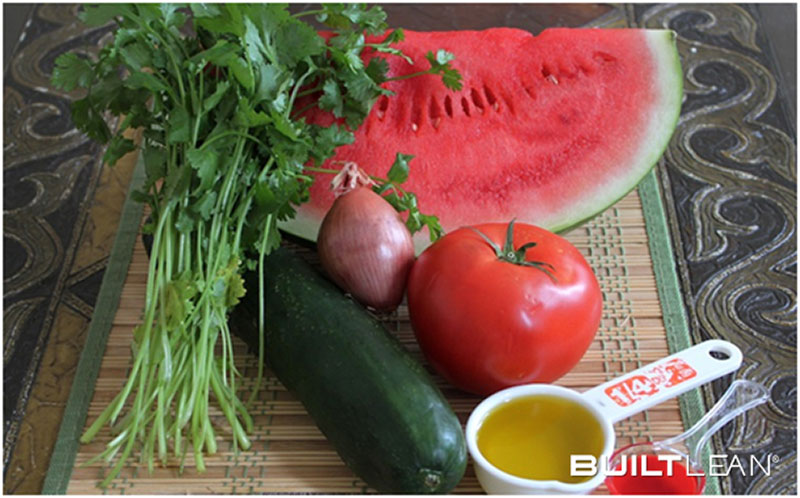 1 large ripened tomato, roughly chopped (~2 C chopped)
2 C watermelon, cubed (with black seeds removed)
½ cucumber, roughly chopped
2 Tbsp of shallot, finely chopped
2 Tbsp cilantro, minced
1 Tbsp of red wine vinegar
¼ C extra virgin olive oil
*Makes 4 servings
Watermelon Gazpacho Recipe – Preparation
1. Prep all of the ingredients by cutting up the fruits and vegetables, and measuring out the red wine vinegar and olive oil. If you'd like, keep a small piece of watermelon and cucumber aside to use as a garnish.
2. First, throw the tomato and cucumber into a blender and blend until smooth. Next, add in the cilantro, shallot, olive oil, red wine vinegar, and blend.
3. Lastly, add the watermelon chunks to the mixture and gently pulse the blender until it reaches your desired consistency. For a little more texture, you may want to use the smoothie/mix setting on the blender rather than the liquefy/puree setting.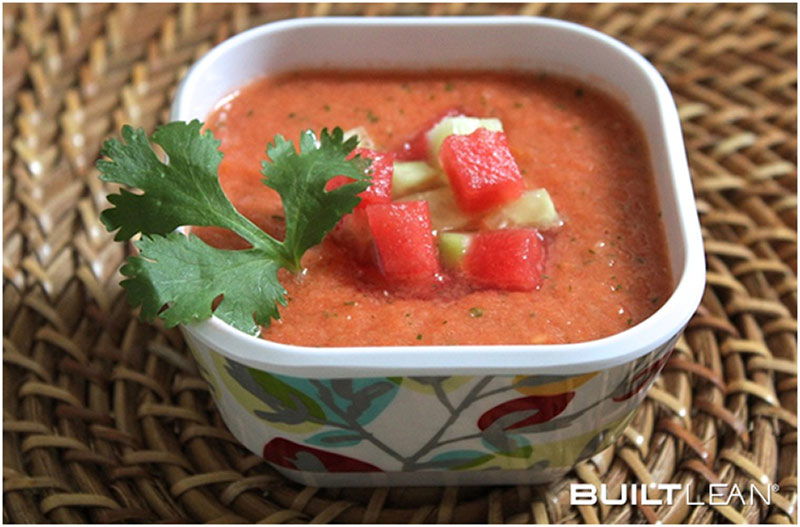 4. Pour into soup bowls, garnish with some finely chopped watermelon and cucumber, and enjoy!
What are your favorite chilled soup recipes? Share them with us in a comment below.