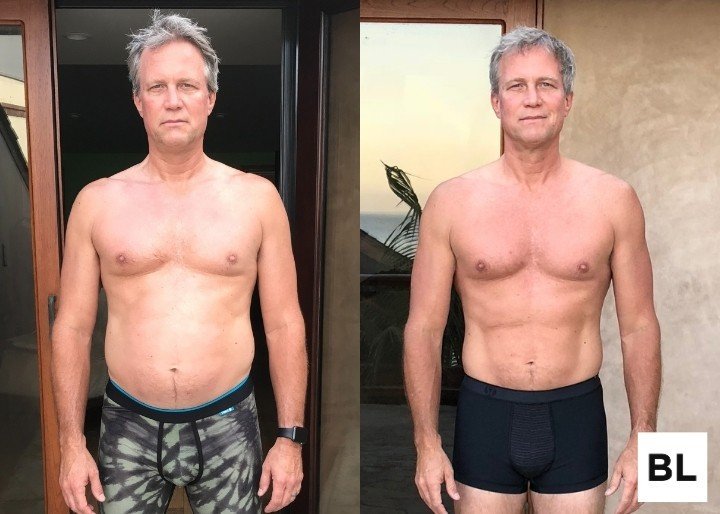 Results may vary. Proper diet and exercise are necessary to achieve weight loss and muscle definition.
Background
Name: Lane Rankin
Age: 54
Occupation: CEO
Residence: Laguna Beach, CA
Why did you get out of shape? What happened?
I was super stressed, drinking and eating more than normal.
What sparked you to make a change?
I was tired of feeling overweight, slow and sluggish.
How did you come across BuiltLean?
Researching workouts online
Results
What results did you get with the BuiltLean Transformation?
I was able to lose 10+ pounds of fat and get my six pack back! When I started BuiltLean I was close to 200 lbs and now I am 186. The other great benefit of BuiltLean is the flexibility that I have achieved!
What have your friends thought after seeing your results?
My friends and my adult children have said wow you are ripped!
The Program
How did BuiltLean Transformation help you reach your goals?
It pushed me to my max everyday. Even days when I was not motivated to workout the follow along videos and Marc motivating and encouraging methods kept me going.
What did you like most about the Program?
I liked the variety, the intensity and the quickness. It was great to get a good full body workout in a short amount of time.
What are the workouts like?
They are tough, challenging and rewarding.
Can you elaborate on how your eating habits changed?
I have stopped eating sugar, drinking alcohol and focused on lots of vegetables, little bread and lean proteins.
What would you tell someone who's on the fence considering training with BuiltLean?
Try it for a week. Work hard everyday, eat well and guaranteed you will feel better, stronger and more athletic! Thanks Marc!