So in the last couple of years, I've gone from lean to more shredded on average.
The strange thing is that it was not my intention to get leaner than I already was. I just focused on eating nutrient dense foods and drinking plenty of water, and that is how the chips fell.
This summer I was walking on Santa Monica beach close to where I live and I heard this guy say as I was walking by, "That dude is shredded!". A woman I dated said I look like Hugh Jackman in Wolverine all the time.
The major change I've made to my eating in the last couple of years is that I use an Air Fryer 1-2x a day. During COVID it's 2x a day because I've been cooking more.
I'm much more satisfied when I eat fibrous veggies with my meals and I don't feel sluggish or weighed down after. Having plenty of veggies is the difference between being satisfied or hungry after a meal. Water makes a big difference too.
The total volume of food I eat is significant, and I imagine that it's as much or more than most men. It turns out eating a bunch of fruits and vegetables provides nutrition without many calories.
What Is An Air Fryer?
An air fryer is a countertop oven that uses a circulation of hot air to give the food a crispy taste without deep frying in oil.
There are just a few components: (1) a timer, (2) a knob or button to adjust the heat, which typically goes up to 400 degrees, and (3) a tray where you add the food for cooking.
Why Should You Consider Buying An Air Fryer?
A couple of years ago, I coached a few friends who wanted to drop some weight and improve their health. My friend Adam mentioned several times how much he loved his air fryer, so I decided to take the plunge and buy one.
It's not easy to get me to buy something physical because I am more of a minimalist. Only a few years ago, all of my earthly possessions fit into a small carryon and backpack.
So why should you bother buying one extra thing for your kitchen?
I think there are several reasons:
Encourages you to eat more vegetables, particularly fibrous veggies
Gives food a crispy texture, which makes it more satisfying than using a stove top
Easy to clean up in seconds and many models are dishwasher safe
You can set it and forget it unlike a stove top
You don't need to use oils to cook your food
Eating more veggies may be the simplest and proven strategy to get lean. If the total volume of food you eat has a larger portion of veggies, your total calorie intake will decrease.
How Do You Use An Air Fryer?
Using an Air Fryer is thankfully very easy.
Here are the instructions:
Plug it in
Pour food into the tray
Set the timer for a certain duration
Open the tray and serve when the timer rings
That's it. Even a busy guy can do it.
I set the heat at 400 degrees so it cooks the food in the least amount of time. I don't need to constantly change the heat, I just keep it at the same level.
What Should I Cook With An Air Fryer?
There are all sorts of recipes that you can use with an Air Fryer and foods you can cook.
I just use the Air Fryer to cook frozen veggies. I keep it simple and easy. Cooking frozen veggies crispy only takes 10-minutes.
You may be thinking, "Is eating so much frozen veggies unhealthy? Frozen veggies are not nearly as good as fresh veggies, right?"
Well actually, frozen veggies can have higher nutrient content than fresh vegetables and even fruit because they are picked at peak ripeness. In fact, one study concluded, "Overall, the vitamin content of the frozen commodities was comparable to and occasionally higher than that of their fresh counterparts" 1
I buy 5lb bags of frozen veggies, which range from $8 to $10 at Costco through Instacart. You shouldn't need a Costco membership if you order through Instacart. Both frozen fruits and veggies are much less expensive when buying through Costco in bulk.
Which Air Fryer Should I Buy?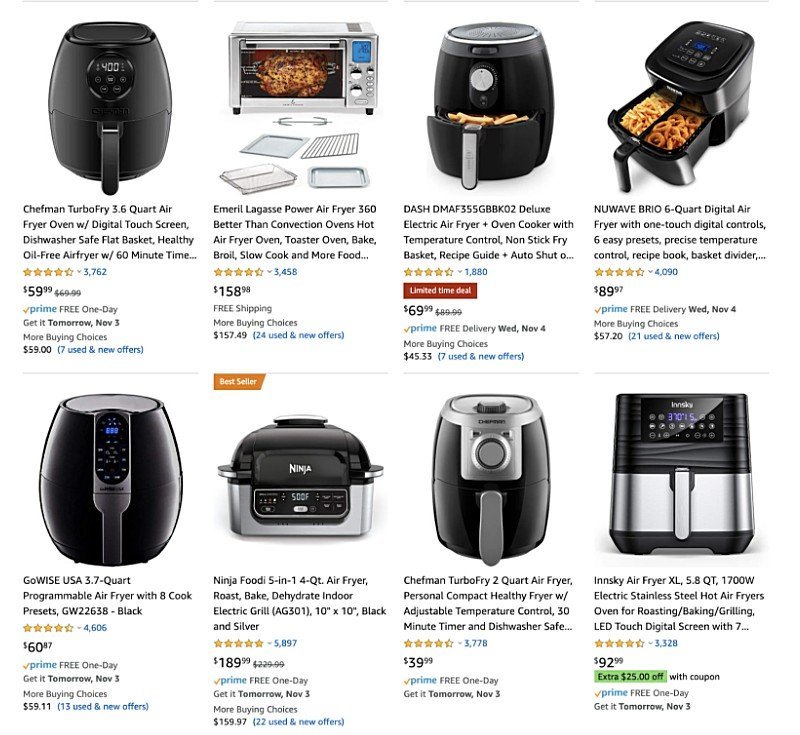 There is a bewildering array of air fryers you can purchase on the market.
The key differences between all the various options are the following:
Display (digital or analog)
Size (3-12 quarts)
Price range ($60 to $200)
Cleaning (dishwasher safe)
Appearance (branding)
I have the Chefman TurboFry 3.6 Quart Air Fryer (affiliate link). I don't have any affiliation with this company. It looks pretty cool and it's simple and works for me. The only negative is that sometimes the tray at the base of the container pops out when I'm taking food out after cooking.
If you have an air fryer, what do you like to cook with it? Has an air fryer helped you improve your eating habits? Leave a comment!