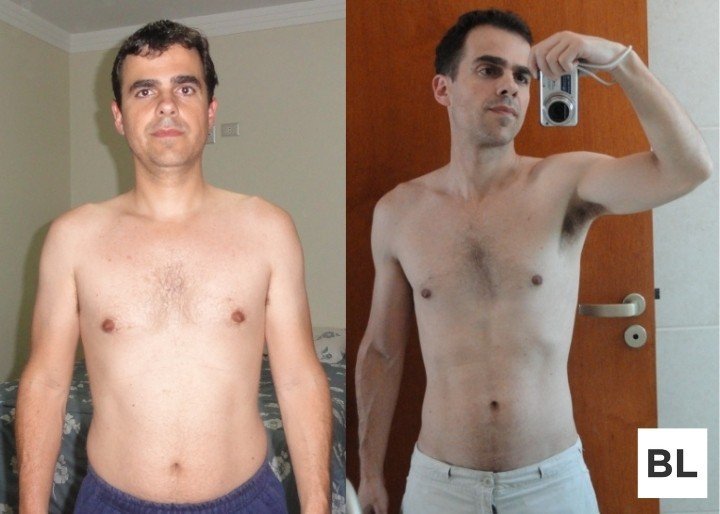 Results may vary. Proper diet and exercise are necessary to achieve weight loss and muscle definition.
I have below a Q&A with Jairo Molina (photo to the right) who lives in Brazil and completed my BuiltLean Program with some impressive results. Despite having a busy office job and being completely out-of-shape when he started, Jairo lost 20lb and dropped 7% body fat in only 8 short weeks*.
I've been fortunate to have helped many people transform their bodies. Oftentimes I know right when I look into someone's eyes if they will be successful, because ultimately success is a mindset. While I couldn't look Jairo in the eyes because he lives over 4000 miles away from me, after you read his answers you will get a sense that failure was not an option. He set a goal, pursued it without hesitation, and realized his vision.
I'm really proud of Jairo and I welcome him into the BuiltLean family. My hat goes off to him for his persistence and determination to change his body and improve his health.
I hope you find his story inspirational!
Background:
Age: 39
Occupation: Web developer
Residence: São Paulo, Brazil
Hometown: Mogi das Cruzes
Why did you get out of shape? What happened?
My health was not a priority anymore as it was some years ago. My eating habits were no good with only 3 meals per day, large plates of unhealthy food, fat burgers, potato chips, and chicken wings at late night. No exercises, beer and vodka on weekends. Besides that, I work in front of a computer, and this kind of activity is no fat burner at all.
What sparked you to make a change?
Pants were not fitting anymore.
How did you come across BuiltLean?
I was watching a Rocky Balboa clip on You Tube and saw advertising about the afterburn effect. Searching about it I came across BuiltLean.
Results:
What results did you see after 8 weeks with the BuiltLean Program?
Before:
Body Fat: 19,82%
After:
Body fat: 12,67%
I feel my energy levels are higher and my cardio and flexibility are much better. And as a bonus, pants are fitting again after losing 4 inches off my waist.
What have your friends thought after seeing your results?
They were impressed but some friends were worried because it happened too fast. So I explained about the nutrition changes I have made and the kind of exercises I was doing. Everyone can do it.
BuiltLean Review:
How did the BuiltLean Program help you reach your goals?
With BuiltLean Program I have professional guidance that I can trust. The exercise plan is very practical to follow, including pictures of exercises and instructions that can be easily learned.
The nutrition plan with its 4 pillars gives a lot of essential information to achieve my goals.
What did you like most about the Program?
The nutrition plan and the afterburn workouts. Before starting the Program I had no idea what kind of impact a nutrition plan like this could have in my life. The nutrition principles explained in the book are so valuable, they were crucial to make the change. Also, the workouts are the most efficient workouts to lose weight.
What are the workouts like?
They are based on exercise levels and phases. With progression you feel your body condition improving and you can add more weight resulting in high intensity workouts. Each week your body has a different combination of exercises. And then you sweat a lot and burn fat.
Workouts 3 – 4 times a week. Not less.
Can you elaborate on how your eating habits changed?
A lot of water, fruits, vegetables and protein.
At least 5 meals per day. Eggs and fruits like apple and pear in the mornings (it is easy to take these fruits to work office). Fish, chicken, beans and vegetables at lunches. Nuts, carrots and lean ham in the afternoons. Skim milk with oatmeal, turkey breast or whey protein at nights. Sometimes combinations.
No more white rice and bread sometimes.
What would you tell someone who's on the fence considering the BuiltLean Program?
Believe the Spirit within you, there is no better time to start than now.