Just a few weeks ago, a new BuiltLean Transformation customer sent us an email as he was starting the program.
He thought there was something missing.
In our equipment recommendations, we share products for dumbbells, pull up bar, body weight scale, measuring tape, & footwear.
But we did not include a recommendation for a bench. This customer was completing his home gym and wanted to purchase a bench.
While the entire BuiltLean Transformation program can be completed without a bench using alternative exercises, there are a few exercises where a bench can be very useful – DB Chest Press (flat & incline), DB Rows, & Step Ups.
A few days later, Nate Lawrie who is a classmate of mine (Yale '04) reached out to me about a new product his team created called the FLiPBENCH.
Nate is the Founder & CEO of Brazyn Life, which creates mobility & space saving fitness products that are used by nearly 100,000 customers. In 2015, we wrote an article about their travel foam roller – The Morph Review: The Best Foam Roller To Carry Everywhere.
I have not tested the FLiPBENCH yet, but it looks really cool and high quality. In case it peaks your interest, I wanted to share it with you so you can get a discount before it officially launches in October 2021. This is not a sponsored or paid post. We have no sponsored articles on BuiltLean.com.
What Is The FLiPBENCH?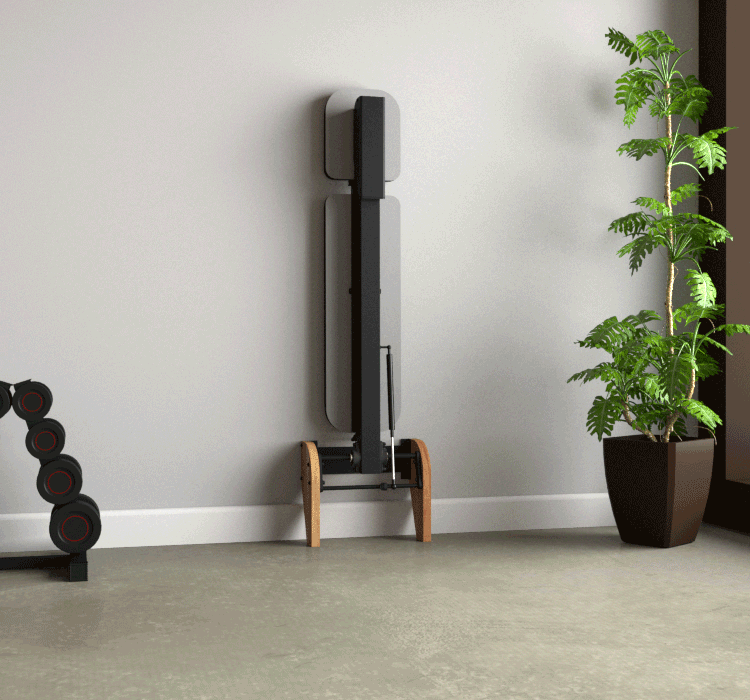 FLiPBENCH is a pro-quality incline bench that can be positioned flat, inclined, or upright. It stores in 1 square foot and deploys in just 2 seconds.
Given Nate was a pro athlete in the NFL for 8 years and is 6'7'', I would bet this product is very sturdy. In fact, it holds up to 600 lbs. There are 5 bench angles of 0, 30, 45, 67, & 85 degrees.
Installation is simple in 3 steps:
Attach the bracket to the wall with 4 screws
Attach the wooden legs to the bench with 4 screws
Attach the bench & wooden legs to the bracket with 4 screws
Dimensions
Imperial
64.45 x 17.2 x 7.3 inches (stowed)
17 x 17 x 59 inches (extended)
Metric
1.63 x 0.43 x 0.19 meters (stowed)
0.43 x 0.43 x 1.5 meters (extended)
How Much Does It Cost?
The FLiPBENCH retails at $499 + $35 Shipping, but there's an early bird discount of 44% off including free shipping (some regions) if you order through the Indiegogo campaign.
So for $299, you can get it shipped to you for free by October 2021. The sale ends 5/20/21.
Where Can I Get It?
You can get it at Indiegogo "FLiPBENCH: World's Most Space-Saving Incline Bench" until May 20. On the order page, you can choose two additional color options by paying $15 extra for either a "pop panel" in gray or cream.
The FLiPBENCH has already exceeded their initial funding goal of $25k. Stretch rewards include more bench panel colors like Sea Blue, Olive & Teal, & Sage & Pink. There is a 60-day guarantee and a 2-year warranty
After the Indiegogo campaign is complete, you can order on Brazyn's website.