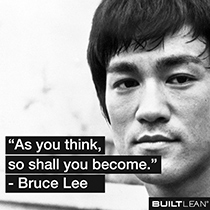 Motivation is the energy which powers our most impressive accomplishments and achievements. The challenge, however, is that motivation ebbs and flows. Sometimes you may feel limitless motivation as you strive toward your goals like nothing in the natural world can stop you. Other times, you may feel your motivation waning over time as hurdles and obstacles grow larger and more intimidating.
Every Monday on our BuiltLean Facebook Page (#MondayMotivation), we share motivation images to help you stay focused and push toward your goals. The following are 10 motivational images we have shared with our Facebook community that are organized into three sections. The first section is mastering your mindset. If you have the right mindset, everything seems to fall into place and it's only a matter of time before you reach your goals. The next section highlights the importance of developing a plan to help focus your energies so they yield the best results. And the last section highlights refining your plan while focusing your energies on what you can control.
We hope you find these images motivational and you will reference them when you experience any challenges, or self-doubt:
Master Your Mindset
Motivational Image #1
Motivational Image #2
Motivational Image #3
Motivational Image #4
Have A Plan
Motivational Image #5
Motivational Image #6
Focus On What You Can Control
Motivational Image #7
Motivational Image #8
Motivational Image #9
Motivational Image #10
Which motivational image is your favorite? Is there a quote we didn't include that you really like?
Share your thoughts by leaving a comment!